A major part of the programme "Europe for Citizens" of the Heinrich Böll Foundation in 2017 is an intensified engagement with energy policy in Europe.
The transition towards a low-carbon economy implies the almost complete decarbonization of Europe's power sector. The European Union has an obligation to contribute to a more social energy policy in times where many people already face the consequences of climate change. An ecological transformation is at far sight. Therefore it is crucial to establish a European energy union and deepen the concepts of sustainable European energy policies.
Work in Progress – Energy Transition: The ecological modernization of power, transportation and heating
International Conference
June 28, 2017 – Berlin, Germany
Germany must continue on the path of ecological modernization. This is crucial to promoting innovation in the field of renewable energies, energy efficiency, energy storage and digitization, and to ensuring that Germany meets its internationally agreed climate targets. A further element is the transportation revolution, with environmentally sound drive technology and mobility options that meet the needs of as many people as possible.
Realizing the transition to renewable energy throughout Europe is a special challenge. This will require coordination between ambitious national measures, the requirements of common markets, and restrained energy policy dynamism at the European level.
"A work in progress: the transition to renewable energy" will give policymakers and experts from the worlds of business, industry and environmental protection the opportunity to discuss the future and integration of the power, heating and transportation sectors. The conference sees itself as a platform for dialog and networking that overcomes sector and national boundaries. It is intended to inspire everyone who is working to ensure the success of the transition to renewable energy. The conference is also designed to offer insights to those who are still skeptical.
The central questions to be covered by the presentations and panels include:
• How much Europe does Germany's energy revolution need?
• Which business models fit to the transition to renewable energy?
• How much support in terms of industrial and employment policy will the transition require?
• How can we prevent risky investments in the coal industry?
• How will the German automotive industry position itself in the global transportation revolution?
• How can a socially just and climate-friendly transition in heating be realized?
• What are the most urgent energy-policy tasks for the next legislative period?
Heinrich Böll Foundation in cooperation with the Renewable Energy Agency (AEE) and support from Greenpeace Energy eG and Clean Energy Sourcing/Innowatio GmbH and NATURSTROM AG.
UniverSSE 2017: 4th European Social & Solidarity Economy Congress
International conference
9-11 June 2017, Agricultural University of Athens, Greece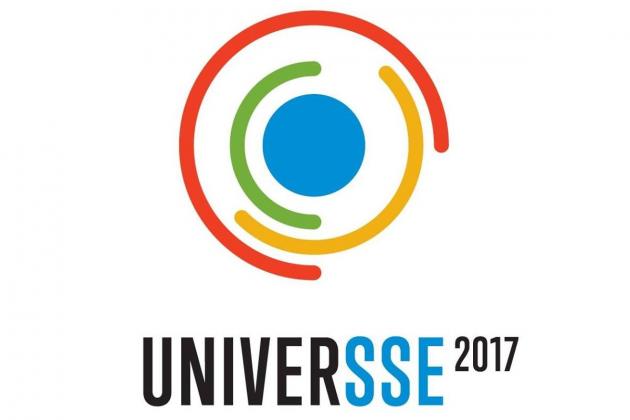 Creator: UniverSSE 2017. Public Domain.
The 4th European Conference for Social Solidarity Economy was organized by a wide range of actors from Greece and Europe, in Athens. Delegates and members from initiatives and networks from 20 European countries came together. Also activists, members of national networks, cooperators and researchers participated in a favorable environment and a very interesting event. The conference offered a plattform for the exchange of ideas, practices and experience, where a common narrative and strategy for SSE at the Greek and European level could be developed.
The organizational team which took the initiative for the preparation of this international meeting consisted of Social Solidarity Economy entities and networks with the support of other organizations and foundations:
Dock 'Social Solidarity Economy Zone'
Efimerida ton Syntakton – EfSyn (The Journalists' Journal)
Hub (Komvos) for the Social Economy, Empowerment and Innovation
People's University of Social Solidarity Economy
Nationwide Coordination of Solidarity Schools
Pro.s.k.al.o. - The Initiative of cooperation for Social Solidarity Economy
Coordination of KOINSEP in Athens
Festival for Solidarity and Cooperative Economy
Heinrich Böll Foundation Greece supported as a collaborating partner the overall congress and co-organized in particular 2 sessions:
Round-table: "Creating a favorable institutional framework for energy cooperatives: modern trends in Greece and Europe"
Panel: "Making laws work for the development of SSE: comparing experiences between Spain, France and Greece"