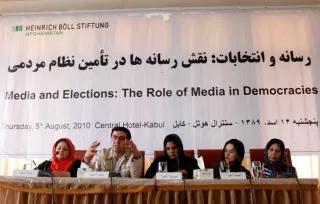 By: Najma Yari
Media in democracies is often referred to as "the fourth pillar of power", and rightfully so. Ideally, this is what they do: Exerting control over politics by reporting on what they see and learn on what is happening. To be part of a decision making process, citizens need to be informed on all aspects relevant to them. What the media finds out and reports about might, however, differ from the image politicians want to give. In this case, hardly anybody is self-critical enough to admit flaws in his or her policy but rather blames it on the media. 
HBS in continuation of its activities in the field of democratization launched a book presentation in August. The book "Media and Elections: The role of media in democracies" is written by a journalist and human rights activist Ms. Jamila Omar. The book aims at awareness raising of media's influence on elections and providing a platform for discussion among journalists, academics and politicians. 
Dr. Bente Aika Scheller, Country Director of the HBS Afghanistan opened the event by welcoming all guests and pointing out the importance of media as the "fourth pillar of power" and its duty to provide citizens with information on current political issues. 
"People easily do 'politician bashing and/or 'media bashing', but of course politicians say certain things because the audience wants to hear them, and media reports on issues because people want to read them. So the electorate/the people also have responsibility because basically they determine what is being said and heard." she further said. 
She also praised the Afghan media as well as the Wolesi Jirga (Afghan Parliament) for their improvement, both working enormously better than some years ago. 
Panel discussion was another part of the program in which Ms. Jamila Omar the author, Mr. Sanjar Sohail a remarkable journalist and owner and publisher of daily "8.am" one of Afghanistan's leading news paper, Ms. Sabrina Saqeb current parliamentarian and Ms. Sona Sahar a journalist and parliamentary candidate participated as panelists who shared their experiences, knowledge and views in relevance to Media and Elections with the audience. 
Ms. Jamila Omar stated the intention of writing this book was to offer a guide for journalists, focusing on three important points: 
organizing media, training media and monitoring the process of their work before, during and after the election process. 
Ms. Sabrina Saqib, member of the Wolesi Jirga, informed about her campaign during the last parliamentary election in 2005.When she was running for elections, she only had the opportunity to address voters on the national TV station "Radio Television Afghanistan" (RTA) once. Therefore she praised the development of the private TV stations for more detailed news coverage and programs on elections in the course of time. 
Mr. Sanjar Sohail said that media in Afghanistan has never been more important than today. According to him, Afghan media should analyze the news and reveal the realities of our country to all citizens. 
Furthermore Mr. Sanjar Sohail added that today one of the big problem is the fact that most affluent groups use their money to influence media, either by setting up their own TV station, newspaper, etc or by bribing journalists to report what they want. 
Ms. Sona Sahar addressed some problems regarding female candidates. She explained that female candidates are being insulted and mocked by journalists. 
That is why she appealed to her colleagues to be unprejudiced and treat each candidate equally. Another problem she presented was the fact that on Election Day journalists are excluded from polling centers and they cannot report realistically. 
Question and answer session was followed after the panel discussion. As response to the question asked by a participant that reports by Afghan journalists are not taken seriously while by foreign colleagues are, Jamila Omar said "In order to get public acknowledgement, journalists in Afghanistan need more training and a control mechanism to analyze the reports.", 
Ms. Saqib in reply of the question that why the international media hardly reports anything positive about Afghanistan said that it is more exciting for media to report about casualties and insurgents than human rights and development, therefore most people outside Afghanistan get the impression that it is all war and destruction over here. 
However, there are positive publications on Afghanistan as well, for example reports from ministries and NGOs listing their work and effort, but they do not become a best-seller since most of them are not interesting enough. 
Some participants shared their concerns that female candidates running for elections outside Kabul are not able to campaign openly due to traditional practices and cultural limitations in rural areas. They are hardly ever invited to take part at events, and sometimes their posters are removed and there is no further protective measures for them. 
As a conclusion all the participants including journalists, academics and politicians agreed that the media has to inform citizens about what is going on in their country, just like they did last year after the presidential election, exposing fraud in different provinces. 
They also pointed out that there are still many issues to be debated like promotion of transparency in the Wolesi Jirga and enhancement of media's freedom.