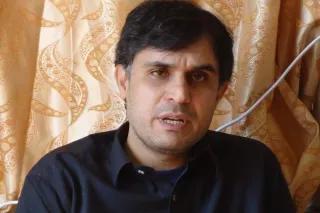 Muhammad Yar Muhammad graduated from Alberoni High School in Kandahar and received his bachelor's degree in literature from Kabul University. During the Taliban regime, he engaged in some secret activities. He says, "At that time [of the Taliban], no one could say anything. They implemented their rules by force. You had no control over your breathing, and for that you had to get permission from an illiterate member of the Taliban or a mullah. We had to have some hidden activities. We had an association called the Benawa Cultural Association and ran a small library. The library was in a secret place where young people came and studied."
Muhammad Yar Muhammad now leads a political party called Wadan (prosperous) Afghanistan that is mainly constituted of young Afghans. Every Thursday, the party organizes a gathering for students where various political, social, and cultural issues are discussed. The main objective of such meetings is to build awareness and bring about positive change.
How necessary are the organizations, parties, and processes in which young people take on more and larger roles?
I think human life is largely related to the energy, ideas, and activities of young people. They must be involved in social and political activities, as they are energetic and interested. Elder politicians have harmed their reputation. When Afghanistan is ranked among the most corrupt countries of the world, it means senior politicians have failed and brought a bad name to the country. They have gotten used to dealing carelessly with corruption and other such issues, and they can no longer be trusted. But young people can be trusted because they have clear backgrounds. Young Afghans are sensible and feel the worst impacts of backwardness and extremism. Therefore, they are ready for change.
But these are the old politicians who have influence in our society. How influential are the young politicians compared to the old ones?
Well, the objective of involving young people in politics—keeping in view a particular structure—is actually not erasing the previous generation of politicians. But the objective is to pay more attention to young people, and the experiences of successful politicians must be used in that regard. In other words, young Afghans must assume first-line political responsibilities.
Do you think such opportunities will be given to young politicians?
No way! The seniors want their own presence. We have experienced this over the past thirteen years as young Afghans were given no importance in political circles. Politics and having authority make people addicted. Senior politicians are now addicted in the same way. They are thirsty for power.
But what is the responsibility of a young Afghan? He must not wait for miracles or for any kind of sympathy from senior politicians. This is not going to happen. He must struggle hard and overcome all challenges.
The issue of new and old ways of thinking is also a major problem that we are facing now. These two ways of thinking have always been different. Unfortunately, in Afghanistan tribal thoughts, which have no compliance with new ideas in the world, rule the society. Tribal mentality must be eliminated totally. If we remain connected to negative thoughts and thoughts that lead us to ethnic discrimination and other such issues, we will continue to remain downtrodden. The transfer of power to the younger generation is difficult, and that is because of a lack of awareness among common people. They are not ready mentally.   
What about your party, Wadan Afghanistan? How much has it been able to act based on modern political values?
Although Wadan Afghanistan has not been formally registered as a political party, we try to obey all legal conditions. We do not want to object other parties, but the fact is that we do not have any national political parties in Afghanistan. If we had such a party I would join it and fight using the same platform. Political parties are the backbone of democracy and elections. We saw the results of the 2014 presidential election take very long. If we had strong political parties, the election would not have faced any gridlock. Unfortunately, they made fun of democracy in Afghanistan. There is no political party that is not based on linguistic and ethnic differences. These were the reasons for me to establish a political party that is national.
We do not want to engage in symbolic activities; we want to actually work for the people. We are patient, and whenever we are able to fulfill all conditions of a standard political party, we will register it. We have done no significant political work, but we have plans to act better.
What is your point of view on how young people are developing an involvement with politics?
Sometimes, I attend gatherings of young people. They have a lot of complaints. But they must understand that senior politicians would not allow them be in politics so easily, and they must use their own rights to struggle hard. Now they have this right. I also had the same kind of mentality. But gradually I realized that right is not given; it should be taken. 
How do you envision the next ten years?
I think Afghanistan has a bright future. Why? That is because you are here, Wadan Afghanistan is here, the Rah-i Madaniyat Daily is here, and energy is here. Therefore, struggle will continue. There are young people who, despite hardships, are talented, and there are also young people who have gotten their educations abroad. When all such capacities are present in Afghanistan, we must unite and utilize them. It is said that whatever you want, you will eventually get it. Aims should be high.
Unfortunately, most of the time we let fate decide about our lives. But God says and experience shows that everything is in your own hands. This society is our society. Young people recognize the politicians, traitors, thieves, and corrupt officials. Now they can differentiate between what is wrong and what is good for them and their country. I am hopeful about the future.