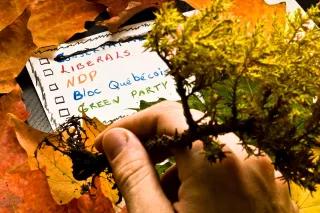 Canada votes on October 19. We spoke with Elizabeth May, Member of Parliament for the Canadian Green Party, about Canada's climate performance, the state of Canadian democracy, and the prospects for her party in the upcoming elections. Elizabeth May enjoys widespread recognition across the political spectrum, and was voted Parliamentarian of the Year in 2012, Hardest Working MP in 2013, and Best Orator in 2014.
Four years ago, you made history by being the first Green Party candidate to be elected to the House of Commons in Canada. What is your personal take-away from these four years?
There are distinct challenges to being the first elected Green Member of Parliament (MP) and the party leader at the same time. My colleague, Caroline Lucas (whom I have never met but admire enormously), faced this before I did. When she was elected to the UK Parliament for the riding of Brighton Pavilion she decided to concentrate on being an MP and resigned her leadership. My friend and colleague, Dr. Andrew Weaver, member of the Intergovernmental Panel on Climate Change (IPCC) and a globally recognized climate scientist, became the first Green Member of Legislative Assembly (MLA) in British Columbia (BC) just as the BC Green Leader, Jane Sterk, stepped down. With the same reasoning as Caroline Lucas, he opted to concentrate on his legislative job provincial and declined to seek the leadership.
Immediately following the May 2011 election, I was informed by the Green Party of Canada Federal Council that my top priority was always to serve my constituents. When politicians from other parties, as well as some in the media, advised I was wasting my time by working so hard in Parliament, suggesting instead that I should be criss-crossing the country to build up the party, my answer was blunt. The voters of Saanich-Gulf islands had taken an enormous leap of faith in choosing me to be their Member of Parliament, rejecting a more powerful figure, a Conservative Cabinet Minister. I knew they did not elect me to devote myself to partisan campaigning. They elected me to do what I promised in the campaign - to work for them.
As leader of the Green Party, the accolades I have received for my parliamentary work, my attendance record, my campaign for civility in parliament, my private members bill on Lyme disease (which is now law), have all reverberated back to the credit of the Green Party. We are now well placed to improve our seat count in the upcoming election. Meaning no criticism of my colleagues in the UK, I wonder if they would not have done better in the last election had the party been led by its one Green MP.
As we prepare for the election, the job of party leader has become full time, and the work as an MP is also far more than full time. There is no question that I have put my health at risk. I have lost the opportunity for even occasional days off in the first six months of 2015. It would have been a far easier course for me personally to have stepped down as leader, but I believed that it was essential to keep the party growing across the country to do both jobs, but putting priority on my parliamentary work. Given luck, a strong campaign, and public support, many from the superb field of candidates we have assembled for the next election should join me soon in parliament, and then I can begin to adjust my work load!
Traditionally, Members of Parliaments take up responsibility for one or a few key issues within their parliamentary group. But you are the Green Party's lone voice in the House of Commons. How have you organized your work in parliament as a single member without support from a parliamentary group?
Fortunately for me, I had a good deal of parliamentary experience before being elected. In the 1980s, I served as Senior Policy Advisor to the federal Minister of Environment and a number of dear friends over the years had been Members of Parliament - Jim Fulton, David MacDonald, Karen Kraft Sloan and Charles Caccia all made wonderful role models. I knew I would have to be fully briefed on all matters moving through committees without being allowed to be a member of those committees. I knew I would need a larger staff than the usual MP's office. One other piece of enormous good fortune was that my executive assistant from my previous life, as Executive Director of the Sierra Club of Canada, followed me to the Green Party. Having a trusted and exceptionally competent right hand was indispensable in the ambitious plan for our parliament hill operations. Debra Eindiguer became my Chief of Staff, taking on all the personnel and budgetary workload of my two offices - Ottawa and in my BC riding, as well as a million other details.
We took our physical space allocated by the speaker's office, arranged it for an MP and 2-3 staff, and then converted it into a work space for eight people (leaving no room for me!). The MP office was re-purposed to four desks for researchers and interns. All staff was paid, but not on the same scale as in other parties. I worked virtually exclusively from my desk in the House. Attending committees and providing a crisp one page summary of the week's hearings was a task given to over 20 volunteers per session, university students recommended through a network of professors at Carlton and University of Ottawa, who had part-time duties of attending hearings. Each volunteer was allowed to concentrate on only one committee at a time to enhance the academic benefit of their efforts.
By being in my seat for most of the debates in the House, I was able to intervene more frequently than any other MP. Thanks to the use of blackberries in the House, I also am able to communicate with my Hill staff. I am very fortunate that they hand-deliver files when I need them. I am comfortable giving speeches with little notice and my background as a lawyer is always helpful in being able to make a point of order to the Speaker.   
In the last four years, the Green Party team, (augmented since December 2013 with the MP for Thunder Bay-Superior North, Bruce Hyer, a long-standing conservationist who joined the party) has submitted more amendments to more bills than any other party.
We have passed one bill, the National Lyme Disease Strategy, submitted many more private members bills, as well as led the most successful opposition party protest over the last four years against egregious Conservative Party legislation - the disastrous bill C-38, the omnibus budget bill of spring 2012. I submitted over 400 amendments leading to 23.5 hours of voting at report Stage of C-38. I stayed in my seat for the entire period. Recently, two of our amendments were accepted to strengthen the Pipeline Safety Act.  
Your fellow MPs from across all parties voted you Parliamentarian of the Year in 2012, Hardest Working MP in 2013, and Best Orator in 2014 – why do you think you received this recognition from your political opponents?
Greens are committed to cooperation. And my experience of parliament was that democracy is better served by cross-party cooperation.  Starting out the way we intended to go, the first Monday night of the June 2011 session, the Green Party hosted an "ice-breaking" party.  We invited every first-time MP from all parties in the House. The party started new friendships. Many of the sitting members, regardless of party, were also friends - some of decades. I think that by showing respect, kindness, love and friendship to everyone - as much as they could stand - in a nasty and hyper-partisan environment was appreciated. I think that is why so many MPs gave me their vote in the process for Parliamentarian of the Year, over-seen every year by Macleans magazine.
With a share of 95% hydropower, Canada has a pretty clean electricity mix. The Province of Ontario even switched off its last coal plant in 2014. However, Canada's climate performance has been mixed. For many, the extraction and export of high-carbon tar sands are cause for concern. Yet G7 leaders – including PM Harper – recently called to decarbonize the global economy. How does that fit together?
While it is true Canada's electricity grid has a high proportion of hydro-power, most of that is a legacy of past decisions for un-green, massive hydroelectric installations in the BC, Manitoba and Quebec. While the Green Party of Canada supports run-of-the-river hydroelectric power, the non-fossil legacy of large dams was not the result of climate policies. Ontario's decision to shut down its coal-fired power stations is the single largest step taken by any province, although BC's carbon tax, which was constructed as a revenue-neutral tax on fuel applied at the gas pump, has been successful in shifting car ownership to more fuel efficient vehicles.
The Alberta oil sands are far from the biggest contributor to Canada's over-all carbon emissions, but what makes them worrisome is that they are the fastest growing carbon-emitters. In terms of volumes of carbon emitted, the Alberta coal-burning electricity grid and the oil sands are roughly equal in terms of emissions.
The reality of Canada's response to the climate crisis since the late '80's is that previous governments - whether Progressive, Conservative or Liberal - took steps to reduce emissions. True, they amounted to one step forward, two steps back... or in good years two steps forward and one step back.  All that changed when Stephen Harper became prime minister. He is unalterably opposed to climate action - first reneging on our Kyoto commitments in 2006, cancelling all climate limitation plans left by the previous government, then legally withdrawing in 2012, and even failing to put any plans in place to meet his own 2009 Copenhagen commitments. The acceptance of the G7 communique was a compromise achieved by Canada to weaken the overall language of the statement. Stephen Harper must be removed from any position of power in Canada's parliament if we are to achieve a robust treaty at COP21.
This November, diplomats will meet in Paris to negotiate a new climate treaty. You have been to many of these climate summits. How do you see the role of the Harper government for the UN climate talks?
As the last response suggests, it is essential that the Canadian delegation at Paris not be instructed by Stephen Harper. It is my most fervent hope that the election will result in a minority parliament with enough Green MPs to be able to influence Canada's role at COP21. Although Canada is a relatively small global power, when we are working for strong climate action, we have achieved results above our size - as was the case in 2005 in Montreal at COP11. Tragically, with a prime minister who opposes climate action, since 2006 Canada has a record of obstruction and sabotage. The damage done by Canada reneging on Kyoto in 2006 and putting forward new and floating base years, wrecking the convention to stick with 1990 as the reference point has been enormous. Legally withdrawing from Kyoto, undermined the only legally binding instrument the world has. In ways large and small, Canada's delegation from 2006 to 2014, from Bali to Lima, has been a disaster for climate action. By Paris, we must have a new government - a greener government.
The EU and Canada agreed on a new trade agreement called CETA, which still has to be approved by the European Parliament and the Council. In Germany, it is very controversial for its provisions to grant corporations the right to sue governments outside of public courts if laws are passed that cause them to lose profits. What is your demand toward the Canadian government?
The Green Party of Canada opposes CETA. We believe it will advantage large pharmaceutical companies and damage our health care system. We believe it will threaten agricultural supply management. And Canadian Greens are unequivocally opposed to investor-state agreements. We hope EU Greens will reject CETA. And we urge Greens around the world to press for an international re-opening of all such agreements to reject existing treaties now that empirical evidence has established that such treaties inevitably advantage the larger economic power and erode democracy. We must challenge the growth in corporate rule and the supine response of elected governments around the world.
You have been a critic of the Harper government when it comes to the use of its power. You have said it will take a long time to repair Canada's democracy. What is broken about it, and what will it take to fix it?
Immediate steps must be taken to restore respect for Parliamentary Democracy. We are not a republic and the PM is not a president, nor an emperor, nor a dictator. However, the steady growth in the power of the Prime Minister's Office (PMO) is the single largest threat to a healthy democracy in Canada. In the next parliament, Greens will press to change our voting system from winner-take -all to Proportional Representation (PR). We will demand a return to the principles embedded in the concept of the "supremacy of parliament." We can start with a huge cut in the budget of the PMO, by eliminating the powers of party leaders under the Elections Act, and by putting in place legal limits on a prime minister's ability to seek prorogation. We need to change the standing rules to limit abuses, such as the constant application of time allocation and the use of omnibus budget bills to change dozens of pieces of legislation within the same bill. We need to restore the independence from the PMO in Parliamentary Committees and ensure that legislation has real review - not the scripted farce experienced in committees over the last four years. We need to restore the principle that Parliament controls the public purse. We need to restore responsible government. We need to respect Magna Carta.
These changes, as well as eliminating the First-Past-the-Post voting system (FPTP) can all be accomplished without opening the constitution. The key question is whether an NDP or Liberal PM would be willing to surrender the excessive power now amassed in PMO.       
In Germany's Proportional Voting system, the Green Party has evolved into an established power broker in German politics, both on the state and the federal level. For Canada's Green Party, it is much more difficult within a winner-takes-all system. What are the structural constraints for the Canadian Greens to get more influential, and how can they be overcome in the mid and long term?
The Green Party of Canada is confident we can elect more Green MPs despite the inherent unfairness in the current voting system. Since my election in 2011, three Green members of provincial legislatures have also succeeded in the FPTP system - with Greens elected in BC, New Brunswick and Prince Edward Island. Since 2011, we have come within a hair's breadth of winning seats in by-elections. Our strategy for the 2015 election includes focusing efforts on our most winnable seats, while running in all 338 ridings across Canada. Once able to influence other parties in a new parliament, we hope to be able to ensure Canada's next federal election will take place under some form of PR.
Canada votes on October 19. The Greens poll well, between four to ten percent. But even a double-digit result does not translate automatically into parliamentary seats, given Canada's voting system. What are the goals of the Green Party for this election, and how do you want to achieve them?
As the last answer suggested, Greens in Canada no longer regard the FPTP voting system as fatal to our electoral chances. Our roster of candidates includes Canadians widely respected for their accomplishments before doing us the honour of running under our banner. Gord Miller, former Environmental Commissioner of Province of Ontario, Green candidate in Guelph, Ontario, Claire Martin Morehen, former national meteorologist on CBC national television, now Green candidate in North Vancouver, Jo-Ann Roberts, veteran journalist and ten year host of Victoria CBC's flagship programme "All Points West," running in Victoria. Dr. Lynne Quarmby, chair of the Simon Fraser University department of cellular biology, running in Burnaby-North Seymour, and Ken Melamed, former Mayor of Whistler BC, running in West Vancouver-Sunshine Coast-Sea-to-Sky country... among many more. I am particularly hopeful to elect women from First Nations communities - Lorraine Rekmans, Fran Hunt-Jinnouchi and Brenda Sayers.  We have every intention, with plans and resources and excellent candidates in place, of returning a much larger caucus of Green MPs in 2015.
In the 2015 polls, neither the Conservatives nor the Liberals nor the New Democrats would end up with a clear majority on election. If no party wins an absolute majority, a coalition government could be the result. Is the Green Party open to negotiate a coalition, and if so under which conditions?
Greens support coalition governments as a fully legitimate type of government in the Westminster parliamentary democratic system. In 2008, the federal council of the Green Party (GP) voted to support the proposed coalition between the NDP and Liberal Party. However, given the experience of so many Green Parties around the world, my current thinking is that our Green MP caucus will have more freedom of action and ability to stay to our own principles within a more informal form of cooperation. My ideal model, drawn from our own history, is the minority Liberal parliament of Prime Minister Lester B. Pearson with the significant influence of the small NDP caucus under David Lewis. That parliament delivered our universal public health care system, unemployment insurance and the public pension plan.   My hope is that Greens in a cooperative arrangement with other opposition parties (or one of them) can ensure a meaningful climate plan and the transition to Proportional Representation.   
That said, if a coalition government was the best way to achieve our goals and the Green caucus favoured it, I would have no objections, but I would prefer not to serve in a cabinet under another party's direction.
The interview was conducted on behalf of Heinrich Böll Foundation by Arne Jungjohann and first published on July 1st 2015.
Further resources: