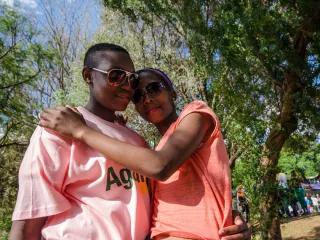 Civil society organisations can be a vanguard of progress for the LGBTI community. Despite the growing number of laws and policies impeding LGBTI advocacy, activists and organisations successfully challenge these trends.
Around the world, civil society is under pressure. Governments are using creative legal maneuvers to shrink space for civil society. They target organizations that work on contested issues, including the rights of migrants, women, and members of the lesbian, gay, bisexual, transgender and intersex (LGBTI) communities. Despite some historic legal successes, civil society organizations (CSOs) advocating for LGBTI rights continue to face monumental challenges when attempting to exercise their fundamental rights to peacefully assemble and associate. Such challenges are particularly formidable when in the form of laws, many of which not only prevent LGBTI individuals from achieving full equality, but also prevent CSOs from effectively advocating on their behalf.
Legal barriers to the rights of assembly and association faced by LGBTI CSOs are manifold and can been seen around the globe. They include prohibitions on LGBTI CSOs, activities and advocacy. Yet, despite the growing number of laws and policies designed to impede LGBTI advocacy, LGBTI activists and CSOs successfully challenge these trends.
Prohibitions on LGBTI CSOs
Some countries legally bar LGBTI CSOs from forming. In Nigeria the 2014 Same Sex Marriage (Prohibition) Act bans "gay clubs, societies, and organizations" and their "sustenance, processions and meetings." Any person who registers, operates or participates in these groups commits a criminal offense subject to up to 10 years in prison. Saudi Arabia is one of 10 countries to impose the death penalty for same-sex relations. No LGBTI-rights organizations exist, as in many other Middle Eastern countries. In the few instances where LGBTI persons have openly gathered, raids and arrests have followed. In Uganda the Parliament re-introduced The Prohibition of Promotion of Unnatural Sexual Practices Bill in October 2014, which criminalizes LGBTI relations. If passed, CSOs' ability to advocate for LGBTI rights will be severely restricted as "promotion" is ambiguously defined and could include, e.g., providing information on safe sex to same-sex audiences or donating to LGBTI organizations.
Registration Refusals or Delays
Governments may refuse LGBTI CSOs legal entity status and the benefits attaching thereto, even where the laws do not explicitly prohibit such groups. Lengthy delays can also deter existing and prospective applicants from applying. In Belarus the few LGBTI CSOs that applied for legal entity status were denied. Gay Belarus was denied because it "does not have in its charter any clauses on supporting social maturity and comprehensive development of the Belarusian youth." In Bolivia a LGBTI CSO reported delays in its registration due to a discretionary determination that its name was discriminatory because it contained the word "maricas" [queers] and that legal personality is granted only to "serious institutions." The Chinese Same-Sex Love Alliance Network was denied official recognition in 2014. Its rejection letter stated that there is no legal basis for establishing a LGBTI group and that homosexuality has no place in traditional Chinese culture and morality. In Mongolia, the country's first LGBTI organisation, The LGBT Centre, was refused registration over 10 times. The rejection letter stated: "the name, LGBT, is against the Mongolian traditions and customs and has the potential to set the wrong example for the youth and adolescents of Mongolia."
Restricting the Activities of LGBTI CSOs
Some states ban routine and otherwise acceptable activities, such as holding workshops or organizing rallies, when done by LGBTI CSOs. An Indonesian pro-LGBTI group was prevented from staging a pro-LGBTI rally in February 2016 at a popular tourist destination. In Russia, a gay pride march in Moscow was banned by local authorities in May 2015 for the 10th year. No specific reason was given, but organizers were warned of unspecified "risks" of proceeding. In Uganda, a government minister shut down a workshop on LGBTI rights conducted by the CSO Freedom and Roam Uganda (FARUG). The facility was raided, equipment confiscated, and participants interrogated and threatened with arrest. FARUG members were convicted of participating in activities tantamount to promoting same-sex practices, illegal under Uganda's penal code. In August 2016, the Ugandan police broke up a gay pride event in the capital and arrested 20 people. This is in the latest incident highlighting the risks facing the LGBTI community in Uganda. The Minister of Ethics and Integrity, Simon Lokodo, publicly backed the police raid and said that he will suppress the activities of LGBTI rights activists and "rehabilitate" LGBTI people.
Anti-Propaganda and Protection of Minors Laws
Some countries ban "propaganda" for nontraditional sexual relationships, information that contradicts "family" values, or communications that could harm children; these laws have been interpreted to prohibit LGBTI advocacy.
In Belarus, the Bill on the Protection of Children from Information Harmful to their Health and Development, adopted in 2016, prohibits dissemination of information that "encourages habits contradicting the development of a healthy lifestyle" or that is "discrediting the institution of the family" to children. Many fear that this language will be used to prohibit LGBTI advocacy. In Kyrgyzstan, a proposed law criminalizes communications containing positive information on same-sex relations, and organizing or participating in peaceful gatherings that provide "information regarding positions on any form of nontraditional sexual relations." Russia is a prominent case in point: A 2013 law bans "propaganda [aimed at minors] for nontraditional sexual relationships," interpreted to include lesbian, gay, and bisexual relationships. This law is used to prohibit LGBTI activities, such as holding pro-LGBTI signs, and to prosecute LGBTI activists, such as Elena Kilmova, founder of a support group for LGBTI children.
Legal Successes for LGBTI Activists and CSOs
Despite the growing number of laws and policies designed to impede LGBTI advocacy, CSOs continue to challenge, and in some cases, reverse this negative trend.
In Botswana: A landmark decision in 2016 ordered the government to register the group Lesbians, Gays and Bisexuals of Botswana, after 11 years of refusals. The Kenyan High Court in 2014 and 2015 ruled that the NGO Board must register Transgender Education and Advocacy group and the National Gay and Lesbian Human Rights Commission. In 2014, the High Court in Zimbabwe ruled that Gays and Lesbians of Zimbabwe could associate informally. In Hungary: Organizers of a gay pride march in 2012 succeeded in overturning a ban on their march. In Kazakhstan, a 2015 law banning "propaganda of homosexuality among minors" was declared unconstitutional. In Panama, the country's first LGBTI CSO, Asociación Hombres y Mujeres Nuevos de Panamá, was registered in 2005 after three years of refusals. Organizers of the South Korean Queer Culture Festival succeeded in overturning a ban on their yearly parade in June 2015. In January 2016 the Tunisian LGBTI CSO, Shams, won its legal challenge to an order suspending its operations.
CSOs can be a vanguard of progress for the LGBTI community. When individuals coalesce for common causes, particularly those challenging the status quo, their voices are louder, their actions stronger, and their shared resources multiplied. In order for LGBTI CSOs to be effective, they must operate within an enabling environment supportive of their efforts and protective of their rights to assemble and associate; it is crucial that laws protect these fundamental rights.
This article is part of our dossier "Squeezed – Spaces for Civil Society".