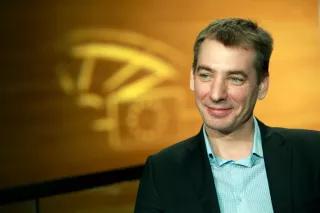 During his visit to Prague in November 2016, Hungarian Green MEP Benedek Jávor gave an interview to EurActiv.cz on the latest development around the controversial project of Hungarian nuclear power plant Paks II.
The European Commission has recently closed the infringement procedure launched against Hungary over compliance with public procurement laws in the Paks II Nuclear Power Plant project. This means that Hungary was not obliged to announce a public tender for the power plant's construction and that the agreement with Russia does not violate European law. You are one of the critics of Paks II. What do you think about the decision?
According to European rules, there might be certain exceptions to EU public procurement law in the event of existing technical requirements which make it impossible to announce a public tender. The Hungarian government argued that there was no need for a tender in the case of Paks II, because Hungarian regulations and technical standards make it impossible for anyone other than Rosatom to construct the plant. The European Commission accepted this so-called "technical exclusivity" explanation, but I believe it is not a valid argument for several reasons.
Why do you think the explanation provided by Budapest is invalid?
A nuclear power plant is not a bicycle that you buy in one piece. It's always a tailor-made project constructed in compliance with local regulations. Initially, none of the designs provided by nuclear technology companies meet the requirements of any state, but the winner of a tender will then modify its design according to the country's individual specifications.
Okay, but the decision suggests that Rosatom is somehow more eligible for the project.
We don't know whether the other possible suppliers of nuclear technology could have met the criteria, as this has never been established, but according to a recent article in Politico at least Westinghouse was interested in submitting a bid. One thing is for sure, though: not even Rosatom had been able to  meet Hungary's requirements initially. The Hungarian government's special envoy for the Paks II project, Attila Aszódi, personally stated that several hundred modifications to the original Russian design have been required in order to comply with Hungarian regulations.
Flawed regulation
You said there are other arguments supporting your criticisms of the agreement. What are they?
If we are to accept the government's technical exclusivity argument, meaning that Hungary's strict regulations made a public tender unnecessary for the Paks II project because only one supplier could meet them, this means that the regulation itself violates European law. There have been a series of cases at the European Court of Justice which clearly demonstrate that any regulation restricting the market without a compelling reason should be phased out. The implication for Paks II is as follows: if EU public procurement law permits non-tendering under technical exclusivity, then there is a strong case for launching an infringement procedure against those national regulations which gave rise to a non-competitive technical exclusivity scenario.
Are you going to pursue this argument?
There are players in the game who are ready to take the case to the European Court of Justice, and I am one of them. The question of the tendering or non-tendering of a project may be brought to the Court only by market competitors. But if a case concerns a discrepancy between European and national law, then as an MEP I am entitled to bring it myself. And the Commission must know that if the case is taken to the Court, they can easily lose it.
You were the complainant against the agreement between Budapest and Moscow. What is the history of this case?
The investigation into a possible violation of EU public procurement law was based on a complaint I submitted in 2014, and in November 2015 the Commission announced an infringement procedure over the project's non-tendering. In the opening letter of the infringement procedure, they stated that Paks II fell under the EU's public procurement regulation and that an international tender should have been conducted. Almost a year later – in August of this year – I received a letter from the Commission outlining a compromise with Hungary which followed a completely different line of reasoning, based on the arguments made by Budapest.
Another strange aspect of the compromise is the fact that this argument apparently occurred to the Hungarian government only at the very end of the procedure. For years, they were not aware that no one else could meet the Hungarian standards and that this was the reason they didn't conduct a public tender. They used completely different reasoning and never mentioned technical exclusivity until the Commission had rejected all the other arguments. It was only two years after granting the project to the Russians that they suddenly realised that only Rosatom could meet the Hungarian standards.
Expensive power
Another investigation has been launched against Paks II, this time concerning state aid. Do you think the project can survive without financial support from the government?
Since the very beginning, I have pointed out that the new nuclear power plant at the Paks site would be problematic not only with respect to security, safety and environmental considerations, but also from a budgetary  perspective. If current market prices for electricity persist, the project will never pay for itself and will clearly need substantial state aid in order to survive. In addition to the infringement procedure concerning public procurement rules, November 2015 – which was a black month for Paks II – also saw the Commission announce an in-depth investigation into possible state aid in the project.
The Hungarian government endeavoured to convince the Commission that there was no need for state aid. The goverment commissioned a study, carried out by Rothschild & Cie, which concluded that the project was able to generate fair profits and would pay for itself. This conclusion was broadly communicated by the government. The more interesting part is that according to the study – and this has not been publicised very extensively – Paks II would pay for itself only if electricity prices in the EU market were to double over the next couple of years. No one is actually anticipating this, however.
But aren't experts expecting a certain increase in electricity prices during this period?
Prices on the EU electricity market have been low for quite a long time, and the indicators we have do indeed lead us to expect a slight price rise in the next couple of years. But here we're talking about 20 or 30 percent, which is very far from a doubling of the price. And following this increase we'll likely see another decline in wholesale electricity prices because the costs of renewable energy sources keep falling. The above-mentioned study is therefore based on an unrealistic set of assumptions.
Do you have any information about the Commission's view on the state aid case?
There has been no official communication in this regard, but according to the information we have the Commission may conclude that the project's estimated costs and estimated incomes are out of balance, and that there will be a clear deficit during its operational life. If they insist on this point, then Budapest will have to accept it. We had expected a decision in this case in early December, but now we're hearing that it could be postponed until the beginning of 2017.
Still, the Commission could rule that Hungary may provide financial support to the power plant under certain conditions.
Indeed, the European Commission may accept the need for state aid if special circumstances obtain on the Hungarian power market and the government is unable to resolve the situation in another way. In my view, however, such a deal could also be taken to the Court, and the Commission would be unable to defend it. There's no proof that constructing a nuclear power plant is the only way to solve the ostensible problems on Hungary's electricity market. Actually, no one has ever investigated alternative solutions, and the Hungarian government's estimates of expected total electricity consumption in 2030 and other indicators are based on unrealistic data.
Do you have any estimates regarding the amount of money that could be provided to the project?
According to my calculations and independent assessments, the required state aid may be as much as HUF 100 billion (EUR 300 million) per year. These are conservative numbers, and other estimates range as high as HUF 250 billion annually. Just for comparison, the incomes of the existing nuclear power plant in Paks do not exceed HUF 180 billion per year. And remember: these figures aren't profits, but total incomes. This suggests that the Paks II project will need state aid in an amount close to the existing power plant's total incomes and perhaps even exceeding them.
And I haven't even mentioned the fact that in the last 15 or 20 years none of the nuclear power plant projects in the EU have been completed on time, and total construction costs have been double their initial budgets on average.
Future of the EU power market
On the other hand, investors are currently having a hard time on the European energy market. The general view is that it's not profitable to invest one's money into any kind of energy source without state aid. Why then is financial support for a nuclear power plant such a problem?
The EU electricity market is currently undergoing a transition, and it's very difficult to say exactly what it will look like in future. Nevertheless, it's quite clear that the market is becoming much more flexible and will be based increasingly on local small-scale installations. The age of big utilities is over, and baseload generation will no longer play an important role. You're right that current electricity prices do not send the right signal to investors. As I have already mentioned, in the next couple of years we'll most likely see a price increase that will facilitate new investments into energy infrastructure and generation capacities. But that's not the question: you have to look at the levelised costs of different energy sources. In renewables, costs are declining very quickly. We can also mention natural gas power plants, the construction of which is much cheaper than that of nuclear power plants. This is why, once prices rise, it will still be much more profitable to invest in renewable sources or natural gas.
Do you believe the energy system will be based on renewables and gas in future?
When you have a large proportion of renewables in your energy mix, you also need flexible energy sources to provide grid regulation. Natural gas power plants are a good fit here, but in the long run even natural gas could be phased out of the system, which will be based on renewables and a high degree of demand-side management, in other words smart technologies and energy efficiency. I cannot see any place for nuclear power plants in such an energy system.
In a nutshell, the trouble with nuclear investments is not a question of tendering or non-tendering. I wouldn't be satisfied with Westinghouse, EDF, KHNP or any other company winning the tender, because their nuclear power plants would incur the same or even higher costs. With or without a public tender, there will be serious problems with profitability, because nuclear energy is no longer competitive. Indeed, I don't believe it ever was competitive; I think it only survived thanks to hidden subsidies. In Hungary, for example, we don't actually know the real cost of the Paks I nuclear power plant built in the 1980s, because economic relations between the USSR and Hungary at that time were based on barters. With some exaggeration, one could say that we paid for the nuclear power plant with cans of green peas. Anyway, I think Hungary's high level of indebtedness in the 1980s was closely linked to the construction of Paks I.
On the subject of natural gas, one always comes to the question of energy security. Europe depends on fuel imports, and nuclear power is generally considered more secure in this regard.
In terms of energy security, building a new nuclear power plant would not be much better in this case. It will be the Russians who will construct it. It uses Russian technology and will be dependent on Russian fuel. Russia will provide a EUR 10 billion intergovernmental loan to Hungary, which creates a financial leash between the two countries. The Hungarian prime minister may be of a different opinion, but I'm convinced that it's really dangerous to be dependent on Russia in several ways.
Couldn't another fuel supplier be found?
The question of fuel dependency was raised by the European Commission, and the Euratom Supply Agency refused to counter-sign the first draft of the agreement on Paks II between Budapest and Moscow, as they considered the 20-year exclusivity provision for the Russians to supply the new power plant with fuel to be unacceptable. Ultimately, they agreed that this period would be shortened to 10 years, after which there would have to be an open tender for a new supplier. This looks fine on paper, but in reality there's no other supplier for this type of Russian nuclear power plant. The first third-generation VVER reactors only started operation in 2016in Russia. It's expensive for a nuclear technology company to develop a new type of nuclear fuel, and this will be a small market with most of the reactors operating in Russia or Belarus, which means that no market player will be willing to develop fuel of this type for just Paks in Hungary and Hanhikivi in Finland.
I have also been telling the Commission for two years now that they cannot approach the Paks case as an isolated Hungarian issue. Once they sign off on the agreement with Budapest, they will be flooded by demands from other member states to approve similar deals. This would completely destroy the EU energy market. If tens of thousands of megawatts of energy generation capacities in Europe are exempted from the common rules, then – I'm sorry to say – we can forget about a single market.
What the Hungarians think
Recently, you submitted another complaint against Paks II. Does this one concern market conditions?
This is a question I raised in September at the European Nuclear Energy Forum in Bratislava, and the investigation by the European Commission is still in its early stages.
What is the essence of your complaint?
The Hungarian government and certain people at the Commission argue that the Euratom Treaty creates a completely independent legal framework, and that nuclear investments are therefore exempt from EU competition and public procurement law. This is very dangerous. My complaint concerns Article 8 of the Electricity Market Directive, which states that there should be a capacity tender announced in each and every case where a government claims there is a risk of a capacity gap on the national market and therefore it seeks to actively intervene in order to solve the problem. This is fine, but they have to open a public capacity tender which is technologically neutral, meaning that it does not require a particular technology. No such tender was ever announced in Hungary, and thus, in this case it is not the non-tendering of the project which violates EU law, but rather the non-tendering of the capacity. And with respect to this latter issue the Euratom Treaty has no bearing.
What do people in Hungary think about Paks II? Is it a major issue in the public debate? How is it perceived?
I started my activities in the area of energy policy 15 years ago when I worked at an NGO. Just six or seven years ago when we were campaigning against nuclear energy, we were seen as crazy extremists. There was a consensus among 80 percent of society that nuclear energy was a good thing. In just a few years' time, however, we managed to raise public awareness of the problem of profitability, and then the Fukushima accident focused attention on questions of security and safety.
Suddenly, the issue of nuclear energy became completely political. Government supporters became great friends of Russia. The same people who took to the streets in 2008 to protest against the then prime minister's gas supply deals with Russia have now become best friends with Mr Putin. They consider any statement against Paks II to be a statement against the Hungarian nation.
More importantly, however, most of the public is now convinced that Paks II is an insane project that will create  financial dependency on Russia, will never pay for itself, and will be harmful to the environment and future generations. Moreover, those journalists who were clearly pro-nuclear seven or eight years ago have changed their minds. If one takes into consideration the government's aggressive propaganda efforts, it's a significant achievement that there is now a broad consensus among 50 or 60 percent of the population that we don't need this project. The government is well aware of this, which is why they blocked a referendum on the issue. They may not be paying attention to it now, but in the long run they will have to come to terms with the fact that most Hungarians no longer believe in the project.
This interview was first published in English on EurActiv.com here.