Exploration
Under the umbrella of the Regional Green Dialogs project and in collaboration with Vasl Artists' Collective, from April 6th to May 12th, 2017 an arts residency with five artists from Afghanistan and Pakistan is taking place in Karachi. For six weeks, the participants explore the concept of Social Sculpture that evolved from the broad understanding of art of the German artist Joseph Beuys who said 'Every Human Being can be an Artist'. Professor Shelley Sacks, Director of the Social Sculpture Research Unit at Oxford Brookes University, UK is mentoring the residency. The artists' works were installed on public places in Karachi and involved the general public.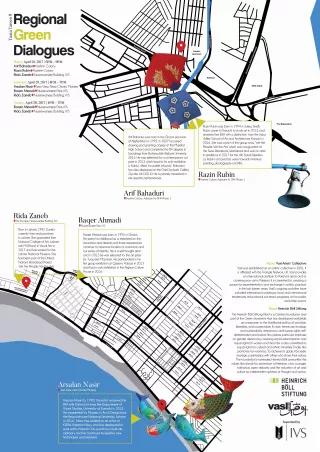 The arts residency's main objective was to overcome stalled political parameters of mutual distrust and enmity between people of Afghanistan and Pakistan. Bringing together two artists from Afghanistan and three artists from Pakistan, the taaza tareen residency intended to formulate new narratives about each other and open new ways for future exchange and cooperation by re-imagining the past, present and future differently.
How can people from two countries work together to create, provoke and inspire new ways of thinking and acting politically? By developing the concept of Social Sculpture during the 1970's, the German artist Joseph Beuys established a very broad and political understanding of art. Arts, in his regard are not reduced to material artifacts that form a visible final 'product' and can be exhibited in galleries and museums. Social Sculpture does not distinguish between arts and non-arts and between the artistic and the social. The concept of Social Sculpture includes not only tangible but also intangible material. It sees art as a participatory process where every human being can contribute. In Beuys' view, as long as it is enacted mindfully and reflectively, every human act can be regarded as art, thus every human being can be an artist. 
Within their working processes, the residency's artists explored the opportunities and challenges of involving the general public in art pieces and by that making arts and the artists an actor of change. Based on the understanding of arts by Joseph Beuys and the practice of Social Sculpture, the five artists in residency mindfully and reflectively developed interactive pieces of arts that offer new perspectives on arts in Afghanistan and Pakistan as such, as well as on the chosen topic the artists decided to work on. All works are also inspired by the immediate surrounding of Karachi and themes that relate to city life and urbanity.
The process and outcomes of the residency has been nurtured and mentored through weekly interactive skype sessions with Professor Shelley Sacks, Director of the Social Sculpture Research Unit at Oxford Brookes University, UK.
About the artists and their work
Arif Bahaduri
Arif was born in Ghazni province, Afghanistan in 1992. In 2007, he joined drawing and painting classes at Marefat High School and completed his BA degree in Sociology at Burhanuddin Rabani University in 2016. He won a contemporary arts prize in 2013 which lead to his solo exhibition in Kabul titled 'Incurable Wounds'. In 2014, Arif also displayed at Oriel Sycharth Gallery Glyndwr, UK. He is primarily interested in site specific performances.
'Having been introduced to the concept of Social Sculpture, I have been searching for particular places and materials to create my idea of a social game. After visiting various beautiful and historic places in Karachi, I encountered some people playing with kites. Kites have been used in both Afghanistan and Pakistan for entertainment and fun since a long time, and throughout the history of flying kites they have been used to carry messages in different ways. My intention is to use kites as a form of free social communication. By covering them with medical band aids through the help of public participation, each kites carries a certain message and values.'
Arsalan Nasir
Arsalan was born 1990 in Karachi. He received his BFA with Distinction from Department of Visual Studies University of Karachi in 2013. He completed his Masters in Art and Design from Beaconhouse National University, Lahore in 2016. Nasir is working as an artist at KSEW, Pakistan Navy and has displayed his work within Pakistan. His practice is multi-disciplinary and he continues to explore new techniques and mediums.
'The beautiful and restless Karachi has such diversity that at times it seems like the city is in total chaos. But it isn't. I am interested in the diversity of cultures, lifestyles and towns within this gigantic metropolis. For me, the possibilities to create Social Sculpture can be found it social gatherings and when I think about the larges and most diverse gathering spot in Karachi, I always end up at the sea!
The Sea View Beach is a focal point where we can witness one of the densest gatherings where people come from all over the country. I see people who have come to witness the mesmerizing face of Mother Nature and the coast becomes a thin borderline between nature and the man made. However, if one goes to the sea of Karachi there isn't just a realization of the beautiful seascape / there is also the recognition of the immense sacrifices nature has to make to accommodate all the inhabitants of this huge city. We have continuously been dumping the waste of this city into the sea, which has created tragic consequences in the form of death and construction of aquatic species that live in the ocean.
My site to intervene in a social gathering is Sea View as I am interested in creating a happy yet disturbing picture in a surrealistic visual at this site. Working with both organic and inorganic materials to dig deeper into this concern, I see this possibility to use the shore of the beach as my canvas and people as potential creative individuals who can start a dialogue for awareness about ecological concerns and our behavior towards it.
Baqer Ahmadi
Baqer was born in 1995 in Ghazni, Afghanistan. He spent his childhood as a shepherd in the mountains and deserts of Afghanistan. These experiences continue to influence his idea of community and our sense of identity. He is a self thought artist and was selected for the art prize my Turquoise Mountain in 2013. Baqer participated in his first group exhibition at Queen's Palace in 2013 and had a solo exhibition in Afghan Culture House in 2016.
'Today we live in the midst of multiple communication methods and with advancements in technology we are increasingly better at understanding how to fill the spaces between us and the rest of society. Despite this progress, we as humans still fail to overcome the barriers created by politics, economic disparities and the raging manipulations of the media. Unfortunately, we even tend to hold contempt and distrust for the 21st century communication devices, rendering our own developments futile. In my artwork for the residency I have found that it is vital for us to consider our relationships with a space and its inhabitants, as the dynamics of space govern our interactions and mannerisms.
By personifying characters like toys, technological images and media and political images to review my own image, I have titled this series of work 'Fake' as it is based on my notions of how physical deconstruction is related to poverty. One of my primary concerns in addressing the lifestyles of people who live in poverty in Karachi is how deconstruction can covert the image of poverty. Dilapidated buildings and squatters are ever present in Karachi and I notified they were always occupied by people who struggle for a daily meal. Using domestic items and objects found in both wealthy and poor homes, I see these as tools through which I can communicate how the basic necessities of living are so similar and without seeing the exterior walls of a home, one cannot really guess the economic background of an individual.'
Razin Rubin
Razin was born in 1994 in Sukku, Sindh. Razin came to Karachi to study art in 2013 and received her BFA with distinction from Indus Valley School of Art and Architecture, Karachi in 2016. She was part of the group show 'We are the people, We the Arts', which was inaugurated at Swiss Residence, Islamabad. In 2017, she participated as artist in residence with the 4th Sanat Residency. Razin's art practice veers towards miniature painting, photography and film.
'I have continuously been hearing people in this country say that their stories have been altered by external forces and that their words are no longer theirs, rather, their stories have become somebody else's. There was a man in Saddar whom I met during exploring this city, who was scared of sharing his story with me; although he let on that he had witnessed the partition of 1927 and knew multiple migratory families, he was reluctant to speak further. My work for this residency depicts such people whose stories have not been heard and whose words have been taken away without acknowledging the right person.
The microphones in my work portray both the person to whom the story belongs to and the horn speakers are their source of spreading their stories to people around the city. The speakers also give the participant the idea of not hearing their own voices clearly because they need to use the best quality speakers to make their voices be heard at an optimum level.'
Rida Zaneb
Rida was born in Lahore, 1992. She currently lives in and practices in Lahore. Rida graduated from National College of Arts Lahore with a MA (Hons( in Visual Arts in 2017 and has worked for the Lahore National Museum. She was part of the United Nations Islamabad Project 'We are the people, We the Arts'.
 "If you look out of the window, you've got to do something about it." (Noam Chomsky).
The point of staring out of a window is paradoxically not to find out what is going on, it is rather an exercise in discovering the contents of one's own mind. Through my walks in the city, I have been trying to look through people's eyes and their perspectives. How do they feel when they look through their windows and what do they look for? Who are they watching and who watches them?
My work started with the question 'How do we feel when we look out of the window?' I walked around the city of Karachi and gathered multiple answers from the residents in various locations. The work I have created is based on the idea of Social Sculpture and as there is an involvement of ordinary people participating in the creation of this work rather than being silent spectators.'
Note by Shelley Sacks on the residency's artists
In the past 17 days I have had the opportunity to support five quite remarkable young artists: Arif Bahaduri, Arsalan Nasir, Baqer Ahmadi, Razin Rubin and Rida Zaneb. The work developed during this short period is quite remarkable, especially since 'social sculpture and connective practice' was until recently, a totally new field for most of them. The artist's explorations have been made possible by this innovative artists' residency programme which has emphasized upon the commitment and thoughtfulness given to bringen creative people together across complex geo-political boundaries.
Heinrich Boell, a political writer himself was closely connected to my dear teacher, Joseph Beuys, who has been a primary inspiration for this work. During the past four decades, working with the South African liberation struggle, as well as in Europe, Australia, China and India, I have developed Beuys' Social Sculpture ideas and made them accessible to people all over the world. This residency by Boell and Vasl has extended this work into the Afghanistan-Pakistan region.
The most inspiring aspect of these projects has been the five artists; from the first meeting on Skype, I've been struck by their deep interest in Social Sculpture and their passionate engagement. Regular four-hour Skype sessions between Oxford and Karachi have enabled an incredibly rich creative exchange and allowed me to support each artist to become an explorer in the field of connective practice and Social Sculpture.
To enable and entry point into the field of Social Sculpture and connective practice I introduced a number of guiding ideas and 'images'. These have included what Beuys meant by 'Every Human Being is an Artist.' By working with the invisible materials of speech, discussion and thought and 'everything is a form question'. These approaches – which I have been developing since Beuys – allow the artists to become agents of change. We also worked with understanding the 'aesthetic' as the opposite of 'unaesthetic' or numbness and how whatever enlivens us can stir our 'ability-to-respond'; the role of imagination in transformation and active encountering. I also introduced a number of strategies and methods to allow them to develop connective practices. One can explore these questions in their backpack, whilst having reflective encounters with the world around.
It has been a great pleasure and privilege to work with this group of young artists, each of whom has developed fascinating work in such a short space of time. They have not only developed their own practice but have become a close knit, respectful and creative group. Due to their dedication, they will without doubt each become carriers of these Social Sculpture ideas far beyond this residency. How lucky we are to have such artists in this complex and difficult world.
Prof. Shelley Sacks
About Vasl Artists' Collective
Vasl was established as an artists' collective in 2001. It is affiliated with the Triangle Network, UK. Vasl provides an international platform to Pakistani artists and to contemporary art in Pakistan. It is committed to creating a space for experimentation and exchange in artistic practice. In the last sixteen years, Vasl's ongoing activities have included international workshops, local and international residencies, educational out-reach programs, art for public and other events.
[gallery]