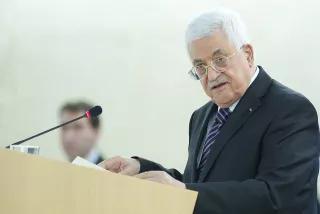 Last week, President Trump hosted Palestinian leader, Mahmoud Abbas, for discussions on an Israeli-Palestinian peace deal and further economic and security cooperation between the US and the West Bank. What can we expect from the US administration and how committed are the parties involved in the conflict?
From our office in Washington D.C.
Donald Trump's election campaign clearly outlined his stance on the Israeli-Palestinian conflict. Early on, he positioned himself as a staunch supporter of Israel, including the settlements, and announced his controversial intention to move the US embassy from Tel Aviv to Jerusalem. Israeli Prime Minister Benjamin Netanyahu was the first Prime Minister of a Middle Eastern country to visit the White House under the new President. However, the announcement that Palestinian National Authority (PA) President Mahmoud Abbas would come to the White House one month later came as a surprise. Though the Trump administration still lacks a clear strategy for the region, its invitation to Abbas offered some initial insights into how President Trump will approach the conflict and bring both sides to the negotiating table.
What can we expect under President Trump?
"The United States will encourage a peace and, really, a great peace deal." With this promise, made during February's press conference with Netanyahu, Donald Trump put efforts to reach an Israeli-Palestinian peace agreement on his foreign policy agenda.
At the press conference with Netanyahu, Trump stated, "I am looking at two states or one state, and I like the one that both parties like." Trump's statement was a radical shift away from the two-state-solution that has shaped decades of failed international negotiations with Israeli and Palestinian authorities, and opened up the discussion for a possible one-state solution. While the specific geography of such a state has not yet been outlined, it suggests that the US no longer views a Palestinian state as an indispensable element of the conflict's resolution. Nor has the administration made any efforts to explain how the Palestinian's right to self-determination or broader civil rights would be granted in a one-state solution. At the same time, Trump warned against the creation of new Israeli settlements in the West Bank, calling on Netanyahu to "hold back on settlements for a little bit." While recognizing that it is the "parties themselves who must directly negotiate such an agreement," Trump's statements so far suggest that he plans to follow in the footsteps of previous administrations, and act as a mediator between the two sides.
At the press conference with President Abbas, however, President Trump did not formulate clear demands for the Palestinian side. While he mentioned economic and security related U.S.-Palestinian cooperation, and urged Abbas to "show partnership," he did not insist on clear measures to promote the peace negotiations. However, later the same day, Press Secretary Sean Spicer added that, "concerns about the payments to Palestinian prisoners in Israeli jails who have committed acts of terror, and to their families" was privately discussed between the two leaders. Spicer emphasized that this issue is of great concern to the President.
In contrast to Trump's vague demands, the Abbas voiced explicit terms for a peace deal. He highlighted the need for an end to Israeli occupation and demanded Israel's recognition of a Palestinian state as a necessity.
Who is involved?
When Netanyahu, arrived in Washington D.C. this February, he came with clear instructions from Naftali Bennett, leader of the far-right religious Jewish Home party in Netanyahu's coalition, to not "even mention a Palestinian state." His party designed the recently passed Regulation Law that legalizes the construction of Jewish settler homes by compensating the original landowners, even if they don't agree to sell their property. After Netanyahu's US visit, Bennett announced "The Palestinian flag has been lowered and replaced by the Israeli flag." Additionally, at the annual convention of American Israel Public Affairs Committee (AIPAC) in March, Netanyahu repeated Israel's demand that Palestinians recognize Israel as a Jewish state, before any lasting progress can take place.
Next to the Jewish Home Party, Netanyahu's governing coalition also contains the ultranationalist Yisrael Beitenu party, led by Avigdor Lieberman. Lieberman, who serves as defense minister and lives in a settlement in the occupied West Bank, is known to be open to a two-state solution, including landswaps for areas with Israeli Arab majorities in return for an expansion of Israeli sovereignty to parts of the West Bank. The combination of these far-right parties and leaders in Netanyahu's governing coalition makes a peace deal that would satisfy their demands increasingly unlikely.
From Abbas' perspective, the visit to Washington came at a crucial time. With a two-thirds majority of Palestinians believing he should step down, Abbas is strongly dependent on American support. Marwan Barghouti, Abbas' primary competitor, recently began a large-scale hunger strike in an Israeli prison that made international headlines, and bolstered support at home. Meanwhile, Abbas' popularity is declining. According to Ghaith al-Omari, senior fellow at The Washington Institute, Abbas'  "newfound relevance depends almost exclusively on the extent to which Washington continues making the peace process a priority." Yet, his shaky mandate at home makes it unlikely that he could sell a compromise to Palestinians.
A new strategy for the Trump administration might be using the so-called "outside-in strategy". This would mean working with neighboring Arab states to put pressure on both sides to come to an agreement. The support of the Arab states could be gained by calling for tougher U.S. policies on Iran, something Trump has already announced. By calling the Iran Nuclear Agreement, "one of the worst deals I've ever seen," and preventing "Iran from ever developing… a nuclear weapon", Trump has consistently sought to reassure allies in the Middle East.
Will there be a peace deal under Trump?
Ultimately, a successful peace deal will depend on the commitment of both the Israelis and Palestinians to the peace process. Whether this can be arranged by demanding concrete steps from both sides or by using the outside-in strategy remains to be seen. While the visits of Netanyahu and Abbas to Washington imply an effort to bring both sides to the negotiating table, other remarks and actions suggest otherwise. The appointment of David Friedman, who was called a "fervent supporter of Israeli settlements, an opponent of Palestinian statehood and staunch defender of Israel's government" by NBC, as the new U.S. Ambassador to Israel implies a rather one sided approach by the administration. Selecting Jared Kushner, Trump's son-in-law and senior adviser who has close personal and business ties to the Jewish community and Israel, as the lead diplomat to "broker a Middle East peace deal" certainly adds to this perception.
Combined with Trump's suggestion to move the US Embassy to Jerusalem – a move that would effectively legitimize Jerusalem as Israel's capital without achieving a negotiated settlement – the administration has so far positioned itself as anything but an impartial mediator. So far, every president since 1998 has signed the semi-annual waiver of the Jerusalem Embassy Act to keep the embassy in Tel Aviv.. A move to Jerusalem would have a severe impact on the peace talks as the Palestinians, and many Arab countries would consider it a violation of international law.
Trump's first months in office have shown his willingness to shift policy strategies on a whim. Whether this will be an asset to revive stagnant negotiations or yet one more obstacle to the peace process remains to be seen.
On June 1st, the administration must decide whether to keep the embassy in Tel-Aviv or begin the highly controversial relocation to Jerusalem. Either way, Trump's visit to Israel at the end of the month will be scrutinized by both sides for further indications of the administration's underlying strategy.