The World Wind Energy Association (WWEA) and Heinrich Bӧll Stiftung Pakistan (hbs) have been working together for the growth of Renewable Energy (RE) in Pakistan since 2013. In 2017 both partners are joining hands once more for holding RE Dialogues across Pakistan. Some of the main reasons of slower RE growth in Pakistan are lack of coordination between federal and provincial governments with regards to RE development, and lack of awareness among different federal and provincial agencies about their mandate relating to RE deployment especially, after 18th amendment to the Constitution. The RE dialogues assess institutional landscapes of RE at federal as well as provincial levels through engaging multi-stakeholders from government, civil society and the private sector.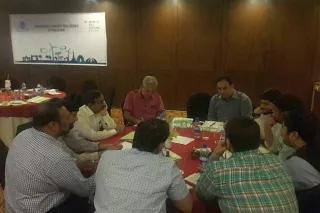 Renewable Energy Dialogue Workshop in Peshawar
First in a series of four, a RE dialogue workshop was held in Peshawar on September 26, 2017. The workshop brought together participants from government agencies, private sector, civil society organisations and academia to highlight the outstanding challenges causing very slow RE progress in Pakistan. Providing welcoming remarks, Mome Saleem, Programme Coordinator at hbs briefed the participants about global debate around RE and how hbs has been supporting the clean energy and energy transition movement world over. "Adoption of clean and affordable energy as a sustainable development goal by the United Nation's General Assembly in 2015 marks the significance of RE at the global level.  RE is also a means to curtail carbon emissions harming our climate", explained Mome Saleem.
Zeeshan Ashfaq, Policy Analyst for WWEA, presented the preliminary findings of the study "Governance of Renewable Energy in Pakistan: Looking Ahead" commissioned by hbs. He highlighted the importance of the dialogue process for bringing clarity in the roles and responsibilities of various institutions with reference to RE promotion. He argued that, when looking into the RE sector, the much celebrated 18th amendment has actually brought certain confusions in the mandates of federal and provincial governments. Although, the amendment empowers provinces to generate, transmit and distribute power within their territorial jurisdiction, absence of a national coordination plan and lack of expertise and resources at provincial levels, make it difficult for provinces to effectively implement the constitutional amendment with regard to electricity.  
During the discussion session, Dr. Idrees Massod, who heads the energy and power section at Planning and Development Department of Government of Khyber Pakhtunkhwa, said that since coming into power in 2013, the new provincial government has started a number of initiatives for RE development. These range from flagship programme of micro hydro power projects (MHPs) to solarisation of 8,000 government operated schools. The provincial government is also working out a mechanism to develop tariff for MHPs, particularly for communities that are not connected to the national grid. Dr. Masood also outlined issues that hamper the growth of RE in the province. He argued that the Khyber Pakhtunkhwa government wants autonomy with regards to power generation, transmission and distribution; however, due to constitutional constraints it can only generate power for which the tariff is determined by National electric Power Regulatory Authority (NEPRA). He went on to highlight the reluctance of electricity distribution companies to integrate RE into their system as they do not come under direct provincial control.
A representative of Khyber Pakhtunkhwa Energy Development Organisation (PEDO) also outlined number of RE initiatives of Khyber Pakhtunkhwa government. The government is facing multiple challenges to harness RE sources in the province: a) even after completion, projects struggle to get interconnection facilities as the grid operator is a federal entity; b) lack of financial resources at the provincial level for developing RE and; c) different priorities at federal and provincial governments due to different political parties ruling at respective levels.
During the last session, workshop participants stressed on the need to overcome barriers faced by RE sector to accelerate RE deployment in the country. Sectoral experts recommended that roles and responsibilities of institutions at both provincial and federal levels should be clearly defined and a strategic plan must be devised for scaling up RE by engaging all the provinces and the federal government.
Remaining three RE dialogue workshops will be held in Lahore, Karachi and Quetta on October 04, 10 and 12, 2017 respectively.  
Copyright © WWEA, Heinrich-Böll-Stiftung Pakistan