Analysis
Though many people are convinced that the 2019 municipal election showed that Fidesz has lost plenty of voters, actually they gained many more votes than they did during the 2014 municipal elections. It is a delusion, therefore -  or at the least, wishful thinking – to believe the erosion of the Fidesz voter base is ongoing. On the other hand, anybody who saw the face of the PM and his fellow Fidesz politicians behind him on election night could see that they all felt beaten. What happened?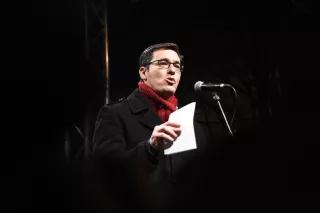 Effective cooperation
The opposition parties have certainly learned some lessons. First of all, they managed to secure mayoral seats as a result of cooperating more effectively than ever before so they could mobilise more new voters (the turnout was higher) than Fidesz did compared to 2014. In almost all 23 Budapest districts and the 23 biggest towns, they fielded a joint mayoral candidate. This was certainly not the case in 2014, when in most places several oppositional candidates competed with each other as well as with Fidesz, so the anti-Fidesz voters were fragmented among them. Furthermore, most of their 2019 mayoral candidates were more embedded locally than they were in 2014.
This was the first time since 2006 that the opposition fielded a lord mayoral candidate whom voters believed could be capable of beating his Fidesz-affiliated opponent. This primarily gave a boost to opposition campaigns in Budapest districts, but it had a nationwide effect as well. 
Although many – mainly in larger towns – viewed the municipal elections as an anti-Orbán referendum, the opposition also managed to reach out to voters who want candidates to respond to local issues. 
The Fidesz-dominated media space and the opposition's inability to access public advertising space (billboards, city lights etc.) made the opposition understand it had two remaining channels for reaching its voters: social media and, more importantly, face-to-face campaigns. It was pretty surprising how effectively local campaign teams recruited from different opposition parties worked. 
Last but not least, the sex and corruption scandal of Győr's Mayor Zsolt Borkai certainly encouraged anti-Orbán voters to turn up (the effect of the scandal cannot be quantified, though). 
All this led to the transformation of the political landscape, as follows:
Number of seats on the Budapest City Council before and after 2019 municipal elections
 

Fidesz

Opposition

Before the election

19

(+ Lord Mayor István Tarlós)

13

After the election

13

(+2 independents supported by Fidesz)

17

(+ Lord Mayor Gergely Karácsony)
Mayors before and after the 2019 municipal elections in 23 Budapest districts
 

Districts led by Fidesz-affiliated mayors

Districts led by opposition mayors

Before the election

17

6

After the election

7
(+2 independents supported by Fidesz)

14
Mayors before and after the 2019 municipal elections in 23 cities with county rights
 

Cities led by Fidesz-affiliated mayors

Cities led by opposition mayors

Before the election

19

4

After the election

12
(+1 independent supported by Fidesz)

10
Effective expansion
On the other hand, Fidesz's performance was all but impressive if we compare it to previous elections. They still do not seem to have any challengers in smaller settlements and they managed to gain new voters even in larger cities and the capital. 
The aggregated share of votes Fidesz received on the county lists improved to 57.2% in 2019 from 52.6 percent in 2014. This is a massive improvement, especially if we consider that the party was already dominant back then. (Note that voters living in the capital and the 23 cities with county rights do not vote for county lists, so these data show the power of Fidesz in the smaller settlements – which still cover more than half   of the country.) 
However, contrary to popular belief, it is not true that Fidesz is only strong in small rural settlements: over a third of the party's voters live in the capital and the larger cities. 
We tend to forget that in the 2018 parliamentary elections, opposition candidates triumphed in two-thirds of the Budapest single-member constituencies, and what is more, they could have won 100% if they had fielded a joint candidate in all of them. The relevance of this fact was pretty low back then, as it did not stop Fidesz gaining a two-thirds majority in Parliament. Nevertheless, had there been a municipal election on that parliamentary Election Day, Fidesz most probably would have lost most Budapest districts. A year and a half later they won nine Budapest districts of 23, so this could also be interpreted as a solid performance by Fidesz. Moreover, there are several Fidesz mayors who gained more than 3000 more votes in this last election than when they were first elected, but who nevertheless lost this time - again, because of more effective cooperation among the opposition parties. 
The fact that the opposition won 10 cities out of the largest 23 is also impressive at first glance, but it also indicates that a joint candidate per se is not enough for a victory. If we consider that in the 2018 general election the opposition candidates gained more votes than the Fidesz-backed ones in 21 out of these 23 cities, then the opposition's achievements in the 2019 municipal elections do not seem so remarkable anymore. This indicates that besides party sympathies, the embeddedness of local candidates (both mayoral and parliamentary) and whether people believe they can beat their Fidesz-affiliated competitor also influence voters' decisions. 
Facing 2022
The opposition victories in the Budapest districts do constitute a considerable breakthrough, especially when compared to very moderate expectations. However, their cooperation strategy for the 2022 general election is not ready yet. One thing is certain: a joint candidate has to challenge Fidesz's candidate in all 106 single-member constituencies. Whether the opposition should field a joint party list or run separately is still a question. They are still very far from finding their "leader" who could challenge Viktor Orbán as a candidate for Prime Minister. Moreover, conflicts among the opposition parties may have been hidden during the recent campaign, but now, just a few weeks after the elections, they have come to the surface again. 
Though the election results can be interpreted very diversely (all parties can claim to be the main winners), one thing certainly changed: the myth of Fidesz's invincibility is broken. Both pro- and anti-Orbán voters can see there is a chance Fidesz can be defeated, including during the next parliamentary election. The importance of this psychological, symbolic change cannot be emphasized enough.   
Article is written by Robert Laszlo, Election Specialist at Political Capital Institute.
Proofreading by Gwendolyn Albert.