Informative film
The new online course on masculinity has now been released in a version with English subtitles, making the cooperation project of the Heinrich Böll Stiftung Moscow available internationally to anyone interested.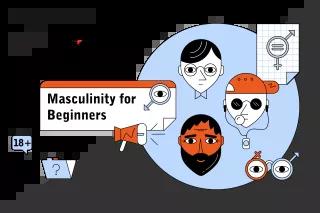 "What does masculinity mean today?", "How does a man become a man?", "Masculinity and violence", "Modern fatherhood" – these are the questions and topics at the focus of the educational film series "Masculinity for Beginners". In the online course, Russian and German experts, including sociologists, psychologists and gender studies scholars, describe and discuss lifestyles, attitudes, values, views of gender roles and behaviour patterns of modern men. The film series presents the findings of international research in a clear, lucid manner and combines them with concrete examples from the lived reality of men in Russia. While these latter are, of necessity, context dependent, this does not preclude general statements about masculinity(-ies).
The experts clearly convey the pervasive crisis of traditional masculine roles and testify to the process of cultural and social change transforming these roles before our very eyes.
In this informative film series, masculinity is understood as a project, as something that is learned, rather than something that comes naturally. This basic understanding yields a positive insight: as a project, masculinity is amenable to control. No one is at the mercy of biological pre-programming, though in reality, freedom of choice is finite, restricted by certain notions of social conventions and forms of socialisation. The informative film series provides important food for thought which can help move the international debate on masculinities forward.
The films are now also available with English subtitles.
Playlist "Masculinity for Beginners" (selection):
The online course on masculinity was produced in 2019 by the Heinrich Böll Stiftung Moscow, in partnership with the media platform colta.ru and the Goethe-Institut in Moscow. It is a continuation of "Gender for Beginners", a film series released by the foundation's Moscow office in a successful media partnership with colta.ru begun in 2016.