Commentary
The EU's half-baked response to the U.S. investment offensive is putting its competitiveness and our future prosperity at risk. Now is the time for deeper European integration and major adjustments to EU treaty law.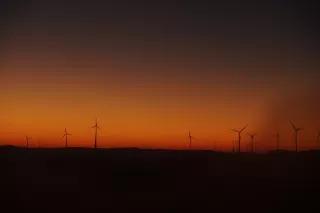 The Biden-Harris Administration's Inflation Reduction Act (IRA) is an important signal, not only for the U.S. economy. It opens a new chapter in the global effort to achieve the 1.5-degree target because the world's fourth-largest emitter of greenhouse gases has now presented its first serious and credible strategy for decarbonizing and transforming its economy. These massive new investments in a socio-ecological modernization of US industries and infrastructures offer a glimpse of hope that US climate goals can be achieved, after all. At the same time, the IRA has the potential to restore a sense of unity in a fragmented U.S. society.
There is much to suggest that the Biden-Harris administration can actually keep this promise for the future – a promise that all Americans will benefit from the future gains generated by these transformation processes and new value chains. This aspect is also of great importance for Europe, for the division that plagues U.S. society is also damaging transatlantic relations.
While the IRA has prompted Europe to sulk and lick its wounds, it has sparked an unexpectedly strong sense of optimism and unity in the US, something that would have been deemed impossible just a short time ago. The law is based on intensive preparatory work by the U.S. government, some Members of Congress, and stakeholders from the corporate world, trade unions, and environmental organizations. These efforts, which have been a long time in the making, are now finally gaining traction and visibility.
But the European Union is not the victim of a protectionist investment program; on the contrary: Right now, Europe should take a page out of the US playbook to address current and future crises – a response that goes well beyond the usual toolkit. The IRA shows us the limitations of our own frameworks, such as the NextGenerationEU recovery plan.
We also have to admit that the European Union would currently not even be able to achieve genuine, broad societal participation in a massive, EU-wide investment to overhaul our industries and infrastructures. On the one hand, this is due to our lack of central controls, and on the other, our lack of a pan-European leadership that is capable of taking action. The Franco-German tandem was briefly revived, united in shock over the IRA, as evidenced by the Washington D.C. visit by Economics Ministers Bruno Le Maire and Robert Habeck. However, key voices from the East and South of the EU are missing here. Their important perspectives need to be included. Ad hoc measures alone will not make up for past failures, and may even get in the way of a broader vision for the future among the 27 member states.
The EU Commission's draft for a Green Deal Industrial Plan is an important impetus in this context, but it also falls short because, as is already evident, adjusting rules for state aid will primarily benefit wealthy EU economies. That is why, and rightly so, many member states that are economically and financially less privileged are critical of the proposal. At the same time, it is clear that in light of the IRA, many EU countries' primary interest is to protect their own economies from competitive disadvantages or even from a relocation of their production to the US. Instead of questioning the European Single Market and our common strength, we now need to reinforce the EU's ability to act jointly.
In its current state – with no real powers over taxation and levies –, the EU is unable to launch a sweeping investment and transformation offensive comparable to the IRA. And it definitely won't be able to combine it with a sense of cohesion that is palpable throughout Europe, as the IRA does. Unlike the EU Commission, the U.S. government is able to leverage tax breaks for everyone as a quick and easy way to make these massive investments, and combine them with uniform environmental and social standards across the nation. What is more, it is able to finance the cost on its own strength. That is what we have failed to consider here in the EU: the revenue side of the IRA. By introducing uniform business taxation, reforming the tax code, and adding other controls, the US is actually generating more revenue than it is spending on tax relief.
This may have gone unnoticed because the Biden-Harris administration is reluctant to flaunt this massive additional revenue from the reform for domestic political reasons. For Europe, however, the IRA should be a wake-up call: It should remind us that we, too, need a revenue side and that the EU Commission's insufficient powers over taxation are a problem, restricting European economies' ability to act. The European Union and its member states should finally abandon the currently resurgent misconception that national economies are largely capable of managing necessary structural change on their own, assisted by a little EU-level coordination and a few solidarity mechanisms here and there.
It will take a joint tour de force to reinvent the European model of prosperity in a coherent and sustainable way. Europe needs to be more confident and understand this moment as a new impulse for integration. Inevitably, the EU treaty will also have to be adapted. It is the only instrument that can facilitate EU-specific and EU-wide taxation and comprehensive investment and incentive systems for the entire EU market. The EU Commission's stalled "Future of Europe" process is more proof that EU institutions are unable to deepen European integration to the extent that is required. This is why we now need pan-European forces to take leadership in the Council – Germany, together with France and other governments, including the East and South of the EU, should propose the necessary treaty adjustments to create a Community that is capable of taking action towards transformation and cohesion.
After 16 years of wait-and-see politics, or even blocking of integration policy, it is up to Germany to boldly advance and forge an alliance with other EU states for a further deepening of EU integration. For this to happen, we also have to abandon the idea that Germany should somehow fear the transfer of competences to the EU level. This country has benefited from it more than any other member state. This also means that Germany has the most to lose if we fail to land a big success now. By the way: The citizens of Germany are well aware of this. According to a recent study by the Heinrich-Böll-Stiftung and Das Progressive Zentrum, an overwhelming majority would like to see the European Union deepen further – especially when it comes to guaranteeing the Continent's economic future and allowing people to participate in it. This week, EU leaders are meeting in Brussels to look ahead to Europe's economic future. It is time for the German government to finally take the reins of action and work with other countries in the Council to push for specific action so that a "European Community for Transformation and Cohesion" can become the new European reality and actually deserve its name.
This article is a translation of the original in German, published on zeit.de.