Perspectives is a publication series of the Africa offices of the Heinrich Böll Stiftung. With this series, we intend to let experts from Africa express their views about current political issues in their region.
Publication
Perspectives: Political Analysis and Commentary from Africa
Here you find PDFs of all issues published between 2008 and mid-2012.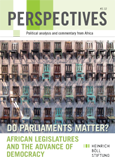 Perspectives #02/2012
Do Parliaments Matter? African Legislatures and the Advance of Democracy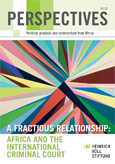 Perspectives #1/2012
A Fractious Relationship - Africa and the International Criminal Court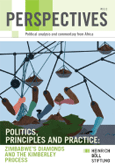 Perspectives #3/2012
Politics, Principles and Practice: Zimbabwe's Diamonds and the Kimberley Process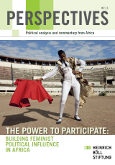 Perspectives: Political Analysis and Commentary from Southern Africa 02/2011
The Challenges of Change: Building Feminist Political Influence in Africa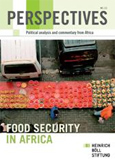 Perspectives: Political Analysis and Commentary from Southern Africa 01/2011
Food Security in Africa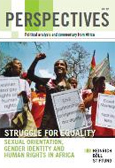 Perspectives: Political Analysis and Commentary from Southern Africa 04/2010
Struggle for equality: Sexual orientation, gender identity and human rights in Africa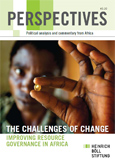 Perspectives: Political Analysis and Commentary from Southern Africa 03/2010
 The Challenges of Change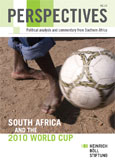 South Africa and the 2010 World Cup
Perspectives: Political Analysis and Commentary from Southern Africa 01/2010
Namibia's 2009 Elections
Perspectives: Political Analysis and Commentary from Southern Africa 03/2009
The Global Economic Crisis and Southern Africa
Perspectives: Political Analysis and Commentary from Southern Africa 02/2009
On the road to Copenhagen
Perspectives: Political Analysis and Commentary from Southern Africa 01/2009
Migration and Human Rights
Perspectives: Political analysis and commentary from Southern Africa 05/2008
South African democracy at a brink

 
Perspectives: Political Analysis and Commentary from Southern Africa 04/2008
Energy Crisis in South Africa
Perspectives: Political Analysis and Commentary from Southern Africa 03/2008
Xenophobia in South Africa
Perspectives: Political Analysis and Commentary from Southern Africa 02/2008
Crisis in Zimbabwe
Perspectives: Political Analysis and Commentary from Southern Africa 01/2008
The Changing Political Landscape of Namibia and South Africa