Audio
Lawrence Lessig on Copyright Wars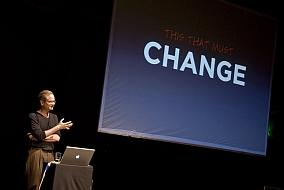 On May 15, 2009 Prof. Lawrence Lessig spoke at the Heinrich Böll Foundation's "Spielstand Spezial" event on Copyright Wars. Enjoyment and Discomfort in a Digital Culture. You can stream the whole lecture in the player below (Audio 1)
A question & answer session followed Prof. Lessig's presentation:
A Web of Creativities vs. Creative Control (Audio 2)
There can be no one copyright model for all forms of content. Science, arts, journalism will have to develop rules appropriate for their respective fields.
Piracy and Copyleft (Audio 3)
The difference between software and content on the web
The Crisis of the Newspaper Industry (Audio 4) 
Is the crisis of the newspaper industry caused by the ubiquity of free or pirated content? Why has newspapers' business model failed - and can there be new models?
5) Multiple Issues: Creative Commons / Corruption (Audio 5)
Lawrence Lessig explains his recent shift of focus from copyright issues to the question of corruption in politics.
6) Network Neutrality / Content Flatrate & Why the EU Parliament Needs to Show More Self-Respect (Audio 6)
The rules governing questions of access content and copyright ought not to be made by lobbyists.
7) The Impact of the Obama Administration on Questions of Intellectual Property (Audio 7)
Plus: The crisis of the music industry vs. the crisis of journalism
The following MP3 files are subject to a Creative Commons license.