Africans on Desertec
So Much Hope
(Morocco)
Rabat should get involved in Desertec right away.
A vision of the future. By Said Mouline, managing director of Morocco's Renewable Energy Development Centre (CDER).
"We want to be among the leading countries for this project. And we want to be quicker than others." Said Mouline welcomes the European plan to harvest solar energy in the Sahara desert and demands a leading role for his country.
Mouline's hope is that Desertec will bring investments and jobs to Morocco and thus reduce the country's dependency on oil. He thinks that thousands of the mirrors needed for Desertec could be produced by new factories in Morocco. Local production would guarantee low costs and reduce the poverty that forces millions of Moroccans to emigrate to Europe. "To produce mirrors is not a very sophisticated job. For us more work means less unemployment and thus less emigration."
Spanish firm Abengoa is already building a major power station fed by a mixture of combined-cycle gas and solar mirrors near Morocco's border with Algeria. Said Mouline says that for Desertec, whose aim it is to provide, by 2050, 15% of Europe's energy, locations have been identified south of the High Atlas mountain range.
Source: Alibaba.com, July 16, 2009



"There are Encouraging Signs"
(South Africa)
On South Africa's potential to develop solar energy. Elisabeth Kiderlen in conversation with Saliem Fakir, WWF South Africa.

What are your hopes and fears concerning a project such as Desertec?
It's still early days for Desertec. The project's aim seems to be to generate power for Europe. It only becomes affordable and feasible if the main purpose is to supply Europe. Besides, even if there were benefits, most would be limited to North Africa. The advantage for Africa as a whole would be the learning process involved. I like the imaginativeness of the Desertec project. Its proposed scale is impressive.
Africa seems to be the perfect continent for solar energy. Will it be possible for the continent will skip the industrial age and jump directly into the solar age?
There are over 50 states in Africa, each with its unique limitations and opportunities. The cost of solar technology will have to come down and there has to be more mass utility. Currently, biomass is still the biggest source of energy for African households. There is a lack of central infrastructure; there are few power grids. It thus seems to me that the best opportunities will be in off-grid solutions.
Is the West supporting such developments?
There are various development agencies looking for opportunities to expand the scope of renewable energies in Africa. These include, among others, the World Bank, the UK's Department for International Development, Germany's GTZ. Most of the commercial developments, though, are occurring in developed and emerging economies such as China, India, and Brazil.
Are African countries much interested in renewables?
There are promising signs. Some wind projects are in the pipeline for countries such as Egypt, Kenya, and Ethiopia. Brazil has just agreed with Mozambique to develop a hydro project. A number of concentrated solar power sites are being reviewed for Algeria, Egypt, and Morocco. Morocco seems to be ready to make significant investments – it just unveiled a one billion dollar fund for renewables and energy efficiency. South Africa's solar tower project is back on track. Funding will come from the World Bank's Clean Technology Fund. However, there is still scope for more investment.
What are the main obstacles?
The main stumbling block is affordability, though there are technical problems, too. For instance, if you want to go into wind power you will have to gather data and chart wind maps. Then there's the hurdle of finance. Often there is insufficient experience, or even if there isn't, a government is unable to provide guarantees because its own finances are in disarray.
In some countries, technical expertise has to be imported – which will push up costs. One must distinguish between large, medium, and micro-solutions. Off-grid solutions seem to be an interesting niche and they are evident in both the private and the public sector. There are some great emerging micro-solutions for households within the one to five watt range – the so-called pico-PVs. They have great potential for charging small appliances such as mobile phones and radios. These, combined with ultra low-power white emitting diodes (LEDs), could bring about major breakthroughs because of mass applicability, costs, and easy rollout.



Plenty of Sun and No Solar Industry
(Ethiopia)

An appeal by Hilawe Lakew, Managing Director of the Ethio Resource Group, an energy and environment consulting company.
Countries such as China and India have increased their use of renewable energy as well as their manufacturing base, yet Africa lags far behind. The gap between resources and utilisation is nowhere more striking than in the field of solar energy. In Africa, solar energy is still confined to a small number of rural applications.
There is a global move towards renewable energies. Projects such as Desertec trigger the fear that in an era of renewables, Africa may yet again become nothing but an exporter of resources. African governments must wake up to the new opportunities. They must go beyond mere statements and act now.
Paradoxically, only 15 years ago, Africa was a significant market for solar energy, accounting for a quarter of photovoltaics sales worldwide (1). The reason for the explosion of solar power in Europe is the incentives provided by feed-in tariffs. Many African countries have policies that support solar energy. Such statements of intent are, however, not being backed up by mechanisms to ensure implementation.
Policies need to be bold and practical. Incentives to invest in solar energy are a priority. This will enable the development of a market, which in turn will drive the demand and supply for technologies and human capacity.


Footnote:
(1) "Rethinking Africa's Solar Market" by Mark Hankins, 2006.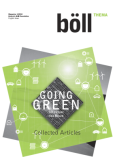 Green New Deal / Great Transformation