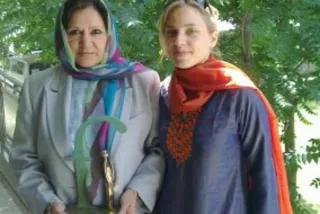 Dr. Soraya Sobhrang

, one of the most prominent Human and Women's Rights defenders in Afghanistan,
was awarded the sixth Front Line Award for Human Rights Defenders at Risk in Dublin in 2010.
Dr. Sobhrang is the Commissioner responsible for Women's Rights at the Afghanistan Independent Human Rights Commission (AIHRC). Born in Herat, a western province in Afghanistan, she finished high school there. She has a medical degree from Kabul Medical University and studied gender, women's rights and development in Homburg, Germany.
Dr. Sobhrang formerly served as technical deputy minister for the ministry of women's affairs. Her major achievements here were the establishment of a gender and law working group in cooperation with lawyers and prominent individuals. Moreover, she formed the CEDAW task force, engaging civil society and other governmental organizations in Afghanistan.
"This Front Line Award is a tribute not just to me but to all the women of Afghanistan, and in particular those women human rights defenders who on a daily basis face the risk of attack or assassination to defend the rights of other women," Dr. Sobhrang said during the award ceremony.
The short listed nominees for the 2010 Front Line Award came from Afghanistan, India, Mexico, Western Sahara and Zimbabwe. That Dr. Sobhrang won the award from is not only a pride for Afghan Women but also for all Afghan citizens in this still conflict-ridden country.
It is worth mentioning that Dr. Sobhrang has a good working relation with HBS Afghanistan Office in the area of Human and Women's Right.         
Since 2005 till now six Front Line Awards have been presented to Human Rights Defenders from different parts of the world, after Ms. Gégé Katana, Dr. Soraya Sobhrang is the second woman to receive the award.
The fall of the Taliban regime was a U turn for all Afghan Women. From the dark side of life they came to look towards a brighter future with increased participation in the political, economic, social and developmental process of the country. Their role and responsibilities in term of their rights become more prominent.  Women strongly started struggling for obtaining their rights. Still they face constant defamation, harassments and death threats and some of them (Sitara Achakzai , Safia Ahmed Jan) lost their precious lives. But they do not sit back; women move ahead and never feel exhausted to continue their effort to resist injustice.