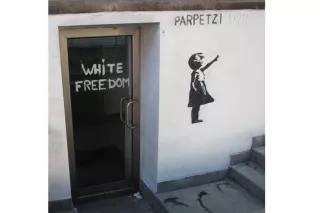 In Armenia, everyone is proud of Sergei Parajanov. He is characterized among the most original film directors of the 20th century and has as a result been recognized by colleagues in the same league as French director Jean-Luc Godard. The fact that Parajanov, who died in 1990, spent five years in prison during the Soviet era because he supposedly propagated homosexuality is mostly kept quiet, however. When people refer to this, it is immediately assumed that they do so in order to denigrate Parajanov.
As during the Soviet era, the topic of sexual orientation remains a taboo in Armenian society today. Those who deviate from traditional beliefs may not be sent to jail but must deal with social ostracism and violence.
This is what singer Armine Oganezova has faced. The well-known artist, who uses the name Tsomak, had to flee Armenia this summer because she could no longer be assured that her health or her life would be protected. She openly recognizes her homosexuality. Her pub "Do it yourself" (DIY) in the center of Yerevan was a meeting point for the city's small alternative scene.
 
Early on the morning of 8 May 2012, three young people burned down the pub. The bar was closed at the time, so no one was injured. Two of the three alleged offenders were arrested a few hours later. They openly characterize themselves as neo-Nazis.
Public Political Support
However, the three suspected culprits received support from political leaders. Members of Parliament Artsvik Minasyan and Hrayr Karapetyan did not only pay bail to release these two men. Both members of the left-leaning nationalist party Armenian Revolutionary Federation/ Dashnaktsutyun openly expressed their support for the act. Minasyan told reporters that the young men had acted "in a suitable manner and in accordance with our society's values and national ideology" (see Gay Rights Under Attack in Armenia). It was indeed wrong to cause material damage. "However", according to Minasyan, "I have often said that Tsomak and people like her are destructive for our society". The vice speaker of Parliament, Eduard Sharmazanov, of the ruling Republican Party, also voiced his approval for the attack on the club.
The director of the Institute for Civil Society, Artak Kirakosyan, warned that political support for the offenders is very dangerous. "They do not know what kind of forces they are awakening, and they will not have the power to stop them." Transparency International and a number of other civil society organizations condemn the political reaction as "deeply shocking" and as a violation of Armenia's obligations under international law (see NGO statement against fascism and intimidation).
The women's rights organization Women's Resource Center and the LBGTI NGO PINK Armenia (Public Information and Need of Knowledge) also protested. In addition, a number of embassies in Yerevan expressed concern.
Several members of the fiscally liberal Heritage Party showed solidarity with Tsomak and the patrons of her bar. But the government continues to hold back. Some activists suspect that the government is at the very least tolerating neo-Nazi groups, with their anti-minority slogans, in order to divert attention away from other problems in the country during the 2013 presidential election campaign, which has now begun.
Activists believe that civil society is seen as a threat to the government's ability to maintain power. In the previous months, civil society organizations could list a number of successes significant for Armenia. In Yerevan, they were able to prevent the construction of a shopping center in a park. Activists also mobilized residents of an isolated village against a corporate group that wanted to extract resources nearby. Furthermore, a Member of Parliament was forced to step down. Protests against him took place over several days because his bodyguard beat up a military doctor in a fight. Fears exist that the government tolerates neo-Nazi groups and that they could, if anything, mobilize them against activists who criticize the government.
In this environment of impunity, the DIY-Club was attacked again on 15 May 2012. Young men painted the walls with swastikas and other slogans. Tsomak complained in an interview with the Institute for War and Peace Reporting: "I receive further threats. They say they'll burn me, kill me, and so on" (see Gay Rights Under Attack in Armenia). She is being attacked because of her liberal views and because she gave a rock concert in Turkey and took part in a gay parade there. Tsomak's pub had to close. She now lives in Sweden.
Advocacy for minority rights only under police protection
 
In light of this heated situation, it was a risk for PINK Armenia and the Women's Resource Center to hold their Diversity March in Yerevan, which they had been planning for two years.  The internationally recognized Day for Cultural Diversity served as the occasion. The organizers emphasized that the parade concerned itself with diversity in every sense of the word. Along these lines, an event with Diaspora Armenians from Iraq, in which they would report on how they had adapted to Iraqi culture, was also planned. In public, however, diversity was widely equated with homosexuality, explained Marine Margaryan, the project coordinator at PINK Armenia.
The Diversity March could only take place under police protection. Numerous counter-demonstrators (see Neo-nazi attack Diversity march in Armenia capital Yerevan calling it "gay pride") initially sang patriotic and nationalistic songs. During the march they spit on, cursed at and threatened the participants. According to an observer, three priests from the Armenian Church were also present. One said, in front of media representatives, that the Armenian Church was anti-homosexuality. He openly supported peaceful protest, however.
The participants in the Diversity March finally found protection in a gallery in Charles Aznavour Square. They could only leave the building through the rear entrance because the police no longer wanted to guarantee their protection. As a result, all of the events planned in connection with the Day for Cultural Diversity were cancelled.
Film screening failed
The European Union delegation in Yerevan and the German Embassy also failed to carry out a project aimed at the hostile attitude toward sexual minorities in the country. They had planned a public showing of the comedy "Parada" in Yerevan. This film by director Srđan Dragojević, which received several outstanding awards, is about the organization of a gay pride parade in Belgrade ("The Parade").
 
However, the German Embassy's and EU Delegation's joint announcement garnered public protest. The screening, planned for the fall, had to be repeatedly pushed back and transferred to different locations because the owners of various venues refused to host the event or canceled the reservation on short notice. This occurred with the restaurant The Club, the Puppet Theater, the Moscow Cinema, and the Congress Hotel. The Armenian government did not want to interfere. The film has yet to be screened publicly.
 
A deeply closed society
 
The events of 2012 reflected the downright hostile attitude of the majority of Armenians towards sexual minorities. The organization PINK Armenia conducted a survey in the cities of Yerevan, Vanadzor and Gyumri in 2011 (Public Opinion toward LGBT people in Yerevan, Gyumri and Vanadzor cities) in which 72 percent of the 1,189 respondents believed that the state should take action in a campaign against homosexuals.
Armenians themselves characterize their society as deeply conservative and closed. For centuries, religious and ethnic minorities have comprised an ever-decreasing percentage of the population. Those who want to belong to the society must adopt traditional Armenian norms regarding language, culture, gender roles, clothing or religion.
 
Even Diaspora Armenians who have settled with their families in their homeland in recent years report ostracism and discrimination. They are often criticized for not being real Armenians and for being unable to understand the country and its people. An Iranian student even complained that he experiences greater tolerance of his stylish clothing and long hair in Tehran than in Yerevan. In Armenia he is always insultingly called gay, even though he has an Armenian girlfriend.
A nation that constantly perceives itself in a state of war
 
The conservatism results not only from the legacy of the Soviet Union. Even more significant, 20 years after independence, Armenian society perceives a sense of permanent threat to its own language, religion, culture and ethnos, as they existed during centuries of foreign rule. In addition plays the ubiquitous and continually revived trauma of the mass expulsion and killing of Armenians by the Turks in 1915. "Conservative behavior for women was justified because other groups threatened Armenians with kidnapping, rape or forced marriage with Muslims. But if we also want to have an independent state today, these traditional demands on women would be maintained", explains Marine Margaryan, project coordinator at PINK Armenia.
The more than 20-year-long unresolved conflict with the neighbor to the east, Azerbaijan, over the region of Nagorno-Karabakh, in addition to the continually challenged relationship with the neighbor to the west, Turkey, both play a significant role in the perception of outside threats. The foreign policy problems serve the political leadership though, enabling them to exercise domestic political pressure on critics of the government.
 
The permanent evoking of a nation in a state of war that has to close ranks allows for minimal tolerance. The emphasis on being ready to defend the country especially serves the purpose of presenting gay men as a threat to Armenia's stability, because they often refuse to serve in the army. "It is in fact the case that many gay men go to the army and even receive honors for their service, without coming out. On the other hand, it is difficult to explain to the population that many gay men want to avoid serving in the army because the environment is not safe for them", says Margaryan.
In addition, LGBTI people are criticized for exacerbating Armenia's democratic challenges. "They are blamed for practically all of the problems in the country", says Margaryan. "In fact, the issue is that they want to divert attention from the actual problems such as the social situation, corruption, and oligarchy in the country", Margaryan adds.
 
The punishment of homosexual acts was abolished in 2003. However, no laws against hate speech, hate crimes or discrimination of minorities exist. The offenders who attacked the Club DIY were only investigated for material damages but not for the overt motive of the act.
A lack of support from other human rights activists
 
The activists that advocate for sexual minorities' and women's rights feel the added burden of receiving only minimal support from other human rights activists in Armenia. As a result, both organizations PINK Armenia and the Women's Resource Center largely found themselves on their own as they protested against the attacks on the DIY bar and organized the Diversity March. "Some human rights activists are even homophobic. They do not really show it, but you can feel it. You realize it when they make jokes", says Lara Aharonyan, the director of the Women's Resource Center in Yerevan.
Aharonyan also points to the fact that influential groups in the Armenian Diaspora maintain traditions and conservative values to an even greater extent than the people in Armenia. In Lebanon for example, where she grew up, the Armenian community is very focused on protecting their own culture and values. But also in the U.S., communities foster an antiquated and unrealistic picture of their ancestors' homeland, according to Aharonyan. In their political activities, these groups concentrated most on having the events of 1915 recognized as genocide. When current problems in Armenia were addressed, these groups view this as damaging their homeland's reputation.
Extra-conservative forces in the Diaspora
An event in Los Angeles provides an indication of the intolerance towards sexual minorities within the Armenian Diaspora in the U.S. In early October, a conference about the future of Armenia in the 21st century, which the Armenian Revolutionary Federation organized and funded, took place there. The director of PINK Armenia, Mamikon Hovsepyan was scheduled to give a presentation on LGBTI rights in Armenia, as he had previously done at similar diaspora events in New York and San Francisco. However, the organizers refused to allow him to present. As justification, they stated that they could ensure neither his safety nor that of his audience. Other speakers protested and canceled their presentation, however.
In spite of the minimal support for and lack of understanding of LBGTI rights in Armenia, activists such as Aharonyan or the staff of PINK Armenia, like in many sectors of the Armenian Diaspora, stand strongly behind their goals. As a positive aspect, Aharonyan mentions the fact that a large number of heterosexual activists advocate for LGBT rights. This often causes confusion, now and again also for opponents' understanding, says Margaryan.
In monitoring the media, PINK Armenia states that in recent years, LGBTI people have not generally been referred to by abusive words, but that terms such as "homosexual" are now being used more commonly. Courses that teach journalists about this topic and concept have played a role in this shift. 
The activists next want to concentrate on educating other human rights activists about minority rights. PINK Armenia is focusing on the legal response to the attack on the DIY Club, along with the demand on politicians to introduce laws against the discrimination of minorities. For now, a new Diversity March is not planned.