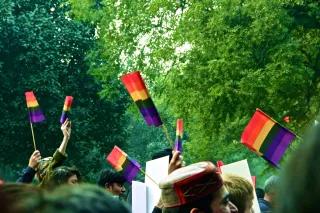 11.12.13 will be remembered as a Black Day in India for criminalizing homosexuality once again after four years. The Supreme Court of India overturned a historic ruling of 2009 by the Delhi High Court, which legalised homosexual intercourse for the first time in India since it had been criminalised by the British colonial government in 1860. Section 377 of the Indian penal code bans "sex against the order of nature" which is commonly interpreted as homosexual sex. This judgment, which violates international human rights, is a significant step back for India and its LGBT community. It was passed by a Supreme Court bench consisting of two judges who passed the buck back to Parliament. They argued that section 377 is not unconstitutional as such, but that parliament could amend the law, if it sees fit.
Section 377 reads: "Unnatural offences — Whoever voluntarily has carnal intercourse against the order of nature with any man, woman or animal, shall be punished with imprisonment for life, or with imprisonment of either description for a term which may extend to ten years, and shall also be liable to fine." The order does not explicitly criminalise homosexuality, but is generally being interpreted that way. Prosecution for homosexual sex and other forms of sex labelled as unnatural can be on the mere suspicion of the act, though a possible conviction would require factual evidence. There is a risk of the law once again being misused for blackmail and extortion, as it has reportedly been used to humiliate homosexuals in the past. Confusion regarding legal language and procedures is high within the community.
Reactions resonate all around
In Delhi, hundreds of people – largely the educated urban middle class, liberals both young and seasoned – gathered at Jantar Mantar, the popular demonstration ground, to protest against the Supreme Court's verdict. The LGBT community and others joined in solidarity for the cause demanding human rights and equality in a democracy. They also expressed the fear that other civil liberties could be taken away from the citizens. Other Indian cities like Bangalore, Pune and Mumbai also saw various levels of protests. A protest in Madurai, a South Indian city, saw a large presence of transgender groups. Youth groups active in the protests after the infamous December 16, 2012, gang rape, the All India Students' Association and the Students' Federation of India, also showed their support. 11 December, 2013, also saw protests on several levels across the world, such as a group of protesters outside India House in London, and messages of solidarity from various countries. Media, actors and artists especially from Mumbai expressed their disappointment on television and social networking websites like Twitter and Facebook. The community came together once again for a larger protest on December 15, the "Global Day of Rage", and joined protests against the condemnation of homosexual sex the world over, carrying placards that said "No Going Back".
Protestors demand that consensual sex should not be criminalized, asking the State to stay out of their bedrooms, leave lovers alone and arrest rapists instead. Many protesters said the Supreme Court verdict has taken us back to 1860. What has been particularly tough to digest was the Supreme Court using the words 'so-called rights of LGBT persons' in its official judgement, as this implies that the Indian law has not yet recognised these sexual minorities. Several protesters covered their eyes or heads with black cloth to signify the Black Day in India. References were made to the irony of gay sex being declared 'against Indian culture' in the land of the Kama Sutra and the Hindu and Jain temples of Khajuraho. An activist and journalist, Vikram Doctor, was quoted as saying, "once people come out of the closet, they just cannot go back." Trendy commercial brands have also joined the support group by releasing advertisements on homosexuality using the rainbow colours.
The international community has also expressed disappointment with the Indian judiciary. Navi Pillay, the UN High Commissioner for Human Rights, asked India to urgently review the Supreme Court's decision. "Criminalising private, consensual same-sex sexual conduct violates the rights to privacy and to non-discrimination enshrined in the International Covenant on Civil and Political Rights, which India has ratified," she said. Prominent voices like writer Vikram Seth and IT minister Milind Deora said that India has lost her chance to show that she is a pluralistic society and does not discriminate. The Congress Party's President, Sonia Gandhi, has urged the Supreme Court to "uphold the constitutional guarantee of life and liberty to all citizens of India, including those directly affected by this judgment." Congress member Rahul Gandhi, Minister of Justice Kapil Sibal and Minister of Finance P. Chidambaram have all voiced their support for "personal freedom" and disappointment with the verdict, as did the Aam Aadmi Party which has recently emerged as a major force in Delhi politics.
The Hindu-national Bharatiya Janata Party (BJP), after an initial silence, has vehemently opposed any change in the law, saying it will never support homosexuality as the party considers it unnatural. The Vishwa Hindu Parishad, an Indian right-wing group, calls homosexuality an 'imported disease' and has welcomed the Supreme Court's decision. Likewise, the Samajwadi Party (a 'democratic socialist' party supported by disadvantaged groups, ruling in Uttar Pradesh, India's largest state) has said it would oppose any amendment to Section 377 if it were to be discussed in Parliament.
Reverend Paul Swarup of the Church of North India said, "Spiritually, human sexual relations are identified as those shared by a man and a woman. The Supreme Court's view is an endorsement of our scriptures." Baba Ramdev, a famous Yoga Guru revered by millions of Indians, said, "Homosexuality is not genetic. It's just a bad addiction." He added, "If our parents were homosexuals then we would not have been born. So it's unnatural." Several supporters of the Supreme Court's ruling claim that homosexuality is against Indian culture, an illness or addiction that needs curing, or an emulation of Western culture. Other such voices made claims that legalising gay sex would encourage sodomy, male prostitution; it is against Indian culture, and so on.
The History of Section 377
Section 377 was enacted by the British as a part of the Indian Penal Code in 1860. Since then, there have been approximately 200 convictions. While this number may seem low for a period of 150 years, the law has been used on many occasions as a means of extortion, blackmail, and denial of human rights. An unsuccessful attempt to repeal this law was made in 1991 through a petition by the AIDS Bhedbhav Virodhi Andolan (AIDS Anti Discrimination Committee). In 2000, the Law Commission recommended deletion of Section 377 or, at least, a reduction of the harsh punishment to two years imprisonment.
In 2001, the Naz Foundation, which works primarily on HIV/AIDS and sexual health, filed a Public Interest Litigation in the Delhi High Court to challenge Section 377, which was dismissed in 2004. After several attempts and arguments between the Central Government and the High Court, the plea was heard in 2009. The Delhi High Court decided that Section 377 contradicts the Indian Constitution, specifically Articles 14, 15 and 21, i.e. the rights to equality before the law, freedom from discrimination, and the protection of life and personal liberty. The Indian government declined to appeal against this decision, thus implying the legalization of gay sex. Scores of people came out about their sexuality after this judgement as they felt empowered and supported by the state. The December 2013 Supreme Court decision, pursued by the Delhi Child Rights Commission and various religious bodies, overturned the progressive 2009 outcome.
The future of the LGBT community
Everyone is now asking – what next? Will people who are open about their sexuality be prosecuted or threatened by the police and community? Civil society organisations, the Congress Party and the LGBT community have not abandoned hope of a review by the Supreme Court. The Naz Foundation, the Lawyers Collective and Voices Against 377 will file a review petition within 30 days of the verdict, which, if accepted, will once again consist of a two-judge bench. It will be the same bench as the original trial, but in this case, since one of the judges has retired, a new one will be introduced onto the bench. Following this, the activists have the option of filing another petition, which then consists of a five judge bench.
This is just one step on what unfortunately looks like a long journey for the LGBT community that is fighting for recognition as a legitimate part of Indian society. The various marriage laws in India do not explicitly prohibit same sex marriage since they do not specify marriage between man and woman. A dominant heterosexual meaning is, nonetheless, derived from this, thus rendering same sex marriage illegal.
The transgender community now has recognition as a sexual minority. Hijras, as they are known in India, consider themselves neither male nor female. The 'third sex' is widely believed to have special powers and includes eunuchs and hermaphrodites. 'Hijras' (known by different names) are those born intersex or castrated males who live and dress like women. In India, transgender persons can register as third gender in passports since 2005, and since 2009 in their voter registration.
Since India goes to elections in 2014, taking an official position on the issue of Section 377 also represents a political game between the BJP and Congress. There is a loud silence from Narendra Modi, BJP's Prime Ministerial candidate, as he is unwilling to fall prey to the taunts from Congress. While the Congress supports a review of the verdict, Home Minister Sushilkumar Shinde has stated that they will not consider issuing an ordinance to nullify the law at this point. The best hope now lies with the Supreme Court and it remains to be seen if the giant waves of public moral support and solidarity will impact the Supreme Court's decision in the review process. What the last week has shown, however, is that India's LGBT community is active, vocal and unwilling to accept discrimination against them in the world's largest democracy.