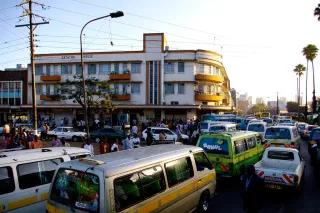 Africa at the start of the 21st century does not present a uniform image. For pessimists, Africa remains the «lost continent» – a point of view that seems justified in light of negative reports on poverty, corruption, or persistent conflicts. Others however point out positive developments that give cause for hope that, at least in some countries, the population's quality of life has improved for good. Free elections have forced corrupt elites to abdicate and new approaches to overcoming economic crises have found their way into public policy.
In Africa's newly democratized countries, churches, trade unions, journalists' associations, or women's organizations act as an important corrective to government power. The Heinrich Böll Foundation helps civil society organizations mobilize the public through knowledge transfer, campaigns, and communication.
The Heinrich Böll Foundation's priorities in Africa:
Environment
In large areas of Africa, people must contend with water shortages, desertification, or soil erosion. However, African nations have only a limited capacity to manage effective environmental policies and the necessary adaptation to climate change. Gradually, environmental movements are forming in some African countries. The Heinrich Böll Foundation helps network groups that are advocating sustainable development and effective environmental protection.
Conflict management
Internationally, Africa is believed to be the continent with the most wars and conflicts. Many African civil wars have led to the collapse of the state and an increase in private military operators (warlords, local militias, mercenary armies). The Heinrich Böll Foundation's conflict management program concentrates on cooperation with local stakeholders: In Nigeria, we train mediators and develop conflict prevention measures. In Somalia, the National Civic Forum, a network of Somali intellectuals initiated by the Foundation, holds conferences on reconstruction and reconciliation.
Gender
Patriarchal social systems still dominate in Africa today. However, the situation of women varies greatly depending on country, religion, or ethnicity. The Heinrich Böll Foundation supports organizations that stand up for women's rights and demand greater political, social, and economic participation for women. In Nigeria, this includes legal consultation for rural women on property rights, family law, and civil rights. In South Africa, the Foundation supports projects that fight all forms of domestic and sexual violence against women.
Links