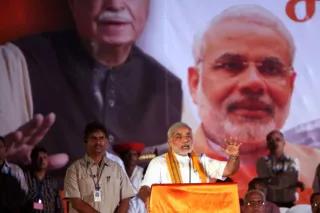 The election results in India turned out clearer than anyone had expected in the previous weeks. The Hindu nationalist BJP, with 282 of the 543 seats in India's lower house, has attained an absolute majority. Top candidate Narendra Modi does not even need the BJP's traditional coalition partners to be elected prime minister. The Congress Party, which has been governing for the last ten years, lost over three-quarters of their mandates, leaving them with only 44 seats, the worst results in their history.

For the governing regional parties in several large states, the elections have had greatly varying results: While those in West Bengal (Chief Minister Mamata Banerjee) and Tamil Nadu (Chief Minister J. Jayalalitha) managed to strengthen their positions, those in Uttar Pradesh and Bihar have been downright decimated. The Aam Aadmi Party, which arose from an anti-corruption movement and who successfully achieved a major victory in the 2013 Delhi assembly elections, won only 4 seats in the state of Punjab.

The last party to win an absolute majority of the seats in the Indian Parliament was the Congress Party 30 years ago. The BJP, however, owe their current success to the first-past-the-post voting system in India. Around 31 per cent of the vote was enough to award its victory, in contrast to the 19 per cent cast for the Congress Party; in 2009 the BJP had 18 per cent of the votes against the Congress Party's 28 per cent. The change is clear, but it is also clear that two-thirds of the voters in India did not vote for Narendra Modi.
Expectations and Fears

Rahul Gandhi, the youngest descendant of the Nehru-Gandhi dynasty, led the tradition-steeped Congress Party through the election campaign, but his youthful image was not enough to save the party. Modi highlighted the problems in the country: inflation, weak economic growth, poor infrastructure, job shortages, and widespread corruption. And he presented himself as strong-willed, assertive and growth-oriented – qualities that many saw lacking under the tenure of outgoing Prime Minister Manmohan Singh.

Narendra Modi is a man with many faces. Using a media-oriented campaign based on the US model, he entered the political consciousness of the nation. As the son of a tea vendor, he presented a counter-image to the political aristocracy of the Gandhi clan. His political roots in the Rashtriya Swayamsevak Sangh (RSS), a radical Hindu paramilitary organization, won him acceptance among conservative Hindu voters. And when he spoke of his Gujarat model for growth and development, many young voters focused on upward mobility listened. For many, Modi is a beacon of hope expected to bring the Indian economy back on track and to procure a respectable place in the world order for the country.

His charisma captivated many Indians: Modi, a man from a simple background who speaks the language of the masses. People know him as the Chief Minister of Gujarat, a state whose economic performance lies far ahead of the Indian average – even if some other states also have good economic data and sometimes significantly better social indicators. Gujaratis are known for their entrepreneurial skills. In a time of economic downturn, Modi, the Gujarati, speaks about bringing prosperity and development to the whole of India, and many have faith in him on this issue. The image of Modi as a strong, aggressive, and possibly authoritarian type is viewed by many as a fundamental strength in contrast to the government of Manmohan Singh, who has been deemed indecisive and incapable of asserting himself.

Although "growth" was his campaign's main theme, overwhelming all other topics, Modi could become the most controversial prime minister in India's history. Opponents have described him as "the butcher of Gujarat," in memory of the pogrom against Muslims in 2002. He and his party are accused of having steered the riots in 2002 and he, as Chief Minister, of having failed to enact proper countermeasures. However, all attempts to prove him criminally responsible have failed and he has been reelected twice in Gujarat as Chief Minister.

Those close to the Congress Party and left-wing intellectuals have reacted with concern and some with outright horror to Modi's election victory. They criticize him not only for representing a one-sided, business-friendly policy that neglects social and environmental concerns in favor of a policy solely focused on economic growth and the interests of big business, but some fear, moreover, that Modi remains an aggressive Hindu nationalist at the core, and that minorities in India – especially Muslims – will be threatened and reduced to second-class citizens. Sometimes Modi is even called a fascist, and the situation in India, since the release of the election results, has been compared to the situation in Germany at the beginning of 1933. After all, even Hitler came to power legitimately through democratic elections. Such comparisons express the fear of an authoritarian Modi government that could severely restrict civil rights, but they are absurd, for democracy in India today is far more entrenched than was the case in 1933 Germany, and Modi stands for economic growth, not for a totalitarian state.
Tasks and challenges

Modi's new government now faces an enormous task: Modi promised the Indian youth to create jobs for all, expand India's industry, and encourage foreign investment. According to demographic estimates, one million people are expected to enter the job market each month over the next 15 years. The creation of 12 million jobs per year requires a massive expansion of the industrial sector. To attract investors, labor laws, land acquisition and land use will have to be defined to the benefit of industry, without destroying the livelihoods. India's extensive subsidy system will have to be reviewed in order to alleviate budget problems and to free funds for investments. Sooner or later, Modi will have to make decisions that would not be approved of by many of his voters. Also, he will have to realize that India cannot simply be governed like Gujarat because the states possess a high degree of political autonomy from the central government.

Even though Narendra Modi as Chief Minister of Gujarat significantly expanded renewable energy, there was and is a lot of criticism surrounding the environmental policy of his home state. The natural livelihoods in many areas in India are already heavily endangered. Under a primarily growth-oriented policy, as is to be expected from a Modi government, environmental impact assessments and obligations are likely to be viewed first and foremost as investment barriers and to be undermined. In terms of nuclear energy, no policy change is expected with a BJP government. Given its energy shortage, India must utilize all power generating possibilities, and that includes nuclear energy, according to a broad consensus among India's elite.

Concerning domestic policy, the Modi government is likely to be influenced by conservative hardliners. Support for processes of social liberalization– such as the decriminalization of homosexuality, which is overdue after a retrogressive decision was passed down by the Supreme Court at the end of last year – is hardly to be expected. Immediately after the election results were released, a RSS leader presented to the public demands that are classic political symbols of the Hindu nationalists' anti-Muslim agenda: the abolition of Sharia civil law through the introduction of a universal civil code, the construction of a Ram temple in Ayodhya (instead of a mosque destroyed by Hindu fanatics in 1992), as well as the repeal of Article 370 of the Indian constitution, which grants special status to Jammu and Kashmir.

The latter point, in particular, would be a highly sensitive issue in regard to relations with Pakistan. Kashmir remains an unresolved point of contention between the two countries. If Modi alters this point in the constitution, he could draw a drastic reaction from Pakistan; even the recent discussion about a possible change in India's nuclear arms strategy did not contribute to an improvement in the difficult relationship. Generally, however, the prospects for an Indo-Pakistani rapprochement are rather good at the moment. With Modi and Nawaz Sharif, both countries have democratically legitimized, newly elected heads of states, both of whom are focusing on a growth agenda for their respective countries. Until now, trade between the two countries amount to only 1.9 billion US Dollars; experts see a ten-fold increase potential in trade relations. Even in relations with China, which is already India's largest trading partner, the Modi government's more business-oriented policy could reduce the tensions resulting from border conflicts. A departure from the rapid armament of India that has been occurring in recent years is, however, not to be expected from a BJP government.

Narendra Modi seized on the widespread discontent over economic and infrastructure problems, lack of jobs and pervasive corruption, and has given the people hope for development. Expectations of the man from Gujarat are high, but there are also many who fear him. Domestic and foreign companies see great opportunities. Western governments, who have held Modi at a distance for years due to the 2002 pogroms, will now come to terms with him, since he has been democratically legitimized across India by his massive electoral success. They will certainly, in their own interests, support India's economic development. Amidst all the current euphoria stemming from the foreseeable dynamic economic development, foreign players should not lose sight of India's internal political development and how the Modi government deals with minorities and civil liberties.