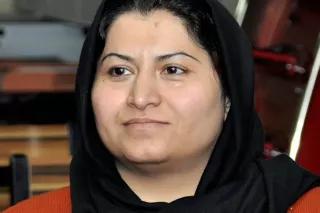 Humaira Saqeeb was born in Kabul in 1982. During her school years she was a refugee. Later she studied psychology at Kabul University. Humaira is married and has three children. She is the chairwoman and editor-in-chief of Women News Agency and Nigah-e Zan magazine. She is also a member of the leadership board of the "Women Political Participation Committee" and a member of "Afghanistan 1400."
How would you describe yourself?
I am serious, hardworking, confident, and I believe in human values. My greatest concern is to support people – especially women – who are subjected to violence on a daily basis.
Do you think women as a whole are subjected to violence in Afghanistan?
Violence is not limited to physical punishment. Keeping women away from power is another form of violence. There's also verbal violence that is deeply rooted in our culture. Violence comes in more forms than beheadings and the chopping off of noses and ears. The abuse of women in public places is also a kind of violence as it deprives women of their personal freedom. Violence is not just the burning of women's hands and feet; it also includes sexual harassment at their workplaces and in public institutions.
Over the past 13 years the presence of women in parliament and other organisations has increased considerably and much has been done for women's rights. Do you think women are still being kept away from power?
Yes! A great amount of money was given to Afghanistan – and the majority of social, military, economic, and cultural programmes were funded on the condition that the situation of women is being improved. In other words, without support for women's rights, Afghanistan would have received considerably less international funding. Still, measures to implement women's rights have been largely inadequate and many programmes have been purely symbolic or confined to certain projects only. The new electoral law has lowered the quota of women MPs from 25% to 20% – and women's quotas for district councils have been scrapped altogether.
In order to gain power, women, especially young women, must also play their part. Do you think such political activities have been successful?
Women want to play a greater political role – as is shown by their involvement in the drafting of the law for the 'Elimination of Violence against Women' and the new family law, as well as by their growing participation in parliamentary and provincial council elections. Women have also established political organisations and they have been actively campaigning. The Women's Political Participation Committee, to name just one example, is an organisation founded by women in order to increase the political participation of women.
Are Afghanistan's political parties tolerant enough to give positions of authority to young women?
Today's political parties are more democratic in nature than they were in the past. This is something that happened over the past thirteen year. However, there still are political parties that are opposed to the political participation of young women – which is why women politicians have to be even more active.
Who, do you think, is more interested in politics, women or men?
Women show a greater interest in modern politics. Some prominent examples are Sonia Iqbal, head of Afghanistan 1400, Adila Bahram who is leading the Jamhori-Khwahan party, and Dr Alima Alima who is the chair of the Women's Political Participation Committee. There have also been female candidates for the vice presidency.
What are the prospects for the political involvement of women?
I think women have a bright political future ahead of them. Women and girls no longer live in the dark. They are politically aware and they are involved in political decisions at a national level. The women of today want to play an equal political role in our country.
Where will we be in 2024?
In ten years time, I hope, Afghanistan will have found stability, giving its long-suffering people the opportunity to experience the fruits of peace.