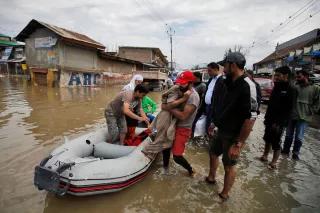 The recent floods in Kashmir have been the biggest and most ferocious in a century leaving hundreds dead and many hundred thousand stranded. The administration was clearly overwhelmed, and many people took things into their own hands. One of them was Kran Kowshik.
Kashmir is a complicated place that has a burdensome history and until today carries a lot of baggage. Being the northernmost region of India, it falls on a disputed border with Pakistan, and according to estimates, more than 300,000 Indian Army troops are stationed there. For years, India, Pakistan, and the Kashmiris themselves, have fought over the state, even gone to war. On the night of September 4th, 2014 it began to rain. In less than an hour, it rained more than it usually does in a year, and the Jhelum River broke its banks. The capital city of Srinagar flooded immediately. In a few hours, the city was inundated, with a few patches of dry land dotting the landscape.
The recent floods in Kashmir have been the biggest and most ferocious in a century, and they have hit both the Pakistani and the Indian administered parts of the valley, leaving hundreds dead and many hundred thousand stranded. The administration was clearly overwhelmed, and many Kashmiris took things into their own hands, by setting up relief camps and organizing rescue missions.
One of them was my former boss, a veteran journalist from Kashmir. On 7th September, i got a message from him. "Can you come now?", he asked. "We need you immediately!" I gathered a group of mountaineer friends, and flew into Srinagar the next day. Two of my team members already had extensive experience from the Uttarakhand Floods in 2013.
Chaos in the city
When we landed in Srinagar, we realized soon why we were needed. Policemen who saw our ropes at the airport greeted us enthusiastically, saying, "You're help is needed in the city". Fortunately, the airport was on high ground, but we could only travel for five kilometres in any direction. When we left the airport what we saw shocked us: Poor migrant labourers, mostly from Bihar, were camped outside the airport, waiting to get out. The Central Reserve Police Force, whose function is to guard against militancy, had set up a few relief camps near the airport. But in the main city, there was chaos.
The next morning, I connected with my friend. He directed us to a school in Hyderpora, outside Srinagar's city centre. There, about ten young Kashmiris, who were setting up a rescue and relief camp, met us. We quickly divided responsibilities. Three students from Delhi's Jawaharlal Nehru University took over the general administration. They formed a team called "Kashmir Volunteers in Delhi: Flood Relief" (short KVDFR) and it was their job to organize the relief material in liaison with their team in Delhi, who collected donations in the capital. New requirement list were sent out every day, and updates were posted on facebook and twitter to attract more donations.
I took over the rescue department, which involved organizing the rescue missions by boat. We also formed a food department, a medical department, which eventually became a clinic too, and a transport department. At this point, we had only about a hundred kilogram of relief material, and one boat. Without any way other to carry this food, we tied two foam mattresses together and floated them on the water. We pushed this makeshift raft through the flooded streets, handing out dry food and water to people who were stranded on the roofs of their houses.
Chest deep in water
The water was chest deep, often very cold and always filthy.  After a couple of days we had accustomed to pushing animal carcasses out of the way. The fear of catching diseases was high.
On more than a few days, I woke up at 4 am, and was in the filthy water by 5.30. On one of my first rescues, I evacuated a baby, just a month old, from a house in Alluchi Bagh. Another day, we evacuated a woman and her husband; she was two days away from delivering a child. When I wasn't running evacuation jobs like this I was with a team of 20 young men, delivering relief to villages far away from Srinagar. These relief runs, too, were physically exhausting. We started with makeshift rafts and one boat, piled with supplies. With no place for rowers, we pushed these boats through narrow, flooded roads to reach the villages.
In about fice days, the organization had grown at an astounding pace. KVDFR now had grown to over a 100 volunteers in Srinagar, 6 boats and several tonnes of relief material, including clothes, blankets, water, medicine, food, baby food, diapers and sanitary napkins. Every day, volunteers turned up, asking to help. The fitter amongst them, I drafted into the rescue teams. I gave them the most basic of rescue knowledge, issued them a boat if they needed one, gave them relief material and sent them out.
Just good PR
In flooded Srinagar, there was no government. On the ground, I never saw any police, the National Disaster Management Agency's teams were impotent and useless, and the Army, it looked to me like they chose to only follow orders; rescues were only carried out on special request, relief supplies were dropped into the water, and relief trucks threw food overboard, forcing people to scramble and fight for food.
While the Army was welcomed in the first few days – rare in Srinagar where the Army is often called "the oppressor" or "the occupier" – it soon was mainly focused on getting good PR. Visiting journalists were whisked up and taken n helicopter rides, and only shown what the army was doing.
Every night, people would gather around the few working TV sets, and watch stories of the 'Army's bravery'. One news channel even ran a story about their reporter taking part in rescue ops, and showed footage of her pushing food out of a helicopter. I could clearly see that everything she pushed out fell into the water, and was unusable. Soon, the locals began to resent the Army again.
It had fallen to young men and women, whose own houses had been destroyed too, to help the city. These did a great job. They worked together, they toiled all day, shed sweat, shed blood, and helped everybody they came across, in whatever way they could. They worked to exhaustion, and were back to work the next day. Every day, I would hear of daring rescues or difficult evacuations. Some of them chose to go door to door, giving people the emergency supplies they needed, focusing on medicine. Between us, the team at KVDFR's Hyderpora camp, I estimate we reached out to around 2500 people in ten days.
There were many other casual organisations like this, run by Sikh Communities in Gurudwaras, by mosques and by independent civilians. Many of them didn't have boats, and made their own rafts with large drums, logs and foam mattresses and other junk.
To be honest, we never felt satisfied with what we did. We never thought, "Hey, we did a great job today". The only thought I had before going to bed was, "We could have done so much more." We didn't do what needed to be done; we only did what we could. Every time we were out on the boat, people called for help from houses. They all needed something: food, water or rescuing.
Everybody who asked for help, at least in the first few days, was desperate. But we often went out on the boat, and found that we couldn't locate the family, or that people we went to rescue weren't in dire need. And what really, is a 'dire need' in a city where everybody has a dire need. We realised we had to make our own parameters for the words 'dire need'.
The changed face of the city
These were the parameters we decided for SOS calls: We only went out on emergency calls for Young children, the very old and those with medical emergencies. We also set another, more important criterion: We only went out when we knew we could pinpoint the house, or, if we had a guide who could take us straight there.
This might seem like an unreasonable demand, but it wasn't. The face of the city had changed, complete neighbourhoods had been inundated, and houses had fallen like cards. It wasn't easy to get around. We had to row through streets, not drive. One day, we took a father to rescue his baby, and he couldn't locate his own house. That's how hard it was.
On the boat, we only responded to calls that absolutely needed us. One evacuation that made me feel happy was of an old, blind man whose family called out to us as we passed.
Having to say "no" to many who were asking for help often meant that we had to face anger and disbelief from desperate people. And it began to break our hearts.But we didn't have the time, or the strength, to ponder our decisions. By day four on the boat, we began ignoring most people who called from houses - there was no way we could help, even if we wanted to. We only answered to the most needy, like a man in his late 50s, who was obviously mentally disturbed. So we decided to just do what we could. To help whom we could. Sometimes, it was too hard, like when we saw two dead bodies. We were told that they had asked for help, but didn't get it.
After the first tendays of the flood, much of the city was still inundated. There was no way for the water to leave. Slowly, the city began to limp back, as much as it could. We began to see government officials around, but they couldn't do much. Ten days after the flood, my job as a first responder was done, and I decided to fly out. But most of the rescue volunteers went back to their flooded houses. The need for city has changed. The city now needs to be rebuilt. With winter coming in, people can't live in tent camps any more. The leaders of KVDFR decided to suspend their college commitments and continue with relief work for the next year. It's going to be another long and difficult struggle for Kashmir.