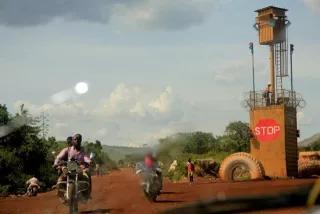 "That diamond upon your finger, say how came it yours?" asks Shakespeare's Cymbeline. "Thou'lt torture me," responds the villainous Iachimo, "to leave unspoken that which, to be spoke, would torture thee." The story behind certain parts of the global trade in natural resources today, whether spoken or not, is no less a source of anguish.
Natural resources should be a major contributor to development in some of the countries that need it most. And yet, in some of world's poorest and most fragile states, they bring just the opposite. In many of these countries, the trade in natural resources motivates, funds, and prolongs conflict and egregious human-rights abuses. Resources such as diamonds, gold, tungsten, tantalum, and tin are mined, smuggled, and illegally taxed by violent armed groups, and provide off-budget funding to abusive militaries and security services.
Consider just four African countries: Sudan, South Sudan, the Central African Republic, and the Democratic Republic of Congo. Together, these resource-rich countries account for just over 13% of the population of Sub-Saharan Africa, but some 55% of the region's internally displaced persons (and one in five worldwide) due to conflict. But the problem is global, with similar patterns in parts of countries such as Colombia, Myanmar, and Afghanistan.
The deadly trade in conflict resources is facilitated by supply chains that feed major consumer markets, such as the European Union and the United States, with cash flowing back the other way. Natural resources, such as tin, tantalum, tungsten, and gold – all minerals that have been linked in some parts of the world to conflict and human-rights abuses – are found in our jewelry, cars, mobile phones, games consoles, medical equipment, and countless other everyday products.
There is clear consumer demand for information that will help buyers make sure that their purchases do not implicate them in appalling abuses. But the responsibility to reconcile global commerce with the protection of basic human rights does not fall first and foremost on consumers. Conflict prevention and human-rights protection are primarily the responsibility of states, and it is increasingly recognized that businesses must play their part as well.
Indeed, we are now at a critical point in what has become a global movement to stop irresponsible corporate practices from being viewed as business as usual. Since 2010, companies working in conflict areas have had a global standard at their disposal. The OECD offers guidance on how to source minerals responsibly. Developed in close collaboration with the industry, it offers "detailed recommendations to help companies respect human rights and avoid contributing to conflict through their mineral purchasing decisions and practices."
The United Nations has also endorsed similar requirements. In 2011, the UN published a set of Guiding Principles on Business and Human Rights, according to which companies whose "operating contexts pose risks of severe human rights impacts should report formally on how they address them."
And yet, with the exception of a few progressive industry leaders, few companies have responded to this voluntary guidance. In 2013, Dutch researchers surveyed 186 companies listed on European stock exchanges that make use of conflict minerals. More than 80% made no mention on their Web sites of what they had done to avoid funding conflict or human rights abuses. Similarly, the European Commission's Directorate General for Trade found that only 7% of 153 EU companies refer to a due-diligence policy for conflict minerals in their annual reports or on their Web sites.
The United States has already taken the next logical step. The Securities and Exchange Commission requires companies that use tantalum, tin, gold or tungsten in their products to investigate these raw materials' origin, and to mitigate risks in their supply chains in line with the OECD Guidance if they are found to originate in certain conflict-affected or high-risk areas. The 12 member countries of Africa's International Conference on the Great Lakes Region have committed to similar mandatory due-diligence requirements.
That is as it should be. Responsible sourcing is a duty, not a choice. And here, the EU is lagging behind. In March, the European Commission proposed a plan under which disclosure would continue to be voluntary, meaning that the minerals that enter the EU would not be subject to mandatory checks. The proposal, furthermore, focuses exclusively on raw ores and metals, and excludes products that contain the relevant minerals, such as mobile phones, vehicles, and medical equipment.
The proposal is now being reviewed by the European Parliament and the European Council. It is crucial that both institutions seize this opportunity to strengthen the EU's response by making disclosure and compliance mandatory and extending coverage to include finished and semi-finished products. Better regulating the trade in these resources will not itself bring peace to conflict-affected areas. But funding conflict and human-rights abuses is not an acceptable cost of doing business.
This article was first published at Project Syndicate.