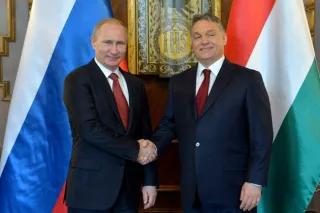 Putin's visit to Budapest in February 2015 was his first bilateral meeting in an EU and NATO member country since the downing of Malaysia Airlines Flight 17 over Ukraine. By inviting him Budapest has broken Europe's tacit agreement on a united Russia policy, and is arguing for a normalisation of relations with Russia.
Putin's visit to Budapest in February 2015 was his first bilateral meeting in an EU and NATO member country since the downing of Malaysia Airlines Flight 17 over Ukraine. Obviously, European leaders avoided Putin in the wake of the tragedy—he met with Merkel and Hollande in Normandy and elsewhere, but only for peace negotiations. Consequently, while just a couple of years ago the Russian president had six to eight bilateral summits in Europe each year, ahead of his trip to Budapest he had not entered the EU for bilateral talks since his Austrian visit in June 2014. Not surprisingly, Orbán's invitation and their two-hour meeting have focused unprecedented domestic and international attention on Hungarian-Russian relations. Budapest has broken Europe's tacit agreement on a united Russia policy, and is arguing for a normalisation of relations with Russia. What lies behind this and how far might Hungary go?
This question arises in the light of an unprecedented series of surprises in Hungarian-Russian relations during the last few years. Viktor Orbán, a staunch critic of Russia for two decades, has turned into one of Moscow's most vocal defenders in the midst of its war in eastern Ukraine. Orbán, who characterised Hungary as the "happiest barrack of Gazprom" in 2008, has concluded a huge nuclear deal with Rosatom and continues to pursue the most intensive negotiations with Gazprom since the fall of Communism. What is more, Orbán's supporters have followed him through this transformation: today, Fidesz is a Central European conservative party whose voters are the most pro-Russian in the Hungarian political landscape.[1] Moreover, the right-wing radical party Jobbik, Hungary's second-strongest party according to opinion polls, has criticised the government's pro-European stance and favours even more engagement with Moscow—a historically unprecedented and totally unconventional orientation for a radical right-wing party in Hungary.
All these sudden turnarounds leave unclear the magnitude and underpinnings of Hungary's new friendship with Russia. It is tempting to draw a parallel between Putin's authoritarian rule and Orbán's assertive use of his two-thirds parliamentary majority. The Hungarian prime minister has publicly praised "illiberal democracies", citing Turkey, Russia, China and Singapore as examples offering potential for adaptation by other nations. Obviously, a country's democratic deficits do not constitute a constraint for Orbán's foreign policy. Nevertheless, it is difficult to envisage how these various and distant countries could become a substitute for the European Union and the Western community. Hungary conducts 80% of its foreign trade with EU countries, it is an open economy in terms of trade and highly dependent on foreign investments. Its general well-being is based on the continuous inflow of EU funds. Public opinion polls suggest a high level of dissatisfaction with many aspects of the US and Europe, but NATO and EU membership are still considered to be something natural. Orbán may try to generate external support and construct alternative alliances, but Hungary sits deeply entrenched in the Western world. Even his publicly announced goal to increase Hungary's share of non-EU trade to 30% seems to be beyond any reasonable limits of plausibility for the years to come.
It is more likely that Orbán's "Eastern opening" is intended as a supplement to rather than as a substitute for relations with other Western countries. Ideally, Hungary would like to sustain the inflow of Western investments and EU funds, but also obtain cheaper Russian gas from Moscow, acquire Chinese investment credits and boost exports to the Middle East. All these efforts are legitimate national goals if pursued in a balanced manner with other foreign policy objectives. In the Hungarian case, however, securing often short-term foreign economic benefits has become a near-exclusive priority. After his landslide electoral victory in 2014, Orbán delivered this new directive at the annual ambassadors' meeting with the rather blunt observation that "ideology-oriented foreign policy has been invented by smart countries for foolish ones".[2] Hungary's foreign missions were instructed to place greater emphasis on increasing Hungarian exports and investments, since "we live in an economic world".
These ambitions were already visible during Orbán's first term, when he demonstrated his unrestrained appetite for voluntaristic actions in 2012 by extraditing the "Azeri murderer" to Baku, effectively setting him free.[3] Presumably, this was done in order to open up new economic prospects in Azerbaijan. Nevertheless, the prime minister's unscrupulous aspirations were partially offset by his emblematic foreign minister, János Martonyi, whose team represented the conventional Central European conservative foreign policy mind-set with moderate Atlanticism, a strong commitment to regional cooperation and a relatively balanced level national pride. Accordingly, Hungary's foreign ministry under Martonyi was engaged in a never-ending face-saving campaign to interpret Hungarian domestic and foreign policy developments to its Western partners in a positive light. A conflict with the prime minister was inevitable, however, and this experienced, conservative establishment has been set aside by the new foreign minister, the young Orbán confidant Péter Szijjártó.
Russia fits very well into this new arrangement. Hungary's largest trading partner outside the EU, Russia's relations with Hungary are concentrated around major contractual relationships such as gas imports, while Hungary as an EU and NATO member country obviously has some political relevance for Moscow. There is no doubt that Russia may have offered economic benefits to Hungary in many different ways. The only question for Orbán was how much diplomatic damage Budapest was prepared to endure in order to ease Russia's isolation. Truth be told, Putin's last European meeting in Austria in June 2014 was very similar to that in Budapest. Vienna did not bring up the annexation of Crimea or the clashes in eastern Ukraine, and readily invited the Russian president in order to join South Stream and to negotiate certain modifications to its gas import contract. Orbán may have felt that he could continue his Russian bargain under better terms if he provided Putin with a European stage. Indeed, at the press conference Putin mainly spoke about the Ukrainian crisis while Orbán's comments were restricted to the meeting's bilateral achievements—first and foremost the extension of Hungary's expiring gas import contract for another three to five years.
Hungarian diplomats understood very well the potential foreign policy damage that could result from Putin's visit, and made serious efforts to minimise the negative consequences. In less than two weeks, Orbán met with Georgia's prime minister, visited Warsaw and travelled to Kiev for talks with Ukrainian President Petro Poroshenko. The last meeting in particular was a major success, as relations with Ukraine had grown rather frigid recently: in the midst of the eastern Ukrainian separatist war, Orbán had raised the issue of autonomy for Transcarpathian Hungarians and cut off reverse gas flows to Kiev, presumably at Gazprom's request. All these foreign policy moves demonstrate some willingness to keep the Hungarian image intact and to avoid further isolation from the West, which would be unnecessary if Budapest wanted to sever its ties with its former allies. This is significant, even if these manoeuvres cannot really ease Hungary's isolation or compensate for its loss of credibility.
What will come next? It is widely feared that Orbán may undermine common EU actions and sanctions against Russia. He consistently criticises sanctions as useless and damaging, lobbies for a political dialogue with Moscow, and expresses a desire to continue Hungary's energy partnership with Russia. Nonetheless, it is unlikely that Orbán will act alone against these common measures. This is not the first time Orbán has expressed his own, rather divergent opinion of EU decisions, but he has never dared to obstruct common actions. This may happen if Orbán is joined by other leaders in the region, but any kind of "Hungarian kamikaze" would constitute a new phenomenon in Budapest's foreign policy.
Paradoxically, some consolidation may come from the likely exhaustion of the Russian-Hungarian economic agenda. The sharp drop in gas prices and Russia's recession may reduce Moscow's leverage over Eastern European countries; after all, it does not make much sense to ask for price concessions on energy, when import prices have already fallen by almost 30%. Hungarian companies have halted their investment activities in Russia due to the rapidly deteriorating economic situation, and exports have been falling by double digits. If economic logic is truly at work in Hungarian foreign policy, Russia will be downgraded in short order. Even so, a certain amount of fallout will remain. The Paks nuclear extension, for example, is awaiting approval by the European Commission—a difficult challenge to manage. Indeed, the low-hanging fruit of Hungary's new friendship with Russia have already been picked, and it would be risky to "climb higher up the tree".
All in all, Orbán's opportunism vis-à-vis Russia and his voluntaristic foreign economic activities have already yielded an adverse balance. If Hungary was tacitly isolated in European politics before 2014, critical voices have recently surfaced even at bilateral meetings. Angela Merkel's visit to Budapest in February 2015 made disagreements with Orbán clear at the public level. Potentially even more painful for many Hungarian diplomats was Orbán's visit to Warsaw right after the Putin visit. His Polish reception was cool and frank—a major blow to those who thought Central European cooperation could be accommodated to pro-Russian policies in the current circumstances. Isolating Poland and separating it from its Visegrád partners might have been an important goal of Russian foreign policy, and Budapest played a crucial role in weakening this regional formation. Nonetheless, Visegrád cooperation has played a central role in Hungary, as it is the most significant regional forum where Budapest is represented. These four countries continually coordinate their positions at both the EU and international levels, and actively elaborate and implement regional projects. The weakening of this forum means the greatest possible level of isolation for Hungary.
Paradoxically there is one positive implication of these visits: foreign policy has been squarely placed on the domestic agenda. Unlike its Polish and Western counterparts, Hungarian public opinion is rarely concerned with the country's diplomatic activities. Current developments have provoked feverish debates, however, and new political divisions have come to the surface. Hungary's relations with Russia and with the US, its role in Europe, and the balance between interests and values in world affairs are all being widely discussed. In the light of the government's assertiveness, as in many other domestic policy issues, people are reconsidering their positions and opinions. Moderate conservatives have publicly distanced themselves from Orbán's Russia policy, and a former Socialist prime minister commented critically on his own pro-Russian orientation in the past. All these are new phenomena in Hungarian politics which would have been almost inconceivable even a few years ago. This creates the potential not only for the further erosion Orbán's declining popularity, but also for bridging past political cleavages and moving towards a long-awaited social consensus at least on certain basic foreign policy questions.
Proofreading by Evan Mellander.
---
[3] Azerbaijani Army officer Ramil Safarov butchered one of his Armenian colleagues with an axe during a NATO-sponsored training seminar in Budapest in 2004. He was convicted of first-degree murder and sentenced to life imprisonment in Hungary. Safarov became a national hero in Azerbaijan and Baku launched a major diplomatic campaign to set him free. In 2012, Safarov was extradited to Azerbaijan, where he was pardoned and released, despite previous assurances to the contrary.