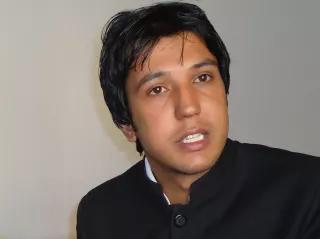 Mustafa Kakar, who studied Pashtu literature at Kabul University, is planning to establish a political party with a group of other young people. He has worked for media outlets such the Voice of America, Tolo TV, and more. Mustafa has written numerous articles on various issues in Dari and Pashtu and has also written a book titled Political Suicide. The publication of his next book, Youths: Tools for Privilege, is forthcoming, and he is currently writing two other books: Narcotics in Politics and Years of Fear. In the near future, he is planning to nominate himself as a candidate in the parliamentary elections.
What kinds of challenges do young Afghans face?
Undoubtedly, with the passage of every day, the new generation becomes more active and plays its role in a better way in economic, political, and military spheres. Unfortunately, young people do not have access to any leadership roles. They still face numerous challenges, such as poverty, unemployment, patriarchy, drug addiction, and the negative impacts of 36 years of war.
If a young person expresses his desire to enter politics, he will be stopped first by his family and then by the so-called senior politicians. Another challenge is the existence of human rights violators, warlords and the Taliban, who use Islam as a tool to reach their political objectives. Pessimism is not good, but the issues stated have made young people the victims of political games.    
What is your perspective on how young people have performed over the past thirteen years?
Different social, cultural, and political organizations that are led by young Afghans are not strong enough yet. Therefore, they are not involved in the nation's political mainstream. Challenges of linguistic, ethnic and tribal differences must be set aside and full attention must be paid to politics. Current Afghan politicians must allow and help young politicians to assume better roles in the country's political system so that we can move towards an ideal society with modern politics.
Although young people form more than 65% of the population according to a UN survey, they have not been able to act as the backbone of our society. There are groups that try to trap young people in ethnic and language issues. This is the greatest challenge, but the fight continues to counter it.
Concerned domestic and international organizations must pay attention to young people. National and international investments can help the young people overcome challenges and move in the right direction. The new generation must first increase their political awareness and learn lessons from the history of Afghanistan. They must not repeat the mistakes of the past.
What are the major problems facing young Afghans?
There is nepotism and laws broken by lawmakers. In any election, the successful candidates will try to give key positions to the people who were involved in their election campaigns, regardless of their knowledge and field of expertise. Afghan youths who got their education in regional areas and foreign countries are not given any proper attention. Can't they work for Afghanistan?
These young people prefer to work and reside abroad because they say still there are challenges such as instability, ethnic and tribal divisions, and unemployment in Afghanistan. Young people who have completed their educations in abroad are not confident, and they are doubtful of whether their skills will be of any use in Afghanistan.
We have lost 45 journalists in the past thirteen years, most of whom were young and talented. They used to reflect the voice of the people from every corner of the country. They were killed by warlords, criminals, and mafia groups. A major problem in Afghanistan is that the so-called political and religious contractors are still in power. Our young people have become disappointed, and therefore they prefer living abroad.  
In your point of view, how can peace and security prevail in Afghanistan?
Long-lasting peace is only possible through creating more employment opportunities, as foreign intelligence agencies use jobless young people for their own purposes. Another area we must work on is moving Afghanistan towards self-sufficiency.
Mr. Ashraf Ghani is a good economist and has great economic plans. He must work for the self-sufficiency of Afghanistan. This country must be developed and must have factories where people can work, and our farmers must be supported to grow saffron instead of poppy. Opium is one reason—and unemployment the other—for security problems. Instability is also caused by leaders who manipulate citizens' beliefs to further their political objectives.
How do you envision the next ten years?
If work is done towards self-sufficiency, investment is made on education, and more young people are sent abroad for their education, we can be optimistic about the future. If no work is done, Afghanistan will not achieve what it has to in the next ten years. As a young person, I call upon other young Afghans to convert their efforts into a national power so that the next decade can become a decade of change.