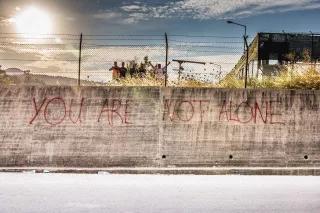 Opening remarks on the occasion of the "EU Quo Vadis?" Conference of the Heinrich-Böll-Stiftung in Berlin on May 26th, 2016 titled "Crossing Boundaries in European Asylum and Refugee Policy".
Where are you going, Europe? The question is more pressing than ever. But it isn't new. The history of the EU is a history of crises. In fact, almost any progress the European community has made was born out of crisis. A willingness for change and progress will only emerge when it is obvious that things cannot go on the old way. With a little dose of historical optimism, one could even say that crisis is the very lifeblood of the EU.
But this time around, we really don't know if this is just another round of growing pains. The path towards 'ever closer union' is by no means irreversible. We are facing challenges from the outside as well as centrifugal forces pushing from within. Both harbor a real danger of disintegration. In Hungary and Poland, the ruling national-conservative parties consider the EU a threat to their very sovereignty. In Austria, the pro-European forces only barely prevailed in the Federal Presidential elections. In France, Marine Le Pen is reaching for the Presidency, a BREXIT is looming in Britain – things could indeed get a lot worse than they are right now.
The central topic of our conference is how we deal with refugees coming to Europe. The influx of over a million people last fall has caused massive rifts within the EU -– between the member states as well as within our societies. The problem is not that Europe could not handle the number of refugees – we are far from reaching capacity. The "refugee crisis" is, in fact, a crisis of European politics. It reflects growing narrow-mindedness, fear of the future and national parochialism in Europe.
An authoritarian roll-back
In this sense, it is the catalyst rather than the cause of a conflict that has been brewing for quite some time. It has become a proxy debate which revolves around much larger issues of European politics.
Today, we are faced with a massive threat to liberal democracy in Europe. An authoritarian roll-back is happening in our very backyard, from Russia all the way to Egypt. The Arab Spring ended in an orgy of violence and repression. In the East, Russia has steered back towards authoritarianism and politics of military power.
Today, the Kremlin is the headquarters of an anti-liberal Internationale, the center of a widespread network of media and parties; they're agitating against the EU, the transatlantic alliance, open borders and open markets, stirring up resentment against Islam and refugees from other cultures, they oppose the equality of gays and lesbians and they're promoting plebiscite over representative democracy.
The Presidential Elections in Austria were not an isolated incident. Nationalist, xenophobic, authoritarian counter-movements are running all across Europe, from West to East and from North to South. It is cheap to point a finger at Central and Eastern Europe, at Hungary, Poland or Slovakia. We are seeing similar developments in France, Scandinavia and right here.
A period of bitter truth
This also becomes evident in the refugee issue. The days of cheerful welcome have long gone here in Germany, as well, despite the steady dedication of hundreds of thousands of volunteers. In fact, the Federal Government drastically changed its course in the last few months: from the humanitarian act of opening borders to deterrence.
It was obvious from the start that an open-border policy was not viable in the long term. But in the meantime, the pendulum is swinging far towards the other extreme. Protecting our outer borders has become the lowest common denominator of European refugee policy.
The past few months were a period of bitter truth for Europe. It has become clear just how fragile the narrative of Europe as a "space of freedom and justice" really is. The refugees' freedom of movement was systematically curtailed, the open-border principle within the Schengen area was temporarily suspended. Nations went solo instead of cooperating and coordinating with European partners. The Geneva Convention on Refugees was virtually invalidated. Many European governments openly admit that they value their "national interests" over international law. We must acknowledge that European attitudes about the future of our societies diverge widely. The idea of the "multicultural society" is by no means a foregone conclusion.
Key points for an alternative
This is how the refugee crisis became a crisis of Europe. This also affects our international credibility. A petty, self-protective refugee policy will permanently cloud the image of Europe amongst or southern neighbors. This is especially true for poor countries which took in a much larger number of refugees than we did. What will they think of a Europe whose primary interest is to close its shutters in the face of other people's misery?
What are possible alternatives, what are ways to shape a European refugee policy that is committed to humanitarian principles and international law without asking too much of its own societies?
Our conference is not meant to be a soapbox for moral accusations and idealist appeals, but a forum for the search for realistic answers to the refugee question. This is essentially about control and regulation as an alternative to a policy of isolation. What are the key points of such an alternative strategy?
Obviously, going it alone does not offer any acceptable solutions for any nation. This applies not only to the demand to close down national borders. It is also true for the demand that Germany unilaterally open its borders to refugees. Without a minimum of cooperation with our European neighbors, there will be no long-term acceptance for a liberal refugee policy. If we want to save the open Schengen Area, we must have a coordinated policy among the member states.
 
Each European solution must rely on cooperative arrangements with our neighbors South and East of the EU. Europe also cannot solve the refugee issue alone. The issue is closely connected with our neighborhood policy towards the East and South and involves issues of security policy and economic cooperation. Retreating behind a 'Fortress Europe' is not a solution.
 
A central element of a proactive neighborhood policy is improving the situation of refugees in the countries that receive most of them, such as Turkey, Jordan and the Lebanon: better basic provisions in terms of food, shelter and medical care as well as access to education and work. This must be financed largely by the OECD states.
 
A second core element is agreements for Europe to accept refugees from these buffer states. If we want to curb the chaotic and lethally dangerous passage across the Mediterranean, we must expand legal paths of access. As problematic as it may currently be to reach political arrangements with Erdogan: If we want the situation in the Aegean See to settle down, there is no way around practical agreements with Turkey. The flaw of the current deal is mainly that current quotas are utterly insufficient to give refugees who are stranded in Turkey a realistic alternative and pull the rug from under criminal human traffickers.
 
Not least, we need to interconnect our refugee policy more closely with a long-term European immigration policy. This includes clarifying the current refugees' status: Are they only granted temporary protection, or is the plan to integrate them permanently into our society? In the long term, we cannot continue to squeeze all possible forms or motivating factors of migration through the bottleneck of our asylum law. We need to differentiate between refugees and work-related migrants, while at the same time making it easier to transition from one status to the other.
 
Who can initiate such an alternative strategy? Will we continue to go for "pan-European solutions" or do we have to make do with just a "coalition of the willing" and work with those member states that are currently willing to accept a sizeable number of refugees? We obviously failed to impose binding quotas for the distribution of refugees on all EU states. There is no viable consensus for this. The common denominator among all 28 EU members amounts to an extremely restrictive policy. If we want to break through this, we must accept that we are once again dealing with a multi-speed Europe in the refugee question. It remains to be seen how we can do this without permanently reinforcing the current fragmentation within the EU.
Which means we have more than enough material for a complex and animated debate with a range of international guests. We are very keen to lead a transnational dialog on these questions – if national solutions will not work, we will need a compromise between different perspectives more than ever.
Video of the conference "Grenzerfahrung. Asyl- und Flüchtlingspolitik in Europa" on Mai 26th of 2016 (in German):
This article is part of our dossier: "Crossing Borders – Refugee and Asylum Policy in Europe".