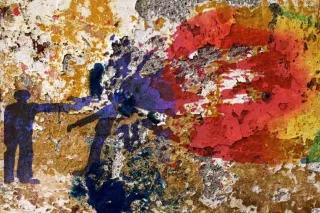 The cases of Marwen and the six students from Kairouan who were arrested and sentenced for homosexual practices in 2015 received a lot of media coverage. However, that did not stop the spiral of violence against lesbians, gays, bisexuals and transgender people (LGBTs) in Tunisia. Homophobia can be deadly.
Angelo and Massimo are among the 15 victims of homophobia in Tunisia inventoried by Damj, the Tunisian Association for Justice and Equality.
These two cases have been documented the most because of the victims' Italian nationality: Their deaths created a media echo on the other side of the Mediterranean. Angelo was discovered hacked to death at his place in Hammamet in August 2012. In early February 2015, Massimo's charred corpse was discovered in his home in Sidi Bou Saïd. He, too, had been stabbed. But the two Italians were not the first homophobic murder victims, emphasizes Badr Baadou, the president of Damj.
"The first case we know of dates from February 2011, a few weeks after the revolution. It was at Al Manar, only six kilometers from downtown Tunis. But this is happening all over the country."
Damj's list of 15 names, compiled using the organization's pan-Tunisian sources, is not exhaustive. "We verify each alert by cross-checking the news with our contacts," explains Mr Baabou. Then Damj members visit the sites to learn more. "We have tried going to the neighborhoods where the murders have taken place, but no one there will talk with us."
For its part, the Shams association gathers testimonies made by victims of homophobic acts. "In 2015, there were more than one hundred physical attacks on homosexuals – in the street, at school and in the home," reports Ahmed Ben Amor, one of Shams' vice presidents. No official count is kept and because Tunisian authorities don't consider homophobia to be a crime motive, it is very difficult to verify data.
The families find it normal that their children are convicted
The victims' families are the first who refuse to talk. There are "those who don't want to run any risks, and those who think their child deserved it," says Antonio Manganella, director of the Tunisian branch of Lawyers without Borders (LWoB), which appointed three lawyers to defend the six Kairouan students, aged 18 to 20. Arrested in their dormitory in December 2015, the students were charged under Article 230 of the Penal Code and forced to undergo rectal examinations carried out by a doctor. The judge sentenced them to three years in prison and banished them from Kairouan "to set an example", reports Mr Manganella. On appeal, they received six-month suspended sentences, their banishment was ended and they were fined 400 dinars each. The case is being appealed again. But making progress in the procedure is no easy matter, laments LWoB's representative in Tunisia.
"The families refused to sign the applications for appeal: they consider it normal for their kids to be convicted."
In Tunisia's conservative society, accepting that one's child is sexually different is not easy. Violence first endured within the family pushes young people to flee. "Even gay-friendly families are afraid of how others look at them,'" analyzes Ali Bousselmi, president of Mawjoudin  ("We exist!"). "Parents who are understanding still don't want this uncle or that cousin to be in the know."
Once driven out of the parental home – either after revealing their homosexuality or having it discovered – the young people are left to their own devices. Of the six students from Kairouan, two of them were taken in by Damj, which gave them "a place to stay in Tunis and some money for food, internet and telephone," according to Badr Baabou. However, after suffering humiliation, rape and torture in prison, they "had totally lost their bearings", explains Mr Manganella. "Two of them were later arrested for prostitution." In court, they did not deny the charge and were sentenced under Law 52, which penalizes drug use and sale.
"This group of individuals is suffering." Dr Ahlem Belhadj, child psychiatrist at the Mongi Slim Hospital in Tunis, is alarmed. "Without wanting to play the psychiatrist, one must recognize their distress."  Whether in prison or out, Tunisian homosexuals are under constant pressure. "These people are doubly vulnerable: first and primarily, because their family circle rejects their homosexuality, and second, because of society's reaction."  The media's attention to the cases of Marwen and the six students in Kairouan exacerbated the tensions with regard to decriminalizing homosexuality in Tunisia.
Facebook, both a tool to defend LGBT people and a vent for homophobic stink
Facebook is an indispensable tool for covering the subject and raising public awareness to the plight of LGBTs. Various organizations are active in Facebook – above all, Shams, with its 85,000 friends. It publishes articles and communiqués about attacks on homosexual rights and its activities. Shams has also used Facebook to publish photos of businesses suspected of posting messages that prohibit entry to homosexuals.
The associations also use Facebook to publicize the testimonies of homosexual victims. Mawjoudin published the story of S.K., a 19-year-old single man. S.K. tells how his family and high school friends treated him after learning that he is gay. "My mother told my uncle about me so he came to the house and we had a fight. He slapped me many times and pushed me against the wall and putted [sic] his hands around my neck until I couldn't breathe."  S.K.'s text is accompanied by photographs of the marks on his neck. He adds a plea for help.
"I don't want to be raped or abused. I'm just looking for my own safety and where I can live like a human." 
The social networks also relay violently homophobic reactions. The organizations defending personal freedom tally and denounce hate speech and incitement to murder. In particular, Damj and Shams have published homophobic messages photographed next to gear of the Tunisian security forces. Vicious leaflets are placed on top of bulletproof vests belonging to the National Guard, stuck under police officers' caps or sent "from the Ministry of National Defense". In reaction to the El Hiwar Ettounsi TV station's program on homosexuality, the most recent flyers call for the station to be "boycotted and lose its broadcast license". Without explicitly calling for homosexuals to be murdered, certain messages are shown with firearms and ammunition. The most violent ones promise Tunisian homosexuals the same fate as the "Islamic State" that attacked Ben Guerdane in March: Your murderers will take "selfies with your corpses".
These short texts are sent directly to the organizations as private messages. "Most of the e-mail accounts are set up under fake names and closed shortly after the message is sent," says Badr Baabou. Taking legal action against anonymous messages is more difficult. Since Tunisian law does not regard homophobia as a crime, other legal grounds must be used in such cases. Antonio Manganella says, "We can complain that a custodian of public order has made an incitement to violence."
According to Sofiane Selliti, spokesman for the public prosecutor, "We can mandate the Tunisian Technical Agency for Telecommunications to check the identities of the people who post these types of messages on social media. But," he admitted to Inkyfada, "In these particular cases, that has not yet been done."
Not all posts identified as coming from the security forces smack of homophobia. Mawjoudin and Damj have also received a few messages of tolerance that stress the Tunisian police's "republican" mission. The messages begin with "Homosexuals are Tunisians" and end with "The army is supposed to protect all Tunisians" or "We are all Tunisians". But there are few such messages.
"Throw homosexuals from the rooftops"
Homophobic comments and publications always argue in the name of religion, with homosexuals considered to be "sinners, enemies of 'Allah and the Prophet, infidels (kafir)". A message claiming to be from the National Guard orders the fight "against homosexuality" and "adherence to the Koran".
Imams have recently added homophobic discourse to their sermons. On Friday, 29 April 2016, an imam from Sfax quoted a hadith that prescribes the death sentence for homosexuals: "Homosexuals should be thrown off rooftops and then stoned to death."  The preacher clarified that the hadith should be applied "only for someone accused of belonging to the 'Islamic State'"  – which had already used that method in its stronghold of Raqqa.
On Friday, 13 May, an imam in the Tunisian suburb of Mégrine also addressed the issue of homosexual rights. "These perverts, these sick people, are they allowed to speak on TV sets – as if they were the mujaheddin? Today homosexuals have these rights, tomorrow thieves will have them, too. Next it'll be drug addicts, then corrupt people…"
"Hate speech or incitement to murder can be considered as terrorist crimes," comments the public prosecutor's spokesman. Mr Selliti maintains that many investigations have been opened regarding messages in mosques or the media. "If they can be considered as terrorist crimes, official complaints are sent to the anti-terrorist office of the Court of First Instance in Tunis."
Requests like this become "permanent", with "most" occurring during the "campaigns" (to combat homophobia), adds Mr Selliti. He says, however, that he has no statistics. No concrete measure has been taken yet with regard to the imams quoted above.
A difficult job of psychological support
Like these imams, some parents view homosexuality as a disease and "send their children to child psychiatrists," notes Dr Belhadj. "They want us to treat their children. We try to explain to them that the children are not sick, but that's difficult."
If "they don't come of their own volition," such meetings "can't address the issue" regrets the former president of the Tunisian Association of Democratic Women (ATFD), which has also collaborated with Mawjoudin to "help both boys and girls".  She points out, "Lesbians are also attacked." Thanks to the ATFD, two lesbians have been able to find refuge in other countries.
Not everyone has such luck. Two young men who were supposed to visit Dr Belhadj for a consultation were arrested: "One before seeing me, the other after the first appointment."  When these adolescents and young adults come to her office, they are already psychologically extremely fragile.
"We see young people with symptoms of anxiety, depression or post-traumatic stress from being attacked or imprisoned. They have trouble adjusting socially, are doing badly in school and sometimes they adopt risky behaviour."
The client that Dr Belhadj was able to see couldn't cope with having been arrested: "It completely threw him off balance, he was untreatable. Everything around him had collapsed. He had been a brilliant student. But after he was arrested, he lost everything – both his family and his place at the university. His social bonds became very weak. Today he's in prison because of Law 52, but he got there because Article 230 upended his life."
Psychologically fragile, homosexuals are more likely to try to kill themselves. Thanks to information posted on its Facebook page, Shams estimates that five homosexuals committed suicide in 2015. "Including a member of our association in Sfax," confides Ahmed Ben Amor, one of the few Shams members who still lives in Tunisia despite his media exposure. Most have had to go into exile.
Some of the groups have opened help centers and created safe spaces for isolated homosexuals. Damj was the first to do this officially in 2011 – but it has actually been active since 2002, when Ben Ali was still in power. In 2015 alone, "Damj recorded 184 consultations," according to Badr Baabou.
"On average, we monitor around 85 people who learn about us through word of mouth. If we publicized our work, we'd have more."
The people who come are "very young", worries Dr Belhadj. Given their fragile psychological states and enormous fears, it's very difficult to guarantee regular monitoring. "We sometimes have adolescents who are actively experimenting with sex. They don't really know who they are and some of them, thinking they are homosexual, have tried having homosexual relations. But doing that and being homosexual are totally different things."
These adolescents' ignorance is essentially due to the total blackout surrounding sexuality in Tunisia. "Tunisian youth critically lack sexual education," deplores the child psychiatrist. "This is a very critical task. In addition to understanding homosexuality, young people also have to learn about sexual abuse, sexually transmitted diseases and domestic violence."'
Dr Belhadj holds that the discussion is being skewed "by pseudo-specialists who spread falsehoods, invoking genetics and psychiatry, which they know nothing about".  In the minds of many Tunisians, homosexuality is still a kind of disease. Ali Bousselmi of Mawjoudin asks ironically, "If Tunisians were logical, shouldn't they be sending LGBTs to the hospital – instead of prison?"
This story was developed in collaboration with:
Monia Ben Hamadi, Editor
Abir Ben Smaya, Development
This story was first published in french on inkyfada.com, a project of the tunisian NGO Al Khatt.