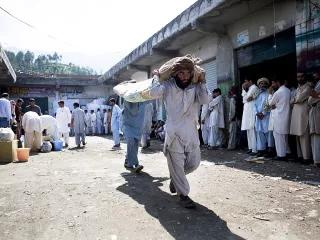 In Pakistan NGOs face harsh restrictions and human rights activists risk imprisonment and harrasment. It is important that the government recognizes the role of civil society and promotes a culture of cooperation and trust.
Zafar Lund, 52, a veteran civil society activist in Pakistan was shot dead in his hometown Kot Adu 400 kilometeres southwest of Lahore, the capital of Punjab province on 14th July 2016. Besides being a strong voice against religious extremism, Lund was leading a campaign seeking safeguards against nuclear power plants being built in the area. Lund is the latest victim of growing hostilities against civil society activists in Pakistan, besides a number of others activists who have lost their lives in the shrinking democratic space in the country.
Rashid Rehman, head of Human Rights Commission of Pakistan's (HRCP) Taskforce and a lawyer by profession was killed in his office in Multan on the 25th of May 2014. While defending an accused blasphemy, Rehman was threatened in an open court to withdraw from the case or face dire consequences. People accused of insulting Islam, Quran or Prophets are charged under Blasphemy laws in Pakistan, which carry a potential of death sentence. Lawyers and government officials who dared to defend the accused have often paid a heavy price like Rehman.
Sabeen Mehmood, a brave woman activist was assassinated in the coastal city of Karachi on April 24th, 2015, just a few days after she allowed a talk on Balochistan at the citizens' voice space called The 2nd Floor. Mehmood was running the space, where people can meet, sit and talk about issues concerning their lives and fellow Pakistanis. Balochistan, a province of Pakistan with the largest land area but less population, is the hottest conflict zone in the region where both Baloch separatists and security forces accuse each other for violence. There is undeclared ban on public debate on Balochistan conflict. In addition to those deprived of life, there are many who are languishing in jails for raising voice against violation of peoples' rights.
Human rights activists face imprisonment or other state repression
Saeed Baloch and Maher Abdul Sattar are two latest victims of state's repression. Mr. Baloch, who is Secretary General of Pakistan Fisherfolk Forum, active dynamic social movement, was arrested by paramilitary force Rangers in Karachi in January 2016, and kept in confinement for six months. Though a court has released Baloch on bail, he is facing cases under anti-terror law.
Mr. Sattar, Chief of another social movement Anjuma e Mazareen Punjab (AMP or Tenant Association of Punjab) is fighting for the rights of peasants. He was arrested in April 2016 while leading a protest demonstration. He is also being tried under anti- terror law and is still in prison. AMP is in row with the military in Okara district of Punjab over the ownership of agriculture land. Peasants claim that the land belongs to them as they are tenants since British raj where as military claims the land was allotted to them for agriculture farming to meet the food requirement of the personnel. 
It has never been easy for civil society organizations particularly those engaged in advocacy for civil rights, recent years have been more difficult and filled with many obstacles to operate freely. This also refers to a narrative being promoted by a group of media and a certain mindset allegedly on the behest of the state authorities. The narrative is that the civil society organizations are agents of the West and India, receiving foreign funds and working against "national interests". This narrative has prompted government action, which has further restricted civil society space and made it difficult to operate independently.
International NGOs are put under tight government control
Sudden closure of offices of Save the Children in Islamabad in July 2015 on charges of operating against 'national interest' has put many in shock as the interior ministry did not provide any details of charges. The government had to withdraw its decision after international outcry but the Save the Children Fund was asked to limit operations. Later the interior ministry came up with a policy to regulate all International Non-Governmental Organizations (INGOs). The policy announced in October 2015 has put several restrictions, which many view as in contradiction to country's international commitments such as ICCPR and are aimed at curtailing the space of civil society work in Pakistan.
The policy asks all INGOs operating in Pakistan to resubmit their registration applications along with a bulk of unnecessary documents. This makes the whole registration process uncertain and provides no safeguards against arbitrary denial of registration. Experts believe that the new policy is in clear contradiction to the requirements of a democratic and civic space. It is likely to put the non-governmental organizations under tight government control. This will limit civil society's watchdog role.
The government also intends to introduce a new policy for local NGOs despite the fact that they are already registered under different laws at local, provincial and national laws. "We are not afraid of any regulations but the government intentions seem to be more restrictive than regulatory," says Mohammad Tahseen, Secretary of Pakistan Civil Society Forum. Indications of such intentions are already visible as many civil society organizations in Pakistan fear further restriction on their work.
Harassment and intimadation for campaigns addressing peace between India and Pakistan
In November 2015, Pakistan Institute of Labour Education and Research (PILER), a national organisaton, working for labour rights and peace building for last 30 years was accused of being an agent of India, Pakistan's arch rival neighbour. A vilified campaign was launched in local media against the organization and its senior staff on the basis of a so-called report prepared by Federal Board of Revenue (FBR), country's official tax collection body. The report alleged that the organization is receiving funds from Indian secret agency RAW.
"This was an attempt to damage our reputation and stop us from advocacy for increasing people-to-people contact we have been doing for decades," says Karamat Ali, PILER Executive Director. "A concocted story was broadcasted on a private TV channel with personal details of staff putting their lives at risk. It was a clear indication of harassment and intimidation." 
PILER management believes that they were targeted for their campaigns for peace between India and Pakistan and a recent campaign which sought safeguards for public against installation of nuclear power plants near Karachi, the largest city of Pakistan with a population of over 20 million. PILER has challenged the FBR and media reports in a court of law where a decision is awaited.
Some provinces make even meetings of NGOs impossible
In March 2016, the government temporally stopped two NGOs from working and appointed government staff as administrators in their offices to scrutinize their foreign funding. Nothing wrong was detected and the organizations have started normal operations after brief period. But the harassment and uncalled for government action has resulted in reputation damage and harassment of staff.
In addition to these direct actions, some indirect or vague government actions are also badly affecting the work of civil society organizations in Pakistan and a large part of the country has literally become no go areas for non-governmental organizations. For example provincial government of Punjab has issued an order in March 2016, binding all NGOs to seek prior permission from district administrator for holding even a small workshop, training or a meeting. This condition has made almost impossible for many organizations to conduct their activities particularly in the Southern Punjab areas.
The Khyber Pakhtoon Khwa (KPK) provincial government has also imposed similar restrictions and many right-based organizations are required to get No Objection Certificates (NOC) from local administration, involving a gigantic exercise that may restrict activities. "If you put such restrictions on NGO work that means you are stopping them from working," says Qamar Hayat, a CSO representative from KPK. "NGOs have to implement projects which are time bound for achieving certain targets."
Pakistan Civil Society Forum aims to regain space for civic society
In response to government restrictions, major organizations came together in Islamabad and have launched a platform known as Pakistan Civil Society Forum in January 2016. The forum in its declaration termed the NOC condition as violation of constitutional rights of freedom of association and expression and vowed to fight back such tactics to restrict civic space. "We will not allow the government to turn enabling laws into restrictive laws," declared I. A Rehamn, a veteran human rights activist. "Civil Society has every right to question the government when it deviates from constitutional obligations and duties," he asserted.
The forum has reminded the state authorities that civil society organizations are contributing positively in the development of the country, otherwise social indicators of Pakistan are not much impressive. "Any restrictions on civil society's work will badly affect the development targets that government has committed with its own people and also under international commitments," says another senior representative of PCSF in clear reference to Sustainable Development Goals (SDGs).
A latest report of government's own planning and development ministry confesses that over 65 percent of its population is malnourished and lack required dietary. This is in match with Pakistan Economic Survey which says millions of Pakistani are surviving below the poverty line. Pakistan is often dubbed as home to illiterate as 40 percent of its adult population is illiterate and additional 25 million school going children are out of school.
Political developments require the promotion of an open democratic space
Human Capital Report 2016 ranks Pakistan at 118 and therefore at bottom among 130 countries. The World Economic Forum report takes into account education, employment and demographics while deciding on ranking countries. Another similar ranking known as Global Gender Gap Index also ranks Pakistan second from bottom leaving even Sub-Sahara African countries behind. The index tracks women's progress in the areas of education, health services, economic opportunities and political representation.
In such a situation of very dismal social indicators, government action and intention to discourage civil society organizations from independent functioning would only add to the burden of the government. Government action is also seen as violation of fundamental rights guaranteed by Pakistan's own constitution and international conventions to which country is a party. 
It is important that the government recognizes the role of civil society and promote a culture of cooperation and trust rather than discouragement and an environment of hostility. Political developments globally as well as nationally require the government of Pakistan to promote open democratic space where people can actively participate in the political process and are able to positively contribute in the overall development of the country.
This article is part of our dossier "Squeezed – Spaces for Civil Society".