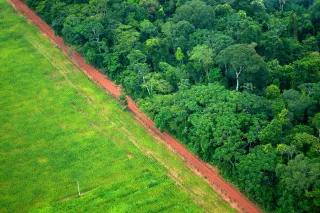 Trading in compensation credits is used to legalize emissions that exceed binding regulatory limits. It also occurs in areas without legal limits.
Compensation credits are traded in two different contexts. Trading in compensation credits, for example carbon credits from so-called Clean Development Mechanism projects under the Kyoto Protocol or the EU Emissions Trading Scheme, serves to legalize emissions that exceed binding regulatory limits. In the United States, trading in biodiversity credits (wetlands credits) legalizes the destruction of intact wetlands.
Trading in compensation credits has also arisen in areas in which no legal limits have been imposed on emissions or the destruction of nature, however. The purpose of these voluntary compensation markets is to offset pollution or destruction that poses a reputational risk for the perpetrators. Carbon credits thus also serve as evidence of carbon neutrality for voluntary commitments by businesses, individuals or governments, or when exceeding limits imposed by morality or social norms. The majority of compensation credits from forest and land use projects are traded on these voluntary carbon markets, as most markets that trade offsets for legally binding limits do not recognize credits from REDD+ and similar projects.
Carbon trading schemes in the context of legally binding limits
The Kyoto Protocol allows countries and businesses to offset part of their emission reduction commitments by buying carbon credits. The Clean Development Mechanism (CDM) is one of two Kyoto Protocol instruments that generate carbon credits. CDM projects offer carbon credits from projects in countries of the global South. The volume of carbon credits – known as Certified Emission Reductions (CERs) in CDM parlance – is based on the volume of the supposed potential additional reduction of greenhouse gas emissions. One carbon credit represents one ton of CO2.
An extensive testing and certification process determines whether compensation measures applying for registration as a CDM project fulfill the objective of the CDM. In order to sell CDM credits, projects must demonstrate that the emissions reduction would not have been achieved without the additional funding of the compensation project (additionality) and that the project contributes to sustainable development.
Clean Development Mechanism: certified dirty development
Numerous individual studies confirm that carbon credits from CDM projects frequently represent dirty development and hot air. Additionality of emissions reduction is unlikely in at least 70% of the carbon credits from CDM projects. Counting them toward the emissions reduction targets of the Kyoto Protocol and the EU Emissions Trading Scheme has meant that while businesses have been able to exceed limits on greenhouse gas emissions locally, the CDM projects did not provide any additional reduction that would have offset the excess emissions.
While extensive external reviews of documents and visits to project areas by certification bodies are required of all CDM projects, a staggering number of human rights violations, displacements and/or conflicts pertaining to access to land claimed by CDM projects have been documented. For example, the Brazilian company Vallourec (formerly Mannesmann) was able to sell carbon credits from a CDM project, even though the company's private security guards were accused of killing a smallholder in the project's eucalyptus plantation. The eucalyptus plantations supply charcoal – a supposedly cleaner fuel than coal for iron smelting – thus permitting the company to sell carbon credits.
It has also been shown that many CDM projects cause environmental damage in the project area, as in the case of gas or modern coal-fired power plants that comply with the low CDM standards for sustainable development. The EU has drawn its conclusions from numerous scandals involving CDM offset projects: until 2020, the EU Emissions Trading Scheme will only accept new CDM credits implemented in least-developed countries (LDCs); from 2020 onward, no more international emissions credits will be permitted.
A new mechanism for international trading in carbon credits ("internationally transferred mitigation outcomes") was established at the UN climate conference in Paris. It generally permits emissions reduction projects in the agricultural sector; the extent to which this option will in fact be put into practice will be seen as the implementation takes shape.
Compensation markets beyond legally binding limits
Since the turn of the century, trading in compensation credits has expanded beyond its role as a supposed climate protection instrument and is now also being used to counter loss of biodiversity and illegal deforestation. In Brazil, landowners can buy land restoration credits at a "green exchange" instead of restoring illegally cleared land as required by law – and thus continue to use the land for lucrative cattle farming or soy cultivation.
The International Finance Corporation (IFC) is a part of the World Bank group that finances private-sector projects in countries of the global South. Since 2012, the IFC has required companies to submit a biodiversity offset plan for IFC-funded projects that cause the destruction of "critical habitat". Since then, mining companies – particularly those active in the global South – are increasingly taking part in projects that market biodiversity credits which can be used to offset biodiversity loss within their mining concessions.
As early as the 1970s, the government of the United States under Ronald Reagan introduced trading in credits to offset the destruction of wetlands. In Germany, the Federal Nature Conservation Act has permitted the replacement of biodiversity loss through compensation measures since 1976. The original compensation regulations gave precedence to measures to be taken by the responsible party in the immediate vicinity of the destructive action over compensation measures elsewhere. In the three revisions of the act to date, changes have increasingly facilitated compensation measures and cash payments. Today, land-use agencies in Germany offer compensation land and "eco-accounts" and manage land for their clients' offsetting requirements, an approach that broadly corresponds to trade in biodiversity credits.
In recent years, three business sectors that release large amounts of greenhouse gases have discovered the compensation trade as well. Globally active food companies such as Unilever, Mars, Nestlé, Wilmar, Bunge and Monsanto combine the purchase of compensation credits for greenhouse gas emissions and deforestation and then market their products as carbon-neutral and deforestation-free despite rising emissions and continuing deforestation.
The International Civil Aviation Authority (ICAO) has pledged to use carbon credits to ensure carbon-neutral growth as of 2020. Mining companies – above all Rio Tinto – promise to use biodiversity credits to ensure a "net positive" outcome on biodiversity despite the losses caused by large-scale mining of coal, gold, titanium, copper, etc. The World Bank and international conservation organizations such as the IUCN, The Nature Conservancy and Conservation International play a central role in all three initiatives. They are doing (and financing) pioneering work in the development of methodologies and standards and providing a degree of credibility that such initiatives could not attain without civil society participation.
"Net-zero" deforestation: the rainforest in "rainforest-free" products
Since 2007, the Global Landscapes Forum of the respected CIFOR Institute has established itself as a well-attended event during the weekend in the middle of the two-week UN climate negotiations. Food corporations, civil society and the World Bank gather to discuss new approaches to linking forest conservation, agriculture and climate protection and comment on the proposals being discussed in the climate negotiations. Governments and food corporations use the forum to present new initiatives. In December 2015 in Paris, for example, Danone stated that it intended to reduce emissions related to product manufacturing to net-zero by 2020.
Danone's announcement is part of a trend that began with the adoption of the New York Declaration on Forests in September 2014: an increasing number of global food corporations have been announcing voluntary commitments to prevent further forest destruction for the manufacturing of their products as of 2020. But while bold headlines proclaim "zero deforestation", the pledges prove deceptive on closer inspection. Rather than a categorical zero, the food giants want to ensure net-zero deforestation.
Danone, Unilever, Monsanto, M&S, Cargill and other members of the Consumer Goods Forum have issued such net-zero declarations. Net-zero is not zero, however. Corporations will continue to clear forests and threaten the livelihoods of smallholders for their products – the difference being that they will now be doing so under the green guise of "net-zero deforestation". They intend to achieve this outcome by purchasing REDD+ credits.
Such commitments by major food corporations to reduce deforestation related to their supply chains to net-zero is tying REDD+ ever more closely to agriculture. Initiatives such as the Global Alliance for Climate-Smart Agriculture, the Climate and Clean Air Coalition and the Joint Programming Initiative on Agriculture and Climate Change are strengthening this link by developing methodologies that are applicable in both (smallholder) agriculture and REDD+ measures.
They are also integrating international bodies such as the FAO and international conservation organizations into the ongoing development of the approach. For example, the US-based Environmental Defense Fund is cooperating with agriculture and food corporations within the Global Alliance for Climate-Smart Agriculture to integrate (smallholder) agriculture into carbon markets.
In Brazil, the 2012 amendment of the Forest Act permits land owners to buy compensation credits as an alternative to restoring illegally cleared forests. The "BVRio Environmental Exchange" is a trading platform that brings buyers and sellers together and realizes transactions in land restoration credits. The result is greater forest loss, as the compensation credits allow ranchers and soy farmers to continue producing in locations where illegal deforestation promises the greatest profits, rather than forcing them to restore that lucrative, illegally cleared land.
The myth of "carbon-neutral growth" in air traffic
Around 3.3 billion passengers currently board aircraft every year, and the International Civil Aviation Organization (ICAO) expects demand for air travel to double between 2020 and 2050. The aviation industry is the fastest-growing emitter of greenhouse gases worldwide – yet neither the Kyoto Protocol nor the Paris Agreement contain upper limits for emissions from international air traffic. The ICAO is now discussing a concept for the "carbon-neutral growth" of air travel as of 2020. The central elements of the concept are increasing fuel efficiency by 1.5 percent per year by 2020, reducing emissions to half the level of the reference year 2020 by 2050, and no further net increase in emissions as of 2020.
The International Air Transport Association (IATA), which provided the impetus for the ICAO concept, commissioned Bloomberg New Energy Finance (BNEF) and the US-based Environmental Defense Fund to investigate the costs and feasibility of the concept. The study concluded that technical innovation, energy efficiency and the use of alternative fuels will not be enough to attain the goal of carbon-neutral growth, and recommended the integration of air traffic in emissions trading. The availability of carbon credits up to the year 2020 would be adequate to offset between 30 and 50 percent of air traffic emissions until 2050. According to the BNEF study, the annual cost would amount to $4.6 billion – the equivalent of a surcharge of $1.50 to $2.00 for a flight from Paris to New York.
The adoption of the "global market-based measures" is on the agenda of the 39th ICAO General Meeting in September 2016. The package of measures is intended to help achieve the goal of "carbon-neutral growth from 2020" in air traffic. The proposals drawn up in advance envisage offsetting more than 20 percent of total air traffic emissions through the purchase of carbon credits. International conservation organizations such as the Environmental Defense Fund, The Nature Conservancy, Conservation International and the IUCN advocate trading in carbon credits from REDD+ projects, while a broad alliance of more than 80 organizations denounce carbon credits as climate protection fraud and highlight the dangers of REDD+ credits in particular for smallholder agriculture and forest peoples.
Mining promises destruction with a "net-plus" for biodiversity
In early 2015, the World Bank presented a study for Liberia that proposes financing the upkeep of national parks through biodiversity offset payments from mining companies. The study outlines a national biodiversity offset scheme intended to help minimize the negative impact of mining on biodiversity and "ecosystem services" and describes biodiversity credits as "an opportunity for the private sector to contribute to an underfunded protected areas network". The study does not mention that the expansion of mining concessions propagated by the World Bank would destroy areas of great biodiversity. 
The International Finance Corporation (IFC) finances private-sector projects as a part of the World Bank group. Since 2012, the IFC has also approved loans in cases in which IFC financing is contributing to the destruction of critical habitat – as long as a plan to offset the loss of biodiversity is available. Since then, mining companies have become increasingly involved in projects that market biodiversity credits. This increases the risk of a loss of land on two fronts: not only do local people in mining areas stand to lose their land, communities in areas where measures are to be realized to compensate biodiversity loss in the mining areas can also expect their access to land to be restricted.
Mining in Madagascar: how the destruction of 1,600 hectares of biodiverse littoral forest will have a "net positive" effect on biodiversity
Rio Tinto, one of the world's largest mining companies, is mining ilmenite in southeastern Madagascar. The mining activities will destroy around 1,600 hectares of littoral forest of exceptional biodiversity that provides habitat for numerous animal and plant species that occur only in such forests on Madagascar. To permit financing by international donors such as the IFC and deflect protests by international conservation organizations against the destruction of the rare forest, Rio Tinto developed a biodiversity compensation plan to offset the impact of the company's ilmenite mining activities.
Together with Rio Tinto, botanical collections such as Missouri Botanical Garden in the United States and the conservation organization BirdLife International jointly identified several forest areas in the region that have a similar biodiversity profile as the littoral forest within the mining concession and that were allegedly threatened by local use (smallholder farming, shifting cultivation). A part of these forests was declared a protected area and now serves as an offset for the destroyed littoral forests for Rio Tinto. The compensation areas are up to 250 kilometers – six to ten hours by car – away from the ilmenite mining area. While the forest areas set aside for biodiversity compensation were put off limits for all forms of use by the local population, the people were not offered any alternatives for the production of staple foods.
Such restrictions – which in the global South generally affect smallholder land use – are essential to the logic of compensation, as they avert the proclaimed danger to earmarked forests by local use. In the present case, Rio Tinto can thus argue that without intervention by the compensation project, the forests would have been destroyed by local use – i.e. that Rio Tinto's compensation payment is protecting additional forest. According to the mining company, the excavation of ilmenite is therefore not causing a net biodiversity loss – even though the mining operation will irretrievably wipe out around 1,600 hectares of exceptionally scarce and biodiverse littoral forest and destroy the economic, social, cultural and spiritual bonds of the local people to the forest.
This article is part of our dossier "New Economy of Nature".
Further reading:
WRM and Re:Common (2016): Rio Tinto in Madagascar: A mine destroying the unique biodiversity of the littoral zone of Fort Dauphin.