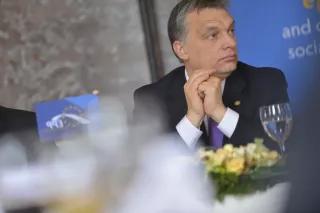 Hungarian Prime Minister Victor Orbán and his ruling party Fidesz failed with their referendum to obstruct the EU's effort to impose an obligatory quota scheme for the resettlement of refugees. However, they could benefit from this defeat in domestic policies. A commentary.
Hungarian Prime Minister Viktor Orbán failed to convince a majority of his compatriots to support his bid to obstruct the EU's effort to impose an obligatory quota scheme for the resettlement of refugees. Turnout in Hungary's referendum on 2nd October was significantly lower than expected: only 40 percent of voters cast valid ballots, thus rendering the plebiscite legally null and void.
Orbán's failure to entice more voters to the polls will be seen as a significant defeat in Western and Eastern European capitals alike. Brussels, Berlin and Paris will view it as hampering his efforts to fan the flames of xenophobic nationalism and to build an anti-integrationist alliance within the EU on the foundations of the Visegrád group. Although Orbán had hoped that Hungary's referendum would encourage other governments to call similar votes across the continent, his allies in the East will now think twice before embarking on such a perilous endeavour.
Underestimation of the citizens' political apathy
However, the referendum's impact on Hungarian politics will likely be far less detrimental to Fidesz, Hungary's ruling right-wing party, than the prime minister's domestic critics would have us believe. To be sure, Fidesz failed spectacularly in its effort to mobilise disillusioned voters and to win over a significant number of left-wing voters despite having spent 50 million euros on the campaign. The 3.282 928 voters who supported Orbán in the referendum barely outnumber those who lent their support to either Fidesz or its even more radical rightist rival Jobbik in the last parliamentary election (in April 2014, Fidesz received 2.142 142 votes and Jobbik 1.017 550).
Fidesz strategists clearly underestimated the depth of citizens' political apathy, which they themselves had fuelled with a view to demobilising society. They also appear to have discounted voters' disapproval of the politics of governmental power. While a significant portion of left-leaning voters supported Orbán's position on the refugee issue, their revulsion towards Fidesz appears to have deterred them from participating in this referendum.
This was demonstrated by the large proportion of absentee ballots cast in larger, traditionally left-leaning cities such as Budapest, Szeged and Pécs. These painful lessons will surely deter party leaders from calling an early election – something pundits had highlighted as one potential outcome of a legally binding referendum, i.e. one with at least 50 percent voter participation.
Orbán's Fidesz benefits from the referendum domestically
Although Fidesz failed to redraw domestic political cleavages and affiliations, the more than three million Hungarians who supported the government's position will most probably remember this day in less than two years' time when they will decide on whom to support in the parliamentary and municipal elections that will be organised in the spring and fall of 2018, respectively. Indeed, Orbán has once again managed to put his party's rightist rival on the defensive: Jobbik's leaders will likely struggle to increase – or even maintain – the party's share of the popular vote (20.7 percent) if the ruling party has convinced many right-wing voters of its seriousness about defending Hungarian interests in the face of "attacks" from Brussels and the looming "refugee threat".
Orbán's decision to call this referendum was also auspicious in that it wrong-footed his fractured left-of-centre opposition. The tricky wording of the referendum question and the prevalence of welfare chauvinism among the middle class guaranteed a passive response on the part of the Hungarian Socialist Party (MSZP). This, in turn, ensured that Orbán's favourite strawman – former Prime Minister Ferenc Gyurcsány, who currently leads the Democratic Coalition (DK), a minor leftist party – would gain visibility during the campaign.
Gyurcsány remains one of the most disreputable political figures in Hungary, and his political survival is the main obstacle to the establishment of a unified left-of-centre electoral alliance that would be compelling for orphaned left-leaning voters who have drifted into political apathy. The non-trivial strength of the DK, which polls consistently at around 5 percent, means that Gyurcsány cannot be left out of an encompassing electoral alliance, yet his participation will prevent any such formation from appealing to new constituencies, as was demonstrated in the last parliamentary election.
Result of the referendum will not change Fidesz' political strategy
While we will have to wait to assess the longer-term impact of the referendum, two conclusions can already be drawn. First, the sharp xenophobic tone of the ruling party's campaign is likely to have a non-negligible impact on the country's political mood and social climate. Although we have yet to see the kind of fallout that the UK's recent referendum on EU membership left on British society, Hungary's referendum is also likely to deepen hostility towards all types of "heterogeneity" and "otherness" in Hungarian society.
While this may benefit Fidesz politically, it will probably further fuel the emigration wave, which has accelerated considerably in recent years, generating an increasingly chronic labour shortage and placing significant strains on already diminished public services (notably health care and education). This process could easily generate political spill-overs and erode the ruling party's legitimacy.
The second conclusion that we can draw from the referendum is that it will not force the ruling party to change its political strategy. Two days after the vote, Orbán signalled that he considers the referendum to have been "politically legitimate" and announced that he would be tabling an amendment to the constitution to defend Hungary against "dictates from Brussels". This symbolic move shows that Orbán intends to keep the issue of migration at the top of the political agenda in both domestic and foreign policy.
We are thus likely to see a continuation of attacks against Brussels, migrants and the "unpatriotic" opposition. Orbán is banking on the further retreat of social-liberal and conservative-liberal forces in European politics, and on the persistent paralysis of his domestic opposition. At this point, it is impossible to say whether this calculus will prove to have been politically well-founded, but the outcomes of the French presidential and German parliamentary elections in approximately one year's time should provide strong indications as to its workability.