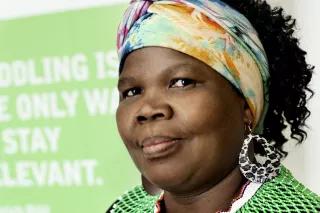 By honouring Nomarussia Bonase with this award, the jury of the Anne Klein Women's Award 2017 acclaims the work and commitment of a South African activist who tirelessly advocates for women's rights, gender democracy, reparation and reconciliation. Nomarussia Bonase is a role model to many.
Nomarussia Bonase campaigns towards realising justice for the victims and survivors of the Apartheid regime in South Africa, in particular for women who were not heard by the Truth and Reconciliation Commission (1996 to 1998) and ought to be entitled to justice and reparation. Nomarussia Bonase is the National Coordinator at "Khulumani" which means "speak out". The organisation has 104,000 members who are victims/survivors of Apartheid. The local groups of Khulumani members have an excellent network.
In these groups, the members – especially women – encourage each other to jointly advocate for the political recognition of the injustice perpetrated on women. They demand, for example, recognition that sexual violence has been purposefully used as a weapon. They provide practical advice for health problems and legal issues. Women are encouraged to critically question the reconciliation process from a women's rights perspective and to refuse being pushed into the role of passive victims or mere petitioners.
Nomarussia Bonase was born in 1966 and lives in the Thokoza township near Johannesburg. To earn money, she had to drop out of school prematurely. Active in the trade union movement she advocated for humane working conditions and better wages for workers. She took courses on how to improve the education of female workers. Nomarussia Bonase became a widow early in life thus raising and supporting her four children as a single mother.
Nomarussia Bonase sees her civil society political work as a contribution towards social justice and, through litigation and lobbying, aims to pave the way for national healing and democratisation in South Africa. Citing the constitution, she demands civic rights and functioning government institutions. At present, she is preparing a lawsuit to achieve comprehensive restitution. Comprehensive means that the compensation sought through the lawsuit is not limited to financial restitution for the victims but it also seeks health, education and other benefits for the victims and their families of which they have been deprived of to this day.
Nomarussia Bonase also supports widows whose husbands were shot by the South African police during the miners' strike at the Lonmin platinum mine in Marikana in August 2012. Apart from helping them with practical assistance that was neither provided by the mine operators nor by government authorities, her organisation, Khulumani, succeeded in securing an opportunity for the voices of the widows to be heard during the commission of inquiry. Furthermore, Nomarussia Bonase accompanied the widows during their speeches at the BASF shareholders meeting in 2016. The Lonmin corporation is a main supplier of South African platinum to BASF.
Through the Anne Klein Women's Award, the jury honours Nomarussia Bonase for her personal courage and commitment towards advocating for women's rights and gender democracy; and secondly, also recognises the compelling approach of Khulumani, a shining beacon for reconciliation in South Africa and beyond, whose members are committed to challenging injustice and claiming redress.
The jury members of the Anne Klein Women's Award are:
Barbara Unmüßig, president of the Heinrich Böll Foundation, jury chair
Renate Künast, MP, German Green Party (Bündnis90/Die Grünen)
Prof Dr Michaele Schreyer, vice-president of the Network European Movement Germany
Jutta Wagner, lawyer, former president of the German Women Lawyers Association (djb)
Thomas Herrendorf, interior decorator
Contact
Ulrike Cichon
e-mail: cichon@boell.de
phone: +49 (0)30 285 34-112