Hungary has reached a point where people fleeing from war and persecution can be detained, beaten and deprived of their rights, while those who endeavour to help them are cast as national security risks.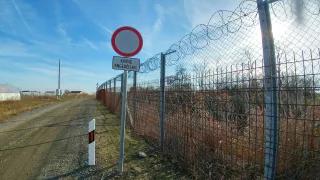 Since the construction of a legal and physical barrier along Hungary's southern border, undercutting the right of asylum, many refugee people have been trying to avoid the country by opting for a different route. But this is not stopping Hungary's government from further undermining asylum-seekers' rights and criminalising their situation.
Those who are unable or unwilling to take the longer route to the European Union are essentially being held in detention along the border, kept in shipping containers in a humiliating and unlawful manner. Moreover, the government is continuing to instrumentalise the refugee issue in a hateful propaganda campaign to further criticise the EU and to justify a crackdown on NGOs, thereby jeopardising what remains of Hungarian democracy.
In the past two years, the government have managed to systematically dismantle the asylum system. They have erected a fence and unfairly designated Serbia a "safe third country", thereby creating a justification to push back almost all arrivals. Only four transit zones were built along Hungary's entire southern border where a small number of people are able to cross, most of whom are rejected without their case being carefully examined, only referring to their arrival from a safe third country (aka. Serbia).
Those who have attempted irregular border crossings have been detained, brought to court, expelled, and even banned from the country (and the entire EU and Schengen zone) – usually for one year. In June 2016, Hungary's government amended the asylum law again, introducing the so called "deep border control" policy, which allowed the police to deport back to the border (or in many cases illegitimately directly to Serbia) all refugees caught within 8 km of the border.  
The new asylum-law disregards refugee rights
Some nine months later, a new amendment was passed expanding the purview of deep border control to the entire country. This amended law is still in force, which in practice means that the police are pushing back or deporting to Serbia every arriving refugee or asylum-seeker – even those who crossed from other neighbouring countries. The expulsions are often violent, with many reports of physical and psychological abuse. The Hungarian authorities beat up people who often are already traumatised, subjecting them to batons and dogs.
The following is an excerpt from one refugee's account provided to the Hungarian NGO Migrant Solidarity:
"They [the police] had one dog named 'Freki' with a face cover, and told him to attack people one by one. They kicked me in the face when I was sitting, and my nose started bleeding. Then, when the policeman saw my nose bleeding, he kicked me in the face again, and said, 'fuck you'. The police had pistol guns and the army had AK-47s. They took the pistols and held them to each of our heads."
Once in Serbia, asylum-seekers need to wait to get into the transit zones, as these are the only places where they can apply for asylum in Hungary. There are just two transit zones (one in Röszke and one in Tompa), which were built along the border using shipping containers meshed with barbed wire and guarded by the authorities. Those who wish to seek asylum here often need to wait weeks or even months in Serbia to get into the transit zones.
The process is really slow because each transit zone accepts approximately five arrivals per day, and since there are many more people who would like to get in, a rather shady business has emerged around the question of who is next in line. Once they get in to the containers, they have to wait again, often for weeks or even months until it is decided whether or not they will be granted refugee status or subsidiary protection. Only those asylum-seekers who are granted protection are allowed to enter Hungary (although this is very rare), while those whose applications were rejected or simply are unable to bear the harsh conditions in the transit zones and decide instead to withdraw their applications are allowed to return to Serbia.
But this would mean foregoing Hungarian – and thus also EU – protection, so many choose to remain in de facto detention despite the inhumane and illegitimate treatment and wait for the process to conclude. The authorities keep every asylum-seeker in containers, which includes vulnerable people such as pregnant women and children. The only exceptions are unaccompanied minors under 14 years of age.
As the time of writing (late November 2017), 477 people are housed in the two transit zones, over half (255) of whom are children. Many of these people have fled persecution or war, most of them are traumatised, and thus the inhumane, humiliating conditions – the barbed wire, the fence, the isolation – are extremely hard for them to endure and are even exacerbating their conditions. People who spent weeks in the containers have told horrifying stories to András Földes, a journalist at index.hu. One Afghan woman who was seven months' pregnant and a victim of torture described a situation in the transit zone where her family did not receive enough food, so they were basically starving. Moreover, when she had complications with her pregnancy she did not receive medical treatment, because there is no prenatal care in the transit zones. Other pregnant women have reported similar conditions; only if they were in dire need of a doctor, they were transported to the hospital, but in this case they were handcuffed – often in front of their children – and accompanied by guards.
All this hardship is inconsequential in most cases, however, because most asylum applications are rejected. Moreover, since the appeal period has been reduced to three days, it is nearly impossible to challenge such a decree. Between January and November 2017, only 95 people were granted refugee status and 980 received subsidiary protection, while 2,761 applications were denied, even though most applicants were coming from war zones, mainly Syria, Afghanistan and Iraq.
Due to the fact that detention of asylum-seekers, the often humiliating conditions and violent treatment by Hungarian authorities are in violation of Hungary's Fundamental Law as well as EU and international law, many NGOs including the Hungarian Helsinki Committee, Amnesty International and the UNHCR have expressed deep concerns. In response, the government have strengthened their crackdown on NGOs, although this is merely a pretext to renew the war against the last standing reliable critics of the government.
NGOs as the enemies of the state
Since 2015 and in parallel with legislative amendments, the government have waged a massive hate campaign against refugee and migrants, lately connecting these issues with the "crimes" of NGOs, some of which have even been accused of colluding with human smugglers. Hungary's government consider refugees and migrants to be basically terrorists, and thus organisations that endeavour help them pose a threat to the country's security. A particular focus of the government's campaign against the NGO sector is Hungarian philanthropist George Soros, whose foundation, the Open Society, has supported local organisations for many years. The government have accused Soros of various blatant lies, often referring to these collectively as the "Soros Plan". One of these statements is that Soros wants to bring millions of refugees to Europe and provide each of them huge material support, doing all this through "his" organizations, which mainly happen to be the most critical NGOs.   
Playing on increased fears of the unknown, the government pushed through a new law this June requiring NGOs that receive at least HUF 7.2 million (c. EUR 23,000) per year from foreign sources (even from the EU) to register as foreign-funded organisations. A list of these organisations will be published on a government website, and they will have to disclose that they receive foreign funding on their websites and in every publication. Since this law impinges upon the freedom of association, among others, the Hungarian NGO sector have organised demonstrations and raised their voices in every possible non-violent way. Moreover, the European Commission launched an infringement procedure against Hungary in July, and as their concerns had not been addressed since, the Commission took legal steps and referred Hungary to the Court of Justice of the European Union.
In October 2016, Hungary's government held a so-called "quota referendum" against mandatory EU migrant quotas, but despite their massive propaganda effort (also based on lies) the referendum was invalid due to low voter turnout and invalid ballots. Since 98 percent of valid ballots cast supported the government's position, however, they declared the referendum "binding politically and legally". Ever since, members of the government have justified policies and decisions on the basis of their "outstanding victory" in the referendum. The latest example is a government assertion that the European Parliament approved the mandatory quota system without an upper limit, which although untrue was a good excuse to push through a resolution rejecting the EP's "decision on the implementation of the Soros Plan''.  The text of the resolution hardly makes any sense, although it contains worrisome phrases. For instance, it states that Hungary's parliament rejects the idea of giving any authority to the "Soros organisations" for purposes of bringing migrants to the country. This could mean nothing, but it could also serve as a justification for further constraining the activities of NGOs, and may be a harbinger of harsher restrictions to come.
The above-mentioned examples illustrate the lack of legal certainty in Hungary, and how a government can operate using mainly blatant lies and hateful propaganda. They show how a government in the European Union has reached a point where people fleeing from war and persecution can be detained, beaten and deprived of their rights, while those who endeavour to help them are cast as national security risks who are jeopardising the country in cooperation with a feckless EU.