Interview
How can Germany promote social justice and gender equality? An Interview with Minister of State Michelle Müntefering on Germany's role during its two year term at the UN Security Council in 2019 and 2020.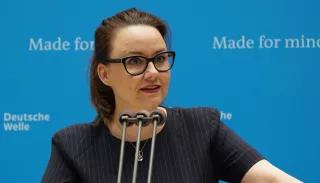 The German Government has announced that it will focus on human rights and adherence to them, as well as on climate issues, climate security, health and healthcare during its membership of the UN Security Council. What role does its commitment to promoting gender equality play in the definition of these priorities?
This will form a key part of our work in the Security Council. I made that clear on Germany's behalf a month ago in New York at the open debate in the UN Security Council on the implementation of Resolution 1325. This debate lasted for almost an entire day and included over 80 speakers. It was an important discussion, which once again highlighted that women play a crucial role in peace and security.
We know: The likelihood that a peace agreement will last longer than 15 years increases by 35 percent if women take part in the peacemaking process. Involving women in peacebuilding, post-conflict reconstruction and transformation of societies is therefore a key factor for success in establishing peace.
Alongside human rights abuses and climate-related security risks, gender inequality is still a main cause of violent conflicts. Women's equal participation in all phases of conflict management and resolution is thus not only a question of equal rights, but also a key element of securing peace in the long term.
A further priority will be the control of small arms and light weapons, a field in which Germany has been active for many years. How will work in this field change if a gender perspective is included?
We see very tangible evidence of what women's active participation can achieve, and act accordingly. Let me give you an example. The disarmament campaigns we supported in rural Nigeria would not have worked without the inclusion and powers of persuasion of female leaders. We are currently developing new strategies to combat illegal trade in small arms in the border regions of Burkina Faso, Côte d'Ivoire and Mali. We are also working directly with the local population in the region on this.
In order to improve the control of small arms, it is vital that people recognise the connection between controlling small arms and involving women in the right way. Female leaders are essential when it comes to mobilising local support for countering the illegal transnational arms trade and creating alternative livelihoods that will guarantee economic stability.
At the Women, Peace and Security Focal Points Network meeting in April 2018, Foreign Minister Heiko Maas said: "Women can and must play an active role in conflict prevention, peace talks, reconstruction, reconciliation in societies and in post-conflict situations." Nevertheless, women are still massively under-represented in negotiations. They are sidelined and even actively marginalised in the implementation stage of peace agreements. How does the German Government plan to ensure women's inclusion during its membership of the UN Security Council?
It's like this. We cannot afford to talk about peace, women and security in the 21st century without women sitting at the table. They must be actors and shapers of peace and security policy, and not just passive recipients of political decisions. Germany has actively supported the women, peace and security agenda from the beginning. That is why we look forward to taking over the co-chair of the Security Council Informal Experts Group on Women, Peace and Security from Sweden. However, women's vital role in processes to shape the future should also become evident in the Council itself. That is why we want to highlight this issue by inviting female rapporteurs from civil society to speak at the Security Council.
Not all governments see the need to promote women's rights, to make sure their voice is heard and to increase their political participation. How is the German Government planning to overcome resistance to gender equality?
We will raise the topic of the role of women and equal participation in all processes in society – and we will do so constantly, in discussions and documents. We believe that resistance can gradually be overcome.
However, the need for women to be involved in peace and mediation processes is also something we will raise in the UN Security Council's discussions on particular regions and countries. And we will provide direct support to projects such as the African Women Leaders Network in order to increase women's participation in the African Union's transformation processes, as we do not only want to discuss women, peace and security in international organisations like the United Nations, but also to help bring about tangible positive change on the ground. Equality and human rights are at the heart of German foreign policy.
More and more civil-society organisations are urging the German Government to follow in the footsteps of Sweden and Canada and to openly pursue a feminist foreign policy, including as a non-permanent member of the UN Security Council. Is the German Government ready for a feminist foreign policy? (Why or why not?)
Those are good examples – and they are role models for me personally. I just met Swedish Foreign Minister Margot Wallström in New York, who has achieved a great deal in this area. And particularly as a representative of a younger generation, I think this is great. Canada has also always been a close partner of Germany as regards championing equality and human rights. In my opinion, Germany still has a bit to learn. I will continue these talks. It is good that many young women in Germany and all over the world are now politically active once more. I firmly believe that this discussion is worthwhile.
Promoting gender equality through foreign policy starts with the ministries that are responsible for foreign policy. However, if we look at the Federal Foreign Office, the Federal Ministry of Defence, and the Federal Ministry for Economic Cooperation and Development, we see only three women – one of whom is you – in the 15 top positions. Only 13.4 percent of German ambassadors are women. "Die Zeit" newspaper recently reported that not only are women under-represented in the German Government, they are systematically blocked from working in senior government positions. To put it simplistically, German foreign policy is still shaped and implemented by a patriarchal system. What is the German Government doing to change these structures?
You are right. We still have a long way to go. Fortunately, however, some improvements have been made, and since this summer in particular there has been a shift. We currently have around 100 women in senior positions ranging from heads of division and directors-general to ambassadors who play an important role in shaping German foreign policy. But this is nowhere nearly enough. I believe that we need to change the ancient structures that were largely made by men.
We need to change the culture and mechanisms that continue to cause a significant under-representation of women in senior positions. In the diplomatic service, women accounted for a mere 10 to 20 percent of new recruits until the late 1990s. We now lack the women who were not hired back then. That is why I am glad that we have been able to significantly increase the number of women among our young diplomats in recent years. We need to consistently move ahead on this path. By the way, I am glad that in Foreign Minister Heiko Maas we have a modern man who has appointed four female directors-general since taking office, as well as the first female chief inspector in the history of the Federal Foreign Office. In other words, there is progress. We are moving forward.
In an interview at the start of the year, you said that the "age of women" had only just begun. However, we are currently experiencing a time when presidents are elected despite numerous allegations of sexual harassment against them and more and more governments are openly considering the curtailment of women's reproductive rights. Why has the "age of women" only just begun?
A century after the introduction of women's right to vote, we have a great opportunity. The generations before us have achieved a great deal. There are teenagers who can't remember a male Federal Chancellor. That shows that anything is possible today. I don't want populists and nationalists to regain the upper hand and to overturn everything that has been achieved. But if true equality is to be achieved, we have to want it and to continue fighting for it. We women can make a difference as to how the world now develops. That is why it is so important that women believe in themselves and that women support women – so one another.