Background
With a series of digital measures introduced in response to the coronavirus pandemic, Morocco is creating a trade-off between ways to provide rapid support and the parallel development of digital control.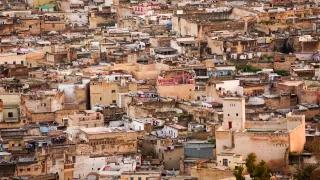 The Kingdom of Morocco reacted swiftly and decisively to the threat of the coronavirus pandemic. Although the official infection rate is still comparatively low, the country declared a state of emergency and imposed a strict one-month curfew on 20 March.
All national and international flights and train and ferry links were suspended. Moroccans are only allowed to leave their homes to buy food, in medical emergencies or to travel to work where it is absolutely necessary. The police and the military are monitoring the curfew closely and consistently. Even something as simple as a trip to the supermarket generally involves showing a pass stamped by the authorities at various checkpoints.
Digital solutions to compensate for loss of earnings in the informal sector
Morocco has every reason to fear the coronavirus: the public health system is ramshackle and overstrained even at the best of times. In addition, there is a shortage of doctors, hospitals and health centres in many regions outside of the major cities.
However, although the lockdown may make perfect sense from a medical perspective, it deprives millions of Moroccans of their livelihoods in one fell swoop. Housekeeping staff who carry out a range of care-related duties in private homes, street vendors who peddle their wares at markets, and catering staff without permanent contracts have lost their entire income because of the lockdown. More than 2.4 million Moroccans work permanently in the informal sector – not to mention seasonal agricultural labourers.
Now, these people are to receive quick and simple support – with the help of modern technology. Shortly after the lockdown began, Morocco's Economic Monitoring Committee pledged to provide swift support for those in the informal sector who have lost their earnings.
Anyone without a social security number will soon be able to register for the support by entering their telephone and identity card numbers in a digital database. Within hours, they should receive a code by text authorising them to withdraw a lump sum calculated according to the size of their household at one of more than 10,000 banks, cash machines and money transfer agencies across the country.
Digital is better – but for whom?
This laudable and hopefully effective way of providing support to the poorest members of society could at the same time in the long-term help to reach a goal that despite various decrees and legislative processes in recent years, the Moroccan government has failed to attain, namely the formalisation of informal employment arrangements. This would in turn lead to an additional generation of contributions to public tax and welfare coffers.
Studies estimate that the Moroccan state misses out on annual tax revenues of 40 billion dirham (approx. €3.6 billion) from the informal sector. The database now being set up as a result of the COVID-19 crisis, with its "voluntary" self-registration, will provide an excellent foundation for this undertaking in the future. At this moment in time, many Moroccans have no other option but to register for the rapid public compensation scheme if they are to secure their livelihood.
In the event that the data will potentially be put to secondary use, it is hoped that the ongoing formalisation of the informal sector will be conducted in a socially-responsible manner and that the pursuit of greater transparency and compliance will not put at an even greater disadvantage those who already suffer systematic marginalisation, e.g. single mothers, unskilled labourers on building sites and in agriculture, and all those who engage in casual work to make ends meet.
So far, Moroccan media reporting on the consequences of the coronavirus pandemic has been quite deficient. Most people glean their information from social media, which of course includes plenty of false information. While it is important to invalidate such information, criminalising it is less expedient.
But this is precisely what the Moroccan government is doing: in a surprise move on 19 March, it presented a bill aimed at creating a legal basis to stem the spread of fake news on social media.
Journalists and activists see this as an attempt to exploit the COVID-19 crisis to further restrict the right to freedom of information and freedom of thought – without any public debate. A dozen people have already been arrested on this basis on allegations of spreading false reports or more specifically because they spoke out publicly against government measures. 
A coronabot and apps for specialist medical staff
At the same time, the crisis is resulting in the emergence of new apps that would certainly have been a great help to the Moroccan health system even before COVID-19. A few days ago, the French-Moroccan start-up Dakibot unveiled a new free chatbot providing users with automatic answers in Moroccan Arabic to questions concerning the coronavirus. The answers provided are based on information from the Moroccan Ministry of Health and the WHO.
On 30 March, the Moroccan Ministry of Health also launched a new app for doctors, specialist medical staff and experts in a bid to ensure faster and improved exchange among experts in relation to medical strategies in the battle against the virus.
Indeed the corona pandemic is shining a light on the ambivalence towards digital, data-driven solutions in Morocco. In the short-term, the new digital offerings are a good and rapid way to provide care and support, for example to those in precarious employment. In the long-term, the measures could turn into a boomerang that facilitates the digital control of citizens and bolsters socio-economic exclusion mechanisms.
Translated from the German by Nina Coon
This article was first published at Qantara.de.