Background
No country is safe from COVID-19 until all countries are safe from COVID-19. To state the obvious: To overcome a pandemic of this magnitude, vaccines must be made available quickly, cheaply, and fairly.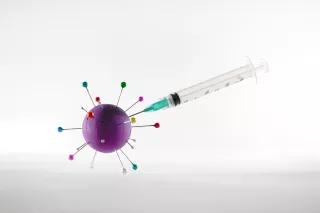 No country is safe from COVID-19 until all countries are safe from COVID-19. To state the obvious: To overcome a pandemic of this magnitude, vaccines must be produced and distributed quickly, cheaply, and fairly. It would be a strong sign of global solidarity and of cooperation. Making the required technological know-how for vaccine production freely available could finally also halt the economic and social consequences of the pandemic.
Instead, industrialized countries are securing vaccines for themselves while at the same time insisting that private pharmaceutical companies charge steep license fees for their patents on new vaccines. This, however, is preventing emerging markets from building urgently needed production capacities.Producing a COVID vaccine takes a lot of know-how. The faster a transfer of knowledge and technology succeeds, the sooner capacities can be developed and expanded.
For months, the WTO has been discussing a proposal made by India and South Africa to suspend patent protection for vaccines, at least temporarily, in order to expand production capacities. More than a hundred WTO member countries have endorsed the proposal. Now the US has broken out of the phalanx of opposing industrialized countries and is signaling its agreement. The EU is divided. The German government is criticizing the Biden administration. Pharmaceutical companies are up in arms against it. It is unclear how the WTO will proceed on this proposal.
Vaccine distribution and production have long become part of the global justice debate in the particular context of the largest global social and economic crisis which this virus has caused. The question of who gets which vaccines, when and from whom, pertains to the realms of geopolitics and foreign trade policy. Large powers leverage vaccines for prestige purposes and to secure spheres of influence, creating new geopolitical situations that will impact us for a long time to come.
A chasm between aspiration and reality in vaccine distribution
Since the beginning of the COVID-19 crisis, politicians have been telling us time and again that it will take a collective effort to overcome the pandemic. "A global pandemic needs global solutions and the EU has to be at the center of the fight", EU foreign policy chief Josep Borrell announced last March. In fact, shortly after the outbreak of the pandemic, an international mechanism was set up to combat it. In April 2020, the World Health Organization (WHO), the European Commission, and France established the Access to COVID-19 Tools (ACT) Accelerator to form a broad alliance of governments, academia, and civil society that would make COVID-19 diagnostics and treatment as well as vaccine development accessible to all countries. The COVID-19 Vaccines Global Access (COVAX) platform is designed to support the development and manufacture of COVID-19 vaccine candidates and negotiate prices. The basic idea is to offer rapid access to vaccines to developing countries regardless of financial power. The role of COVAX is to purchase doses of vaccine from manufacturers and allocate them to all participating countries. Today, 190 of the world's approximately 200 countries participate in COVAX, including 98 wealthier countries and 92 low- and medium-income countries. In April, in response to a WHO request, China decided to provide ten million vaccine doses to the COVAX initiative. The European Union is making a total contribution of one billion euros.
"We need ready-to-use vaccines that are affordable, available, and freely accessible around the world", Chancellor Merkel expressed her claim to solidarity in June 2020. Several vaccines have now been developed at a historically unprecedented pace. This was made possible by a consistently transnational effort by researchers. But in the subsequent production and distribution phase, we are witnessing a gaping chasm between the lip-service that had been paid to solidarity and the reality, which is overwhelmingly geared towards national interests.
In an article, Brazilian journalist Eliane Brum expressed her bewilderment about Germans who reject a certain vaccine and refuse to get vaccinated following inaccurate media reports and the government's inept handling of the situation: "Germans should be made aware that it is shameful and immoral to want to pick and choose their vaccine in an out-of-control pandemic. Then again, the behavior of some Germans is merely a reflection of the behaviors of rich countries' governments." Former health minister of Rwanda, Agnes Binagwaho, also had a clear message for the EU: "Be honest and say: 'My people first.' Don't lie to us and say we are equal."
WHO Secretary-General Tedros Adhanom Ghebreyesus is also highly critical of the fact that children and adolescents are now allowed to be vaccinated in rich countries as it further delays vaccination efforts in Africa and other poor countries. In early May, he called the unequal distribution of vaccines between poor and rich countries unacceptable. Of the 700 million doses of vaccine distributed worldwide, more than 87% went to high- or medium-income countries, WHO Director-General Tedros Adhanom Ghebreyesus said in April. So far, only 0.3 percent of the vaccine doses administered worldwide have gone to the 29 poorest countries, which are home to nine percent of the world population.
One in four people in high-income countries have been vaccinated against the coronavirus, compared to only one in over 500 in low-income countries. At this rate, it would take several years to vaccinate 70% of the global population.
Vaccine delivery via COVAX did pick up pace early this year, with shipments arriving in several countries in Africa and Asia. At the end of February, Ghana became the first country in the world to receive 600,000 doses via this system. But as early as March and April, some of the poorest countries were warned to expect delays. Until recently, the vast majority of COVAX doses distributed worldwide came from the Serum Institute in India, a country that is now itself in need of international support. US manufacturer Moderna recently announced plans to supply COVAX with up to 500 million vaccine doses, most of which, however, cannot be delivered until 2022.
Securing spheres of interest and influence
So far, China and Russia, in particular, have supplied the countries of the Global South with large quantities of their vaccines, guided primarily by their foreign policy and economic priorities.
This is very evident in South America, where Russia and China have expanded their presence considerably in the last twenty years. Russia's "Sputnik V" vaccine is a great opportunity for the country to debunk the perception that it has nothing but oil, gas, and weapons to offer. Selling "Sputnik-V" thus means a considerable boost for Russia's political and economic prestige. The development of joint vaccine production with Brazil is an opportunity for Russia to vitalize bilateral relations. After all, Brazil is up for presidential elections in 2022. But while Brazil currently rejects the use of "Sputnik V", it was Argentina that began production of the Russian vaccine in April.
China is also seizing the opportunity to improve its reputation in Latin America and secure control over a portion of the vaccine markets.
Depending on the source, China is said to have supplied between 80 and 115 million vaccine doses to other countries so far. Almost half of them went to Indonesia, which is supposed to become a regional vaccine production hub. Indonesia is the worst-hit Southeast Asian country in this pandemic. The two countries are also connected by a strategic partnership and close economic ties. Indonesia is a key partner in Beijing's "Belt and Road Initiative", acting as an 'honest broker' in the maritime dispute between China and other littoral states around the South China Sea.
In its regional geopolitical rivalry with China, India, until recently, had also been leveraging its potential as a vaccine hub, exporting mainly to neighboring countries such as Bangladesh, Sri Lanka, Bhutan, and the Maldives. Outside Asia, India had supplied the AstraZeneca vaccine to South Africa. Aside from pure economic factors, this deal was also driven by the fact that South Africa is home to over one million Indians, making it the largest Indian diaspora in the world. As vaccine exports from India were suspended, China has now seized the opportunity to supply vaccines to Afghanistan, Bangladesh, Nepal, Pakistan, and Sri Lanka, thus expanding its regional influence.
Vaccine diplomacy thus means that some emerging and developing countries without their own production capacity are able to obtain vaccines more quickly and under particularly favorable conditions from their friendly neighbors or political allies. So far, so good.
However, this practice of securing spheres of influence leaves behind far too many countries in Latin America, the MENA region, and Africa, where the virus and its mutations will continue to spread unchecked.
Mexico, for instance, one of the richest and strategically most important countries in Latin America, is on the winning side: It is receiving shipments from both India, Russia, and China at the same time. Central America's poor countries had to wait in the COVAX line, as does much of sub-Saharan Africa. Guatemala and Honduras benefited from their decision to move their embassies to Jerusalem and have already received vaccines from Israel.
Vaccines as political bargaining chips
Vaccine diplomacy is a new and multi-faceted phenomenon. It is becoming clear how much it is both a mirror and a magnifying glass, reflecting and intensifying existing international tensions and regional conflicts. It also shows how China skips no opportunity to secure its influence. Vaccines are being instrumentalized for political gain. Political enmities, like between India and Pakistan, are holding the population hostage, obstructing a rapid and efficient supply of vaccines. Pakistan, for instance, received the Indian vaccine via COVAX - much later than other countries in the region.
Vaccines are bargaining chips. In December, for example, Philippine President Rodrigo Duterte threatened to terminate a military agreement with the United States unless they delivered millions of doses of vaccine: "no vaccine, no stay here". The health care system in the Southeast Asian country has been at its limits for some time now. Facing fierce criticism at home for the delays in vaccine procurement, Duterte tried to leverage the vaccine in a political ploy around the Armed Forces Visiting agreement, hoping to secure both vaccines and score a diplomatic victory. Both failed: There were no vaccines from the US. Only after Duterte delivered on his threat in February, cancelling the agreement with the US, did the Philippines receive the Chinese vaccine Sinovac ‒ months later than other Southeast Asian nations, even though the country suffered the second highest numbers of infections and deaths in the region. Instead of providing a quick fix, the political game with the vaccine has further delayed the fight against the virus.
Vaccine delivery to war-torn and pandemic-ravaged Syria was negotiated as part of a prisoner exchange with Israel. Russia had Israel pay for the vaccine for the Assad regime by handing over an Israeli citizen who had crossed the border into Syria. But the shipment will only go to areas that are controlled by the regime. Based on past experience, it is to be expected that, like all other forms of humanitarian aid, they will first be issued to loyalists and then sold on the black market. There is no hope for vaccine justice in Syria.
Pandemic control should not be left to the whims of interest politics
In the absence of a coordinated ‒ and fair ‒ international vaccine distribution policy, the vaccine distribution model that has established itself in recent months is based purely on economic and political preferences.
However, in a pandemic of this magnitude, the more people are vaccinated, the more likely it is that the disease can be pushed back, regardless of who produces the vaccines and where, and whether the recipients are allies or rivals.
Instead, vaccines are increasingly used to establish long-term political dependencies in geopolitical competition ‒ especially in countries that cannot produce their own vaccines. This way, a human health emergency is played off against political gain.
Nevertheless, there are some examples of how solidary approaches can work in times of need. Jordan does not have many vaccines to go around, yet is the only country in the region with an inclusive vaccination strategy that also serves refugees. In mid-January, Jordan became one of the first countries in the world to launch a comprehensive, free-of-charge COVID-19 vaccination program for refugees and asylum seekers.
In February, Colombia's government decided to grant temporary protected status to nearly one million Venezuelan migrants, which will also allow them to access basic services, including health care and the COVID-19 vaccination.
US and Europe first
The US and the EU, on the other hand, proved less willing to share their vaccine stocks, instead vying to outdo each other in vaccine protectionism.
Until recently, the US had imposed strict export restrictions on vaccines; domestic pharmaceutical companies were required to supply mainly the United States. Given the very dire domestic COVID situation, the US government's strategy was understandable, and Joe Biden needed to score domestic political points. But the "America first" principle resulted in large quantities of vaccines being hoarded as a precaution instead of being exported, at least in smaller quantities, to neighboring countries in need. Now the U.S. is finally delivering to its neighbors Canada and Mexico.
The EU exported 43 million doses to 32 countries in March, of which nine million went to the UK, four million to Canada, and three million each to Mexico and Japan ‒ meaning that the majority of its exports went to countries that either produce their own vaccine or can afford to buy it at market price. The EU's lip service to solidarity and justice is thus not being fulfilled.
Other than the COVAX initiative, the industrialized nations have not offered much to the countries of the Global South so far. And the quantities of vaccine distributed through COVAX are far from sufficient to provide adequate coverage for populous countries in the Global South. Germany's and the EU's rather generous contributions to COVAX cannot conceal the fact that Europe has fallen behind geopolitically, leaving China and Russia in the lead. On the other hand, some governments' stubborn refusal to at least temporarily suspend vaccine patents to remedy the supply crisis makes COVAX contributions look like a form of modern indulgence trade, designed to secure a system of private business interests and perpetuating existing power imbalances.
But in doing so, they are losing sight of a central challenge: The Western social order's ability to act and function is also measured by how well it can support the Global South in its fight against the pandemic, by providing vaccines in keeping with its own moral claims – the liberal-democratic order is put to the test because it quite literally does not deliver.
Suspend patents - promote technology transfer
Over the next few months, the world is facing an extraordinarily demanding, two-fold challenge: We must undertake coordinated initiatives to produce enough vaccine to cope with the global crisis. At the same time, we must set supply conditions that facilitate safe and fair distribution. This will, without a doubt, be a logistical tour de force, but also a test of whether the promise of fair distribution – even globally – was ever meant seriously. Both processes must happen in parallel.
A structurally effective and sustainable way to do this is to temporarily suspend patents on vaccines and to share the technological knowledge needed for their production, for producing a COVID vaccine takes a lot of know-how. This was exactly what India and South Africa requested at the WTO in October of last year. The TRIPS Agreement (Article 31) explicitly allows for such a suspension in times of crisis. Yet industrialized countries, including the EU and the US, Switzerland, and Japan, under pressure from their pharmaceutical companies, rejected this proposal. As a result, we have not yet been able to exploit global production potentials towards a global solution. It's great that the Biden administration has announced that it has dropped its opposition to the proposal, citing a moral obligation as the reason for this move. That is what it's all about: Getting the pandemic under control quickly and for everyone in the world.
But Big Pharma is protesting the proposal, reiterating its claim that it must make a profit to cover its high development costs and that there can be no innovation without patent protection. However, for years, the greatest innovations have not emanated from big pharmaceutical companies, but rather from publicly funded research. The fact that Chancellor Merkel is now once again blocking the proposal betrays her solidarity with big pharma, which will not go down well in the Global South.
Although a substantial portion of vaccine development has been and continues to be funded by direct government subsidies or publicly financed loans, the pharmaceutical companies' pursuit of profits unfortunately continues to take precedence over the global common good. This is not only short-sighted, but also cynical and ethically irresponsible. Such crude interest politics will severely damage the credibility of the value base that Western industrialized countries so often invoke.
So far, however, the industrialized countries keep referring only to the COVAX initiative as their central multilateral act of solidarity. However, COVAX uses public money to purchase vaccines that were developed with public funding in the first place.
In addition, industrialized countries are sweeping the market, buying up the vaccines that were actually intended for poorer countries as COVAX vaccines – a practice which the WTO chief rightly condemned. An increase in funding would therefore hardly have any significant effect while production capacities remain unchanged. Any effort to increase COVAX financing must therefore go hand in hand with lifting patents or forced licensing.
Given the global dimension of this pandemic and the increased threat of mutations in countries where vaccination is not available, speed is of the essence. That is why we must overcome national and economic special interests now – or the pandemic will drag on for many years to come, at a price beyond what we can bear.
This article was updated on May 10th, 2021.