Video performance
Violence against women and environmental pollution: current social issues are embodied in contemporary and symbolic pieces by the dance company New Cambodian Artists.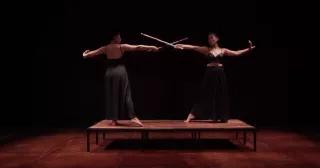 New Cambodian Artists (NCA) is a Cambodian contemporary dance company founded in Cambodia in 2012.  NCA consists of two dancers,  Khun Sreynoch and Ny Lai and company director Khon Sreyneang. NCA has created their own dance style, in defiance of established norms in traditional culture. By featuring classic Khmer dance elements, pop culture, contemporary dance and theatre, their unique dance style challenges the customary notion that Khmer dance cannot be combined with other forms of artistic expression. Operating from their Black Box studio in Siem Reap they research on current social issues in order to expose and address those in their dance performances while maintaining a highly artistic standard.
The Corona pandemic has affected their work severely as the group was not able to perform in front of a life audience or to travel internationally. This confinement had a big impact on their creative processes: "Without the conventional audiences and being isolated as we are, we find that our work has become more radical and feminist, politically as well as artistically." so the group.
The piece Giant Satrey (giant woman) was created during the pandemic and hasn't been shown to a live audience yet. It is based on a common character in Cambodian traditional dance- the giant. All classical Cambodian dances are performed by women- in Khmer satrey(ស្ត្រី.) The two dancers in Giant satrey symbolize strong female leaders in Cambodian society who are seen as role models and inspire young women to fearlessly stand up to today's challenges in Cambodian society. "We focussed on the power of some of the movements and turned the dance into a regular demonstration of dance skills and female strength...[...] we are showing the strength of the contemporary Cambodian women.", explained Sreyneang.  The piece was also inspired by the famous Kill Bill snow-scene, featuring Lucy Liu and Uma Thurman sword fighting as explained by the artists.
Two more pieces have been developed during the pandemic: Speaking in Silence is an image-based series about worldwide environmental pollution. Cinderella/ Not a Fairy tale is part of a trilogy of pieces which address the situation of widespread gender-based violence in the form of female bride trafficking in Cambodia.  
NCA is looking forward to perform within Cambodia and at international festivals once the pandemic has eased.
Here is the performance "Giant Satrey":
Giant Satray 2 - NY&KHUN of New Cambodian Artists
Watch on Vimeo