Contestations around gender and sexuality emerged as some of the most significant for social change in the second half of the twentieth century – not least in the process of economic transition in Central and Eastern European countries that were formerly part of the USSR. Since Barbara Einhorn's initial pioneering research, the gendered dimensions of transition have been studied comprehensively at both the local and transnational levels. On the one hand, Central and Eastern European countries in transition have implemented certain policies to promote gender equality, especially when such steps were required in order to meet European Union requirements. On the other hand, such European policies were often met with strong counterreactions from the far right, which evolved into anti-gender movements. Across different countries, these latter movements have crystalized to constitute a strong pan-European articulation of opposition to policies promoting gender equality, reproductive rights, sex education, the Istanbul convention, and LGBT+ rights. Such issues had initially been underemphasized in studies of transition processes, but in recent decades they have received increased attention as significant markers of the gendered dimensions of social change. Moreover, in countries like Russia and Poland, it is the states themselves that denounce "gender ideology" and have initiated and continue to stoke anti-gender campaigns; thus, anti-gender movements have become a forceful political tool with all the weight of institutionalized power behind them.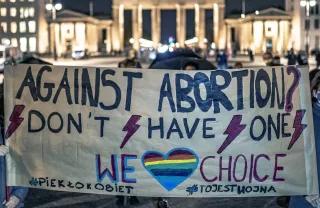 Anti-abortion policy established in Poland
The first explicitly visible achievement of anti-gender mobilization in Central and East European countries was the anti-abortion law introduced in Poland in 1993, which denied women access to medical abortions except in a few rare cases, and was made even stricter when further regulations were added in 2020. In the early 1990s, the act was largely seen as testimony to a new post-Soviet relationship between the Catholic Church and the Polish state. However, preparations for the law also involved other groups that were not exclusively linked to the Church but also to less known allies, including the Movement for Defence of the Unborn, and the Movement for Defence of Life and Family, which had been founded in the 1970s and was led by Marian Barański. Limitations to abortion access were also introduced in Belarus and some parts of Russia during the same period.
Anti-LGBT policies in Poland, Lithuania, and Russia
The second milestone of the anti-gender movements in Central and East European countries was a set of anti-LGBT laws introduced by several countries including the so-called "anti-gay propaganda laws," which sought to eliminate LGBT issues from the educational and public spheres in Lithuania and Russia. These were followed, in 2019, by the local authorities of some townships and districts in Poland making public statements such as "[we are] free from LGBT ideology." Over the course of several months, these declarations were formalized into laws that had significant consequences across at least one third of Polish territory.
Explanations of anti-democratic turns in gender and sexuality policies
Numerous Eastern European countries have implemented strict anti-LGBT and some of them anti-abortion policies. At the same time, across Central and Eastern Europe, policies promoting gender equality have been under attack. A range of theoretical explanations for the region's anti-feminist and anti-LGBT tendencies have been put forward. These include the following:
the result of a post-secular turn

an anti-feminist backlash

the impact of increasing neoconservatism

an effect of increasing neoliberalism

the impact of the far right

the effect of anti-gender campaigns
These explanations are complementary with each highlighting different facets of the anti-feminist, anti-abortion, and anti-LGBT agendas prevalent within the region. In my view, the approach that focuses on the anti-gender movements seems to hold the most potential for furthering our understanding. Although anti-gender movements across the globe share similar agendas, Central and Eastern Europe seem to provide particularly fertile ground for their cultivation. One reason for this could be a lack of democratic standards and/or weak consolidation of democratization, or even processes of de-democratization. The second factor might be the role of hidden actors, like the Catholic Church, Putin's Russia, or the international anti-gender movement. Or all of these factors combined.
Polish policies against abortion are often understood in relation to the strength of the Catholic Church in Poland. According to Judith Butler, the anti-gender movement might have been sparked by the Vatican. Most Catholic countries, however, do not go as far as to enact anti-abortion laws or anti-LGBTQ legislation. While the Polish anti-abortion policy is still exceptional compared to its neighbouring countries, its new anti-LGBT policy pushes it in the direction of Russia. Although some Polish local authorities have declared themselves free from "LGBT ideology", unlike Russia, the Polish state has yet to implement any overtly homophobic regulations. According to Kevin Moss, state homophobia is the other side of the coin of the Russian anti-gender movement. The (in)famous Russian law "for the Purpose of Protecting Children from Information Advocating a Denial of Traditional Family Values," also known as the "anti-gay propaganda law," has also been implemented by several post-Soviet countries, including Belarus, Kazakhstan, Kyrgyzstan, Latvia, Moldova, and Ukraine.
In Russia, state homophobia is not limited to legislation that discriminates on the basis of sexual orientation. Timothy Snyder, in his Road to Unfreedom, points out that an anti-LGBT attitude is a key component of Russian anti-democratic movements. Moreover, an analysis by Yuri Frank shows that homophobic and anti-gender Russian organizations lobbying for homophobic legislation have received financial support and 'expert advice' from Western European countries and the US. Activists from those Western organizations presented themselves as experts alongside Russians lobbying for new laws. One such protagonist was US sociologist Mark Regnerus, whose publications – especially the validity of his data and conclusions – have been criticized by major North American academic organizations. Nonetheless, these conclusions served to support calls for a Russian bill (ultimately not passed) that would have authorized the state to take children from their LGBT parents. Regnerus is also known in Poland, where quotes from his controversial report were used in a homophobic campaign that referred to itself as "against paedophilia".
The anti-gender movement's strategy is to hide its real agenda (anti-abortion, anti-LGBT, anti-feminist policies and others listed in the text) behind a facade of democratic, inclusive, and anti-discriminatory discourses prepared according to the best public relations advice. This successful strategy is achieved by constructing a pluralistic (and secular) self-image; and by presenting itself as a rational, moderate, and common-sense actor (see Kuhar and Paternotte 2018). This is what sociologist Elżbieta Korolczuk had in mind when describing Ordo Iuris – currently Poland's most influential anti-feminist and anti-LGBT organization – as "wolves in sheep clothing." Klementyna Suchanow, an independent researcher and an activist co-leader of the Polish Women's Strike, exposed Ordo Iuris's actual motives in her book To jest wojna (This is a war, 2020).
Ordo Iuris – the local representative of a global movement
The Instytut na Rzecz Kultury Prawnej (Institute for Legal Culture) Ordo Iuris is the local (Polish) branch of an international anti-gender movement, which collaborates with other local organizations and has recently established its own foreign branches in Croatia, Estonia, and Ukraine. Founded in 2013, Ordo Iuris seems to represent various anti-gender movement organizations that had previously flourished in Poland. It is also closely linked to Fundacja Piotra Skargi (Peter Skarga Foundation), founded in 1999. Like many anti-gender  organizations, Ordo Iuris, the Peter Skarga Foundation, and other similar groups are careful to act discreetly and to publish as little as possible about their organizational structures, financial resources, or their ties with other organizations. Suchanow, however, has exposed Ordo Iuris's links to other Polish, European, and Latin American organizations (e.g., the Spanish Hazte Oir, the European Citizen GO, or the European Federation One of Us – the latter has been described by Neill Datta). Furthermore, Suchanow reveals the group's participation in a transnational network including Agenda Europe, the Tradition, Family, and Property organization, and the World Congress of Families – key figureheads of the larger global movement. Finally, she underlines the network's close connection with Putin's Russia.
Ordo Iuris plays a prominent role in Polish political life. It proposes bills (e.g., to tighten abortion restrictions) and shapes legal approaches to various fields. It also engages in lobbying – both officially and unofficially. The organization's representatives take part in public debates and hold important positions in various public institutions. Lawyers allied to Ordo Iuris participate in court procedures concerning cases brought by Agenda Europe; they also propose draft bills and support the implementation of Ordo Iuris's agenda into parliamentary legislature. They express their opinions on almost any bill or regulation that touches upon reproductive rights, family life, children's rights, or LGBT rights. An analysis of the group's legal activities conducted by the Great Coalition for Equality and Choice concludes that its main objective is the transformation of the state's legal system to better align with Catholic norms.
As this brief case outline has shown, secrecy is one of the main tactics used by Ordo Iuris. Multi-method analyses of a variety of data sets – including the results of participative research projects, investigative journalism, and activist networking – have shown that this strategy is by no means unique to the Polish group but also characteristic of other anti-feminist and anti-LGBT organizations. This insight suggests that perhaps the best counterstrategy is to reveal and make public such movements' underlying objectives, strategies, participants, and stakeholders. The better we come to understand the background of anti-feminist and anti-LGBT policies, the better the measures we can develop to counter them.