Commentary
The largest refugee movement since the Second World War now requires coordination throughout Europe.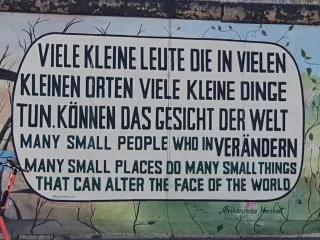 It is the largest influx of refugees to Europe since the Second World War, and it could soon be the largest in the world. More than three million people have fled Ukraine since the war began on February 24, 2022. The vast majority of them are women and children – as men between 18 and 60 are not allowed to leave the country – as well as third-country nationals.
Most have fled to neighbouring Poland: well over 1.5 million people. More are arriving every day. In Hungary, Slovakia, Romania, and the Republic of Moldova, huge numbers of refugees are also being taken in and cared for by volunteers.
It will be a tour de force not only for the states in Ukraine's neighbouring region but for all of Europe.It seems, there is a willingness to help and an ability on the part of the European Union (EU) to act flexibly and unbureaucratically. The next step will require coordination, the matching of needs with the readiness to receive, and the arrangement of logistics to implement this effectively.
Meanwhile, Germany is experiencing a renewed "welcome culture". More than 120,000 people from Ukraine arrived in Germany during the first two weeks of the war. It is difficult to estimate how many there really are, as border controls are not being conducted systematically. It is also unclear whether all of those who have entered without visas will stay. Some have already moved on to other European countries to find accommodation with relatives and friends. Many are heading to Italy and Spain.
In contrast to the 2015/2016 period, the willingness of citizens, cities, and municipalities to take in refugees has been complemented by quick action on the part of the EU: The "mass influx directive" (EU Directive 2001/55/EC), adopted in Brussels on 3 March, means that Ukrainian refugees do not have to go through any asylum procedures in European countries. They are being granted temporary residence status, which gives them access to social benefits and employment. This status is initially valid for one year and can be extended for up to three years.
Nationals of other countries who were studying or working in Ukraine and had to leave due to the war can probably only obtain residence status in the EU under the "mass influx directive" if they enjoy international protection or were in Ukraine with a permanent residence permit and cannot safely return to their country of origin. However, more than 150,000 of the 293,600 third-country nationals living in Ukraine only had temporary residence status, according to the UN International Organization for Migration. Students from India, Morocco, Turkmenistan, Azerbaijan, as well as Nigeria are particularly distressed, especially since in many cases it is difficult for them to flee across the border. When they arrive, their fate is uncertain.
But overall, the unchallenged, unbureaucratic approach to the sudden influx of people fleeing a brutal war is the right one. People fleeing war can then head for open borders and do not have to entrust themselves to human traffickers who extort them for lots of money and take them on ever more treacherous escape routes. The asylum systems will not be overloaded, and people will be helped quickly. The decision in Brussels politicises refugee law, as critics have rightly pointed out, but it hints at solidarity and European unity, something that has long been hoped for, but in vain. The question of distribution, however, remains open for the time being, since Ukrainian refugees (are allowed to) move to wherever they can find a place to stay. So far, the countries that have vehemently opposed a fairer distribution of refugees in Europe in recent years are the main host countries. At the end of 2021, Poland was still forcibly pushing back the unwelcome refugees from Syria, Iraq, and elsewhere at the border because they were being exploited by Belarusian President Lukashenko (and continue to be). The continued support of civil society organizationsand states at the eastern external borders with Ukraine, on the other hand, is remarkable and deserves support.
Well over 100,000 people continue to move west. Berlin is helping out and repeatedly reaching the limit of accommodating 10,000 people a day who arrive by train at the main station. More are arriving in trains dedicated to this matter, and even here there is a lack of coordination as well as a lack of drivers for buses for redistribution to other federal states. The authorities are aware that the unequal treatment of refugees might quickly create discontent and the potential for conflict in initial reception centres. In some places, refugees already engaged in asylum procedures and uncertain status were relocated to make room for those who had fled Ukraine.
In addition, 300,000 private accommodations have already been advertised nationwide, but they cannot be "matched" so quickly either. Those who arrive in private accommodation can rest for a while: Ukrainians can stay in Germany visa-free for 90 days. But other important elements to consider are exchanges with others who speak their own language, offers such as vaccination (only one-third of the population was vaccinated before the war began), and trauma counselling. Children should be able to go back to school and play with other children. Such services are available to those who register.
The German Association of Towns and Municipalities is pressing for the swift deployment of aid, which means financing for the care of refugees from the federal and state governments. The well-known "Königssteiner Schlüssel" of distribution is in force, but it is not clear whether it will also resolve the financial burdens. Schooling for the children will require special services. With the current shortage of teachers in some federal states, this is a huge challenge.
In general, people in Germany and elsewhere are only gradually becoming aware of the challenges. The longer that this terrible war continues – only a few hours away by plane – forcing more people to leave their homes, the more aggressive the forces that undermine the humanitarianism of this welcome culture will become, adopting both a populist and a conventional "boat is full" mentality. This is also something to prepare for now.
It is not yet possible to predict how many people will escape the ongoing war by fleeing: Refugee aid organisations estimate 4 million, others assume up to 10 million. Whether the women and children will return to their husbands and sons, to their towns and homes, also depends on the course of the war.
The EU has shown that rapid aid delivery is possible. Now it is a question of showing staying power. This is possible, above all, if there is more coordination within and between the states of Europe. Refugees who cannot reach relatives and helpers should no longer be allowed to wander Europe on trains. Poland and other states in the region have to make prompt commitments that transport (possibly also flights) will be organised and that people will receive temporary protection and be accepted in Portugal, the Netherlands, Belgium, or France. Cities and municipalities in all European countries are showing a willingness to take in refugees. The upcoming EU Council meeting could now decide to register them and organise dedicated transport to the various places. It will require a feat of strength, but one that is realistically and flexibly managed. Europe can meet this challenge.