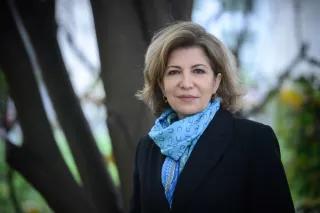 Joumana Seif is a Syrian lawyer and a feminist. She is a legal advisor in International Crimes and Accountability program at the European Centre for Constitutional and Human Rights ECCHR, with a particular focus on Syria and sexual and gender-based violence. She worked on the al-Khatib trial before the Higher Regional Court of Koblenz by closely supporting the survivors.
She has been working in the human rights field since 2001 and supported the democratic movements in Syria with a focus on political prisoners. She left Syria in 2012, a year after the start of the uprising against the Assad regime. Since then, she cofounded the Syrian Women's Network (2013), the Syrian Feminist Lobby (2014) and Syrian Women's Political Movement (2017).
She is the chairwoman of The Day After: Supporting Democratic Transition in Syria. She is also a member of the Policy Coordination Group, a Syrian-led initiative on the missing and disappeared facilitated by the International Commission on Missing Persons (ICMP).
She is a founding member of the Syrian Women's Initiative for Peace and Democracy (SWIPD), calling for the promotion of a political solution to the Syrian crisis with women's full and meaningful participation and rights at the core to any emerging national dialogue or negotiation process (2013) From 2016 to 2017, she participated in the Civil Society Support Rooms established to ensure an inclusive political process at the Geneva peace talks on Syria.
Before the Revolution, Joumana was a member of Damascus Declaration from 2007 to 2012. She was the head of the Social Care and Development Department from 1994 to 2001 at Adidas textile Company – Damascus, Syria.