Analysis
With the help of the "JETP Vietnam" energy partnership, Vietnam is to become climate-neutral by 2050. While this agreement includes targets on energy, financial, and industrial policy, little has been achieved in terms of climate policy so far.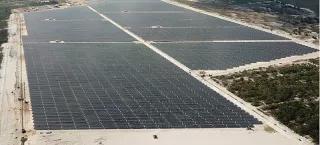 On 14 December 2022, the International Partners Group (IPG) [1] and Vietnam announced a Just Energy Transition Partnership (JETP): By 2030, funding worth a total of 15 billion US dollars is to help Vietnam become carbon neutral by 2050. While the partnership addresses a number of agreements in terms of energy, finance, and industrial policy, it offers little in terms of climate policy (so far). It seems that with this agreement, funding providers and potential investors are signaling to Vietnam's rulers their willingness to tolerate political "costs" to achieve the goal of climate neutrality, such as detainment and conviction of environmentalists, land rights activists, and civil rights activists.
The situation: Objectives on the Vietnamese side
From the point of view of Vietnam's ruling "state-party-business alliance," this "partnership" pursues two goals:
On the one hand, Prime Minister Pham Minh Chinh announced his objective of making Vietnam carbon-neutral by 2050 at COP 26 in Edinburgh in 2021. The Communist Party of Vietnam (CPV) had committed to this goal as a binding political objective a year earlier.
On the other hand, Vietnam wants to ensure that as it changes or steers away from its previous, energy- and emission-intensive course, which had been the backbone of Vietnam's economic development,  this change will be as cost-effective as possible, or even profitable for its power-hungry (export) industry, its power plant industry, and companies that extract, use, and sell fossil fuels (EVN, Petrovietnam, Vinacomin, and others). The government also seeks to satisfy its ministries (especially the "Ministry of Industry and Trade" MoIT), which favor and protect these industries.
It is easy to see how the two sides struck a "win-win" situation at the negotiating table:
One party's primary objective is to achieve climate neutrality for Vietnam, while also unlocking major business opportunities from this energy transition (this side includes the banking consortium GFANZ and manufacturers and operators of "offshore wind farms"),
the other side is interested in obtaining financial funding for the necessary restructuring of their (energy) economy, while also achieving the goal of climate neutrality.
Energy, financial, and industrial policy agreements
Several agreements have been concluded in terms of energy, finance, and industrial policy:  
In the (revised) Power Development Plan 8 (PDP 8), the target of 41 GW of coal-fired power (twice as much as in 2020) has been reduced to 37 GW by 2030;
Provide "support" for Vietnam to further reduce the amount of coal-fired power from 37 GW to 30.2 GW by 2030. For now, there is no concrete information on how this is to be achieved, but the document emphasizes the importance of support in the form of foreign investment;
CO2 emissions are to be reduced from 240Mt "with international support" (down from 280 Mt CO2 before COP26) to "no more" than 170Mt CO2. This is to be achieved through "meaningful" and "strong" financial support from "IPG" partners, and by deploying renewable energy and managing the required network;
Parallel to a (temporary) expansion of coal-fired power plants, the share of renewable energies (wind, solar, but also hydro energy) is to increase from the current target of 36 percent to 47 percent. The expansion of renewable energies is now planned at a larger scale than the CPV originally agreed;
Develop "the technical expertise to support and manage a grid increasingly powered by variable renewable energy" (the MoIT, in particular, has historically considered renewable energies notoriously unreliable and difficult to manage);  
Hold "negotiations" to close old, inefficient coal-fired power plants and to halt investment in coal-fired power plants "where appropriate";
The statement does not indicate whether and to what extent the plan includes energy-saving measures.
The declaration remains conspicuously cautious and vague about reducing coal-fired power generation. So far, it merely states that decommissioning of coal-fired power plants and support for investors are up for discussion.
In terms of fiscal policy, the JETP expects public funding to act as a catalyst: Grants and preferential loans from governments, state-owned banks, and multilateral development banks totaling 7.5 billion US dollars will be leveraged to spur investment in green energy projects and for the early retirement of existing coal-fired power plants. This public sector funding is expected to trigger an additional 7.75 billion US dollars in private sector investment and financing on terms that better reflect market conditions. The statement does not explain why this is supposed to happen in this order, or why public funding is necessary as a catalyst in the first place.
The transformation of Vietnam's energy industry is to be socially inclusive. The declaration places particular emphasis on the situation of workers affected by the energy transition, even referencing workers' rights. Vietnamese (civil) society, on the other hand, remains unmentioned. The declaration is merely "noting" that "consultation" with various "stakeholders" is required, which also "includes" (!) NGOs.
Winners and losers of the "energy partnership"
The "IPG" wrested a concession from Vietnam to curb its pollution after 2030. Thus, Vietnamese utility companies, the grid operator, and companies that extract and consume fossil fuels receive foreign funding for increased coal-fired power generation, which they would not have received otherwise. This is because, for one, China has already stopped financing coal-fired power plants in Vietnam and elsewhere in 2021 (previously, China had helped finance half of these power plants in Vietnam). Secondly, prior to the conclusion of this "partnership," Vietnam was struggling to find any investor for projects involving coal-fired power plants.
It remains unclear how precisely the country intends to implement its energy transition: a "JETP Resource Mobilization Plan" (JETP-RMP) is to be developed by the end of 2023, but it will only cover the period up to 2028. The JETP fails to show how the "energy transition" is to continue beyond after 2030. I assume it will not be included in the JETP RMP, either. And that leaves a crucial question unanswered: If less than half of Vietnam's energy needs are to be covered by renewable sources by 2030, how will the expansion of renewable energy, a suitable grid, smart energy control and storage, and energy conservation be accelerated fast enough to make Vietnam carbon neutral by 2050?
The main fossil fuel extractors/consumers (EVN, Vinacomin, Petrovietnam, and others) and ministries such as the "Ministry of Industry and Trade," which represents and promotes their interests, have successfully pursued a lucrative strategy of temporary expansion and operation of coal-fired power plants and fossil fuels while also keeping the door open for a profitable exit or switchover for the period after 2030. After all, who on the partner and funders' side side would want to abandon a partnership like this after seven years?
Also, economic reality - a plethora of already greenlighted "offshore wind farms" and other "green" energy facilities - suggests that public funds as a catalyst are unnecessary. Large Japanese and Danish corporations, for example, are currently working with "Petrovietnam" and other Vietnamese companies to build and operate "offshore wind farms" off the coast of southern Vietnam, without any public funding, and certainly not out of sheer altruism. German and Singaporean companies have also reached agreements with Vietnamese partners to promote renewable energy, for example, for the production of "green" hydrogen. Any current issues plaguing such projects are less about funding and its division for public or private benefit, but rather about unresolved legislative issues regulating the use of marine areas.
The consideration of special interests of the energy supplier "EVN," of "Vinacomin," "Petrovietnam," and other companies, as well as concerns of objections raised by the MoIT have caused gaps in the energy partnership. For instance, it makes no mention
of including the interests of other sections of the population beyond immediate producers ("coal miners"); or that a "green" economy is about more than just "offshore wind farms" or gigantic wind turbines on land;
 that the development perspective should not be measured exclusively in quantitative terms and geared only toward economic growth;
 that energy production and supply will have to be decentralized or that it means developing and deploying intelligent storage technologies and storage forms. The partnership also fails to indicate who will expand the power grid to meet the new demands created by renewable energies, and when this is supposed to happen. In this context, EVN's interests are abundantly clear: The company has so far stubbornly resisted any such undertakings, primarily citing cost as the prohibitive factor.[2]
So far, the JETP Vietnam has achieved little in terms of climate policy, but it has made several agreements in terms of energy, finance, and industrial policy. Thus far, the JETP with Vietnam is primarily a package of energy, industrial, and financial policy measures to promote a "green" capitalist economy. It does not contain a program to achieve climate neutrality in Vietnam by 2050.
The JETP has, in some ways, strengthened state as well as corporate drivers of energy and industrial policy change, but at the same time, it weakened Vietnamese (civil) society and with it, the articulation of broader climate policy ideas: During the 2021 negotiations, four of the most prominent representatives of Vietnamese civil society were arrested on the pretext of tax evasion and sentenced to prison terms in 2022, some of them for many years. This was followed in late 2022 by the arrest of another activist who is considered an expert on land rights. He is also accused of tax evasion and facing a long prison sentence. The Vietnamese state has thus sent a signal to NGOs involved in environmental protection, land rights, energy policy, and related areas that they are pursuing their activism at their personal peril on politically treacherous terrain. [3] Some Vietnamese NGOs working in environmental protection have already indicated that they will cease their activities or have already done so. None of this prevented the conclusion of the "partnership". Meanwhile, another prominent environmental activist has been arrested.
If this "energy partnership" is concluded even though it further marginalizes of Vietnamese (civil) society while financially rewarding Vietnam's ruling "party-state-business alliance," then we may, to quote Hai Hong Nguyen, call the outcome of these negotiations "intelligent authoritarianism". [4]
 
---
Please note: An extended version of the analysis will soon be available for download here.
Translated by Kerstin Trimble.
 
---
[1] It consists of the European Union, the United Kingdom of Great Britain and Northern Ireland, the USA, Japan, the Federal Republic of Germany, France, Italy, Canada, Denmark and Norway.
[2] Here, it is important to look at the exact wording of the agreement, which states that Vietnam should be enabled to develop the technical expertise to support and manage a grid increasingly powered by renewable energy. Vietnam is also to be enabled to sustain a reliable grid capable of meeting such complicated requirements. International support will facilitate both the grid as well as the expansion of renewable energies. The text fails to mention that EVN, for example, is developing and building such a network. Ultimately, it remains completely unclear who will actually develop and build the power grid and when.
[3] Land law is key here, and a new law on this issue is controversial because, according to the constitution, all land belongs to the people, but it is "administered" by the "party/state". Large-scale infrastructure projects, such as onshore wind turbines, inevitably affect the interests of farmers and other owners. In the past and present, there have been fierce, even fatal, disputes over land ownership and infrastructure projects in Vietnam (cf: Wischermann, Jörg/Dang, Phuong/Sirait, George Martin (2022), The State in a Capitalist Society: Protest and State Reactions in Vietnam and Indonesia, in: Journal of Contemporary Asia, published online on 6 April 2022. The article is freely available at: http://www.tandfonline.com/doi/full/10.1080/00472336.2022.2038235. Last accessed on: 10 March 2023.
[4] Nguyen, Hong Hai (2018), Der Mythos der fehlenden Responsivität des politischen Regimes in Vietnam, in: Wischermann, Jörg/Will, Gerhard (Hrsg.), Vietnam. Mythen und Realitäten, Bonn: Bundeszentrale für politische Bildung, 147-171, see https://www.bpb.de/shop/buecher/schriftenreihe/279697/vietnam. Last accessed on: 8 January  2023.