Interview
With the return of former Prime Minister Fico, old authoritarian patterns could resurface in the upcoming elections. However, progressives also have a chance to win in a society that has so far held a strong pro-European and pro-Western perspective.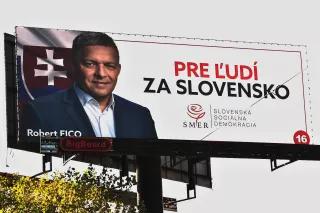 In this interview, we delve into the current state of Slovakia in relation to the parliamentary elections scheduled for September 30th. We aim to explore the implications of current political developments toward authoritarianism for the country and for the European Union. Additionally, we will discuss how the European political landscape may influence the elections in Slovakia, and how the EU is impacted by the results of this crucial election.
Jan Philipp Albrecht, President of the Heinrich Böll Foundation, engages in a conversation with Adéla Jurečková, Director of the Böll office in Prague, and Zuzana Kepplová, a Slovak journalist from SME.
Jan Philipp Albrecht: How do you perceive the upcoming elections? What will the outcome mean for the European political scene?
Zuzana Kepplová: Considering the polls, Robert Fico is poised to transform Slovakia into another Hungary. This assumption has also been echoed in leading newspapers such as The Guardian and The New York Times. If we are to believe them, Fico will align national policy with that of the Kremlin. However, I believe that the role of Russian propaganda is overrated, and the impact of the three subsequent governments after 2020 is being downplayed. I urge us to reconsider this Russia-centered perspective and harken back to the era of Igor Matovič in 2020. In my view, what we are witnessing today is a reaction to the instability and chaos in politics during the Matovič era.
We need to focus on the domestic situation rather than the war raging in our neighboring country. The mess created during that time may underlie the current re-politicization by the public. Parties that previously promoted themselves by emphasizing their "un-politicalness" are now attempting to change their image and become more political. This indicates a shift in domestic politics over the past few years, demanding greater accountability. I'm also not entirely convinced that Fico will win this election. Progressives equally have a chance of winning, and even if they form a coalition, they could transform Slovakia.
Jan Philipp Albrecht: How do you view the resurfacing of alt-right and anti-LGBTQI narratives in Europe in relation to Slovakia? Is Slovakia aligning with other EU member states on these issues? How can the current situation in Slovakia be seen from a broader political perspective?
Zuzana Kepplová: Following the split of the Smer party, which ruled Slovakia for about 12 years and leads the polls after spending three years in the opposition, we now have a more moderate party with ties to the European Social Democrats (Hlas, ed. note) and the old Smer party, which tries to rethink itself as a member of an illiberal international alliance with ties to prime minister Orbán in Hungary, Dodik in Bosnia and Herzegovina, or through making references to Donal Trump.
As a consequence of this split after the very weak outcome for Smer, Fico was trying to mobilize a new electorate. By using topics and narratives from the extreme right, he pushed these into the political mainstream, which influenced the debate in the whole country. Now this more radical faction of Smer engages in the political narratives of the global alt-right and could potentially influence Slovakia's future foreign policy. If the Hnutie Republika, a neo-fascist party, becomes part of the next government, we could find ourselves in a situation similar to Finland, where a far-right party is a coalition member. Or, in the Swedish scenario, where the fascist party will support the government from the parliament.
Jan Philipp Albrecht: NGOs and LGBTQI rights are increasingly being targeted within the current politicized landscape. Is there organized opposition to this, and can civil society play a role in shaping Slovakia's future regardless of election outcomes?
Adéla Jurečková: While Fico might employ populist rhetoric, he has in the past usually acted as a pragmatic politician. However, now he has gone too far in his scapegoating of minorities, NGOs, and all progressive forces, so if he wins the election and forms a government with some far-right parties, he will have to deliver on some promises from his campaign. It would be a very worrying situation. But that decision is still pending. Slovakia also had a strong pro-European and pro-Western perspective in the last years. The party Progressive Slovakia represents this perspective; its chair Michal Šimečka is the vice president of the European Parliament. Ultimately, however, the party will have to form a coalition – maybe even with partners, who hold very different views on many issues...
Jan Philipp Albrecht: Slovakia has historically been a responsible member of the EU. Have there been any observable changes in Slovakia's behavior towards the European Union, considering the upcoming European elections?
Adéla Jurečková: Slovakia has played an important role in supporting Ukraine and has been a constructive member state of the European Union. However, when looking at public opinion research, we see that only 40 percent of Slovaks hold Russia responsible for the ongoing war. The rest attributes responsibility to the West or Ukraine itself. Today, society is divided on this war, and it shows also in the election campaign. The effects of not only the war but also of COVID, inflation, and rising energy prices have had a significant impact on Slovakia—a country heavily reliant on Russian fossil fuels. Taking one side or the other is no longer as significant to the populace as it once was, as they now view the crisis of soaring living costs as the most pressing issue to address.
Jan Philipp Albrecht: The historically large parties have lost their constituency, and at the same time, numerous small parties are about to enter parliament. Is there a possibility for political stability within the parliamentary system that is extremely fragmented today?
Zuzana Kepplová: It is not unusual to have a wide selection of parties in Slovakia. However, the two main parties that have emerged in the polls as main competitors: the Smer SD and the Progressives. The upcoming coalition is definitely going to be interesting, as it will depend on the other parties entering parliament. There are about six parties moving around the threshold for entering the Parliament. 
I would like to comment on Mr. Fico's doctrine of "not a single bullet," which he has been emphasizing, and it has resonated with the foreign press. However, I find it a bit tricky because Slovakia has already depleted its stocks. Everything has already been sent to Ukraine, including old Soviet ammunition, arms, and heavy machinery. So, that's already been done.
Mr. Fico is promising that he won't send any more, but it's an empty promise, I have to say. I believe he will likely adhere to the commercial contracts. That's my guess, given Slovakia's involvement in arms production. So, I don't think Mr. Fico, as a pragmatist, would miss this opportunity. He also expresses a desire to participate in the reconstruction of Ukraine. If the Ukrainian side is willing to have Mr. Fico and his team involved, he will definitely be interested in playing a role. So, I don't think there will be a complete spending freeze on the Schengen border between Slovakia and Ukraine.
Slovakia will undoubtedly continue with humanitarian assistance, and there is already a sizable Ukrainian diaspora living in Slovakia that has been reshaping Slovak society. There are Ukrainian students in schools, Ukrainian voices in debates, and even Ukrainian news. The situation is changing rapidly because, historically, there has never been a Ukrainian perspective presented in Slovakia. Our politicians were not motivated to present it, and Slovakia, as a member of the Visegrád Group (V4), had traditionally maintained vibrant neighborly relations with the Czech Republic and Hungary but relatively less with Poland. Relations with Ukraine were almost non-existent. This may explain why Slovaks are sometimes seen as pro-Russian. The Kremlin's influence has persisted in this region since the socialist era, and pro-Russian sentiments have historically played a role in the Slovak nation-building process during the 19th century. Therefore, the conflict is not solely about reducing dependency on Russian fossil fuels but also about reevaluating crucial narratives and identity issues. There is a substantial amount of political, academic, and activist work ahead of us, and these challenges will not be resolved during the upcoming elections.
As I often say, Russian propaganda tends to flourish when there are stereotypes, a lack of information, and preexisting grievances that it can exploit and magnify. But having Ukrainians on our territory is making a significant difference in how we perceive our neighbors.
Fico learned that there are red lines that should not be crossed
Jan Philipp Albrecht: Looking into the future, is there still a commitment of Slovakia to the EU? Will the country form ties with reactionary movements or remain a reliable member state? A possible consolidation of progressive movements combined with the return of a vibrant civil society – how do you imagine the future?
Adéla Jurečková: It is not in Robert Fico's interest to undermine the EU too heavily. Regardless of the election outcome, there are still independent courts and a free press that won't give up easily. A considerable part of Slovak society wants the country to thrive and become a modern, democratic European nation. Fico has already witnessed the people taking a stand and felt the power of protest against him: After the contract murder of investigative journalist Ján Kuciak and his fiancé, corruption going on under his government was uncovered and thousands of people went in the streets, forcing him to resign. So he learned that there are red lines that should not be crossed.
Zuzana Kepplová: In my view, the "Orbanization" is a significant concern. However, this development will face substantial resistance and won't happen overnight. We've discussed the vibrant and critical civil society, and that spirit endures. Depending on the election outcome, some individuals might choose to emigrate to other European countries, while others will mobilize locally.