Art project SurVivArt: Creativity and the Right to a Good Life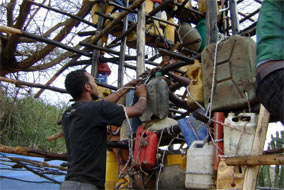 The project
SurVivArt
developed by the Heinrich Böll Stiftung and its international offices has invited artists from Ethiopia, Cambodia, Myanmar, Nigeria, Thailand and the Czech Republic to reflect on the meaning of "the right to a good life".
In joint projects with their own communities,
Kebreab Demeke
,
Robel Temesgen
,
Alafuro Sikoki
,
Segun Adefila
,
Adebimpe Adebambo
,
Oeur Sokuntevy
,
Neak Sophal
,
Tith Kanitha
,
Nino Sarabutra
und
Phyoe Kyi
translated these reflections into their own culture. A project in Thailand brings into focus the questioning of consume habits. In Ethiopia people from a village build a living artwork from ever present jerrycans and children deal and explore their dreams for the future. In Cambodia an artist was inspired by the traditional rice cooking pot and a flea market of memories will be installed. In Nigeria inspiration came from the creative use of an invasive water plant, as well as from a creative garment and a performance created together with the neighbors of a peculiar street.
With SurVivArt the Heinrich Böll Stiftung aims to create an international bridge between sustainability, climate change, gender equity, art and culture. With the support of its international offices, SurVivArt shows perspectives and views from artists from different regions of the world, mainly from the global South
The first presentation of SurVivArt will be done during the
ÜBER LEBENSKUNST (ÜLK) Summer Festival
at the Haus der Kulturen der Welt from the 17th to the 21st of August. ÜLK is an initiative seeking out contemporary models of sustainable living in artistic and cultural actions. During the four festival days, a frenzy of activities will be going on: workshops, performances, discussions and concerts.
As part of the "ÜLK Club", an open forum where ideas and projects will be discussed, the film documentation of SurVivArt is to be presented and the participating SurVivArt artists will join us in the discussion via Skype. Save the date for SurVivArt at the ÜLK Club sessions: August 18th and 19th from 18:30 to 20:00 at the Haus der Kulturen der Welt
SurVivArt will also have an installation space where visitors can learn more about the project and its artists through photos, texts and objects.