Speech
The Potential of a Cross Sector Art Project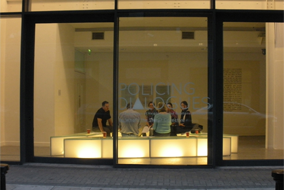 Tense relationship between the youth and the police in Dublin 
I would like to introduce you to my work and practice in Dublin as a way to approach some of the issues Susanne is raising in her provocative introduction. Firstly to give you a sense of context, the political climate in Ireland is highly antagonistic towards young people, with increasingly tense relationships between young people and the state. The justice system, the police, the education system and the media to name a few continuously oppress and target young people already. Specifically working class young people find themselves under constant inspection and observation, their lives subject to persistant scrutiny, within a model of policing that wouldn't be accepted in middle class suberbia, in fact would lead to civil crisis there. Living in this reality these young people have little access to public space and very few opportunities to communicate their point of view. Rialto is a traditionally working class suberb located in the South inner city of Dublin. 
Rialto Youth Project is positioned centrally and aims to work with young people most at risk in the local area and they practice a style of youth work that is based on voluntary participation – differing from services where those attending are referred there or paid to attend. Their approach to arts and culture is refreshing and they have a long history of collaborating with artists and arts organisations. In 2004 I began working as an artist in residence in Rialto, not commissioned for a specific project, not employed to work with a set group but invited to be an artist in the presence of people and a place over time offering the potential for ideas to develop and learning to be shared. The nature of this invitation was key to how my practice developed in this context. The working relationships have sustained over 8 years as I found a way of positioning my practice alongside the youth project's day to day work, with a range of cross sectoral support. 
The history of the 'What's the Story? Collective'
 Having spent my first four years working on a series of projects fulltime with different groups, I had built many strong relationships and had listened over time to young people's daily experiences. In 2007 I felt the need to reorientate my practice towards the question of power and examine my own power relationship as a middle class artist working with young people who are systematically marginalised and whom I now had a strong relationship with. I had become close to a number of youth workers who were committed to engaging in a similar exploration and we also wanted to look at young people's experience of power. This phase of work began by forming a collective called What's the Story? Collective, made up of youth workers, young people and myself as artist. Every member of the group had a shared interest in 3 things – art, issues of power and the sharing of personal stories. That common interest was crucial to our development. We would begin by examining all of our lived experience through the lens of power.
I spent weeks gathering a collection of anonymous stories from each person, a really difficult process that required huge trust and multiple meetings with each individual. Those who participated invested heavily in the project, taking real risks as they explored and shared their own life experience. Simultaneously, to push the boundaries of collaboration and develop horizontal working relationships, we would explore the power relationships between those of us who made up the collective, taking account of the difference in class, education, funding, access, skills and experiences amongst us. Over three years What's the Story? Collective developed a critical durational practice with a series of public manifestations, using a number of strategies to represent different aspects of the project. 
The first semi public engagement from the collective was an intimate and emotive event staged locally in November 2008 which involved the sharing of many of the stories to an invited audience, after which a key question emerged: Who was this work for? Having developed a usable form that promoted the conditions for listening, (a key ambition of the work), What's the Story? Collective set about developing a second event in response to the amount of the gathered stories that dealt with negative interactions with the police. An approach was made to An Garda Siochana (the Irish police force) to participate in this reading event in the Irish Museum of Modern Art later titled 'The Day in Question'. Over the course of many meetings, key relationships were built with senior Gardai as both groups unpacked their motivations, desires and concerns for the work. Our aim for the event was to create a space for listening where the Gardai involved could become more aware of the potential affect of their power and so the mechanics of the event involved careful in-built strategies and methodologies for listening and learning. The aesthetic and ethical decisions shaping the event were completely intertwined and after a complex and careful negotiation process, the event involved individual Gardai reading aloud young people's stories which told of experiences where they felt harassed, humiliated and degraded. The readings were followed by a facilitated discussion between Gardai, the collective and a group of 'witnesses'.
The project emerges
Key features of the collective's work have been the depth of the working relationships, the organic nature of the process, its duration and the complex negotiations undertaken. Over time, the work has slowly journeyed through a number of manifestations, bringing the stories from private to 'public'. The learning from this phase of work led to the development of a public exhibition and residency over a year later in late 2010. 'Policing Dialogues' included a 6 week exhibition which placed representations of the stories including the film of the 'The Day in Question' centrally. With this backdrop, the space was brought to life with an extensive programme of workshops, talks and seminars involving a broad range of publics including; young people, Gardai and student groups from art to criminology. Having chosen to engage with this issue, it was our responsibility to develop a more complex understanding of the terrain. The ambition of the work was not about the presentation of one authentic voice nor was it about achieving consensus but rather aimed to delve deeper into the complex relationship between young people and police, with multiple intentions and lines of enquiry.
Significantly the gallery was closed mid exhibition for a two day facilitated dialogue between the collective and the same Gardai from the previous event, where both groups voiced their issues, listening and responding to each other. The learning from this and other aspects of the residency was then fed into weekly meetings between a core group of Gardai and members of the collective and wider youth project. This group examined the history of policing, the current police training and structure and co developed new Garda training in response to identified and agreed gaps in existing training. This training is to be implemented as part of the induction course for future trainee Gardai allocated to the Dublin South Central division, intending to better equip them in 2 areas: 'understanding areas of urban disadvantage and poverty' and in 'understanding young people's behaviour'. Rather than be content with creating momentry opportunities for their voice to be present, it was important to us that we would attempt to change a structure to allow young people to be better heard. It was also important that the process could have a lasting social value when removed from art. 
Cross sectoral relationships lead to new possibilities
The working relationships are central to this practice – the core relationships with youth workers and young people being built on trust and mutual respect. Time has been given to allow these naturally develop. This practice has been carried through the work with difficult negotiations only possible with the police due to the commitment to establish an honest and upfront relationship, however conflictual it was at times. The duration of the project is obviously significant, a project with a clear foundation and set of goals but an organic ever evolving process with many quiet periods of not knowing and many different manifestations over time, the chosen form dictated by the process. This project never received any sustained funding, drawing from different sources at different times. The Community sector understands the nature of long term engagement and their funding streams support that. Where Art funding offers few opportunities for artists to return to when an initial project has evolved, limiting the possibilities for duration and a deep engagement. Similarly with evaluation, a traditional approach to evaluating an art project would rarely use a lens long enough to see the full trajectory from its roots to its legacy. Different systems are required to get to the depths of learning that are emerging and to understand its specific value as art.
Finally and perhaps most significantly, this work truly benefits from being born from a set of cross sectoral relationships drawing from a range of knowledges with multiple intentions and roles allowing it to be read and understood on different levels and elements of the work to be developed and sustained beyond the art project. I believe the art sector has got a real anxiety about working cross sector in any real way, terrified of dilution or instrumentalisation and most third level art education continues to reinforce a singular model of art practice. In the beginning of this eight year relationship, through collaborating, myself and a team of youth workers unearthed many misunderstandings/preconceptions about each other professions, challenged each other's positions and spent time informing each other of our values, preoccupations and the non negotiable features of our work. We developed in house training and discursive sessions to unearth conflict and to educate each other about our practices and worked at bridging the two professional approaches for mutual benefit. A similar process was taking place through collaboration with young people. For me, working with difference and across sector requires a commitment to understanding the 'other's' vantage point. I have come to accept and enjoy what Donna Harraway might call a partial perspective, partial knowledge and I exist in a web of interconnected relationships with organizations and individuals that consistently reveal other knowledge that inform and direct my practice. Working as a collective has led us to a place none of us predicted, with new possibilities and creating new collaborative knowledge.