International Petra Kelly Prize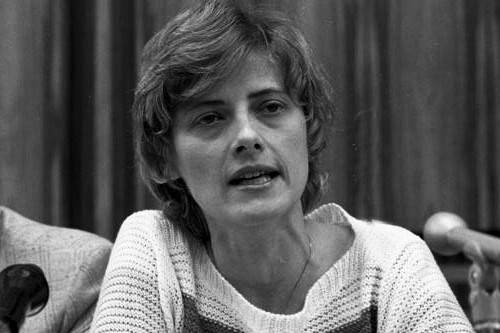 Kelly, Petra - Pressekonferenz der "Grünen" zum Ausgang der Bundestagswahl vom 6.3.1983- im Saal der Bundespressekonferenz.
Since 1998 the Heinrich Böll Foundation has been recognising people and civil society organisations for their outstanding achievements in respecting human rights, fostering non-violent conflict resolution, and protecting the environment with this prize.

The award is endowed with € 10,000. The Heinrich Böll Foundation views the awarding of the Petra Kelly Prize as a political statement. The publicity, financial support, and political recognition related to the award should help to foster the advancement of the awarded person's or group's concern.

If you know of someone, an association, or an initiative worthy of receiving the Petra Kelly Prize and you would like to submit a proposal, then send us a letter or an email. Provide us with a brief description of the suggested person or organization and the reason why the person or organization should receive the Petra Kelly Prize.
The award ceremony for the next Petra Kelly Prize will take place in 2017.
The deadline for proposals is April 30, 2017.

Further Information:
Michael Stognienko
Heinrich-Böll-Stiftung
e-mail: stognienko@boell.de