Myanmar's progress since the 2010 general elections has been astounding, with political transition greatly encouraging citizens and international diplomatic and investment communities. The diplomatic climate for Myanmar has changed dramatically as a result and sanctions have been eased progressively.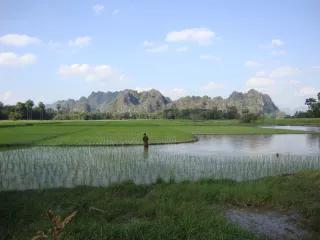 Myanmar's progress since the 2010 general elections has been astounding, with political transition greatly encouraging citizens and international diplomatic and investment communities. The diplomatic climate for Myanmar has changed dramatically as a result and sanctions have been eased progressively. Not surprisingly, many international investors have cast their eyes on Myanmar's abundant natural resources for commercial exploitation. This has prompted international pundits and commentators to speak about a "gold rush" unfolding in the country formerly known as Burma. Other experts clearly state that there is "no treasure trove waiting to be released here," and highlight the difficulties facing investors due to the lack of high-quality geological and geophysical data.
Since ancient times, the land known today as Myanmar has been famous for its wealth in natural resources of all kinds. The Sanskrit name Suvarnabhumi, meaning "Golden Land," has been associated with Myanmar for over two millennia. Today, Myanmar's natural resources include oil and gas, various minerals, precious stones and gems, timber and forest products, hydropower potential, etc. Of these, natural gas, rubies, jade, and timber logs are the most valuable and currently provide a substantial proportion of national income. To date, there has been a very low level of systematic exploration of Myanmar's natural resources due to lack of modern survey techniques.
Although all resource sectors have different development strategies, an overall strategy – particularly in the energy sector – might be described as "more and quickly." Since it was clear that reform was in process after the 2010 election, potential investors have flocked to Myanmar looking for opportunities, particularly in the energy and mining sectors. Late in 2012, a new foreign investment law was finally passed, after much debate, on the extent of possible foreign ownership and investment restrictions. The 1994 mining law has yet to be reformed, and many investors consider that a change of signature bonuses and the terms of production-sharing contracts will be necessary before investment can be attractive in this sector.
Foreign direct investment in the extractive sector
According to official data, recent foreign direct investment in Myanmar has been concentrated in the oil/gas and hydropower sectors, with mining coming in third position by value. Investment commitments made in the 2010/11 financial year were approximately 30 times the rate of commitments made on average for the previous 22 years. The main investors by country were Myanmar's neighbors China (including Hong Kong) and Thailand, followed by South Korea, Singapore, and others. While the vast majority of people in the national workforce are subsistence farmers, the gas industry and the precious/semi-precious stone-mining industries have provided the largest incomes, with gas earning of $3.6 billion for 2011–2012 and precious stones earning of approximately $3.4 billion in 2010 from auction sales. Estimates of informal revenues from this sector are much higher. Some believe that sectors of the trade may be undervalued by a factor of 9. The $3.4 billion official figure is believed to vary between $5.5 and $15 billion, but quality data is scarce.
Myanmar's energy ministry lists proven crude oil reserve estimates of $3.2 billion barrels and gas reserves of 11.8 trillion cubic feet (placing it about eight in the world), yet the numbers are open to debate. Myanmar is one of the world's oldest oil producers, having first exported its first barrel in 1853 while under British colonial rule. Oil and gas exploration activity has been at its highest and most advanced levels in recent years. Large-scale gas development started in the 1990s, and the first natural gas pipeline to Thailand was finished in 1998. At that time, the pipeline was one of the world's most controversial natural gas development projects, and human rights organizations accused the military government of "serious and widespread human rights abuses committed by pipeline security forces on behalf of the companies." Foreign currency earnings from gas sales since around 2000 have likely prevented Myanmar's economy from experiencing a disaster and helped the military junta survive despite international sanctions.
Despite a shortage of natural gas for the domestic market, most of the natural gas is exported. Currently all gas exports go to Thailand. Yet, a new 1,800-kilometer-long pipeline – which will cross the whole country, from Kyauk Phyu in Rakhine state to Kunming, China – will commence later in 2013. Gas production is projected to more than double in the next six years. However, it is not clear yet how the gas and revenues will be used for the benefit of the Myanmar population.
Public protests against hydropower development
The hydroelectric power development sector is currently the second-largest investment recipient after the after oil/gas sector. However, this sector may well become the largest investment sector in Myanmar in the foreseeable future. Sixteen projects that are currently under construction and scheduled to be completed by 2015 will generate 3,478 MW (demand in 2011 was 1,588 MW). Dozens more projects are in the planning stages. After installation, the generated electricity will amount to much more than the actual projected demand. But as in the case of natural gas exploration, most of the electricity is intended for export, mainly to China, but exports to Thailand and India are also being considered. Hydropower retains high prominence in the revised energy plans for the country that were prepared by the Asian Development Bank. The bank has resurrected previous estimates of the hydropower potential, which was said to have the potential to provide more than 100,000 MW of energy. This estimate includes many mainstream dam projects, such as the Myitsone Dam on the Irrawaddy River and the Hatgyi Dam on the Salween River, that would not meet the guidelines of the World Commission on Dams, which advocates for the consideration of dams with lower impacts on tributary rivers. Public acceptance of massive-scale hydropower projects for electricity export remains very limited, particularly because only 26 percent of the more than 60 million people in Myanmar have access to electricity. The per capita consumption of electricity is among the lowest in the world. In June 2012 increasing power shortages in the major cities resulted in widespread, peaceful public protests, with people walking the streets to demand more, and reliable, energy and an end to the energy-export policy.
Opposition of civil society to big hydropower projects, criticized for flooding huge areas and forcing local communities to resettle, also led to a nationwide campaign against the Myitsone hydropower dam in Kachin State. The dam was being built by the Burmese contractor Asia World and the China Power Investment Corporation. Following massive public pressure in September 2011, President Thein Sein publicly announced the suspension of the Myitsone Dam for the period of his presidency. The halt of the project came as a surprise for the Myanmar people, the international public, as well as the Chinese investors, leading to diplomatic unease between the two countries.
Mining and land conflicts
Myanmar is geologically very rich, and mining is significant as a large-scale industry and also in small-scale artisanal forms. Mineral occurrences cover all sectors, including base metals (gold, copper, silver, lead, zinc, tin, antimony, iron, etc.), industrial minerals, energy sources (mainly coal), gems (jade, rubies, sapphires, etc.), as well as "rare earth" minerals. Myanmar is perhaps best known for gold, jade, rubies, and sapphires. It is estimated that in the past, 90 percent of the world's rubies came from Myanmar. The state is currently aiming to control and manage all aspects of production and sale of jade and gems, but in this sector, as well as in the gold sector, large informal and illegal industries exist.
The mining sector operates both through granting concessions or leases to investors, and through state-owned mining enterprises. The current mining law (Mining Law of 1994) protects companies involved in mining, and gives very few rights to landholders. This law has no provisions for Environmental Impact Assessments, Social Impact Assessments, or community consultation, although the focus in this respect is rapidly changing, and new guidelines are being developed at a rapid pace. As in many other places, the road to successful implementation will be long. Mining companies currently have broad regulatory freedoms to do as they please. An agreement between Myanmar mining authorities and China's Ministry of Land Resources resulted in six major projects by 2008. Three major new or expansion projects are currently in progress. The case of the Monywa copper project by Wanbao Mining – a subsidiary of the Chinese arms manufacturer Norinco – caught international attention in late 2012. Local communities had protested against land confiscation and environmental destruction in connection with the mining project. The protests, led by Buddhist monks, were forcibly crushed by local security forces, causing public outrage across the whole country.
Myanmar has not yet clarified land-use priorities and mechanisms for resolving conflicts regarding competing uses of land. However, as in other developing countries in Southeast Asia, it is expected that a "Hydrocarbons and Mining Trumps Everything" policy may apply, which is considered far from satisfactory. Land conflict cases in Myanmar have exploded since 2011, and not only in relation to the extractive or mining industries.
Conflicts over resources
Despite being blessed with an abundance of natural resources, Myanmar's citizens are among the poorest in Asia and lag behind their ASEAN neighbors in all aspects of human development. Myanmar's natural resources were managed in unsustainable and nontransparent ways during decades of military rule and economic mismanagement. Lack of transparency in the past has raised many questions about potential misappropriation. Revenues were used for state needs, among them being military expenses to ensure the military's control. While natural resources were being sold to neighboring countries, the local population was left empty-handed.
Yet, citizens are well-aware of the large revenues being obtained from gas, gems, timber, and minerals sales and exports and want to see these clearly translate into revenues in the national budget, as well as to see consideration and planning for the management of the wealth of the country in a way that will take them on the pathway out of poverty.
Many of the deposits of natural resources are located in ethnic areas of the country where long-running ethnic conflicts have often generated war economies to sustain decades of armed resistance against the central government. Investment projects in these areas have a lot of potential for conflict and for harming the fragile processes toward peace. Many observers agree that the ongoing Kachin conflict is basically about competition for local resources. In all areas, benefit-sharing models with ethnic groups – and, more importantly, matters of project control and autonomy – remain unresolved, not agreed, and unsatisfactorily legislated. Such discussion items are central to the political discussions that ethnic groups hope become part of the much desired peace processes.
Current unprecedented levels of investment in the natural resources sector will massively increase pressure on natural resources, communities, and the country's ability to manage developments in a responsible and sustainable manner. Due to the current weak regulatory framework, foreign investment has the potential to add significant extra pressure to a system already under immense strain.
Progress toward improved extractives transparency and accountability
In line with other wide-ranging political and economic reforms in Myanmar in 2012, major progress has also been made toward transparency and accountability improvement. Various supporting statements for more transparency with regards to resource management have been made by senior figures, including President Sein, who publicly announced in July 2012 that "[t]he most important thing is to have completely transparent financial accounting to ensure everyone knows where the revenues from these extractive industries are going." In December 2012 the president established an "EITI Lead Authority" confirming the government's intention to increase its transparency.
Several civil society organizations in Myanmar support the initiative toward more transparency in the natural resources sector and have lobbied the government to continue in this direction after having taken very positive initial steps. If the impacts of investments in the natural resources sector can be properly assessed and managed, and the revenues can be dealt with accountably and transparently, the potential benefits could be enormous. Wealth from natural resources could fund a substantial part of Myanmar's transition, if managed well. Unfortunately, the track record for this internationally is quite low, with few countries having succeeded in avoiding "resource curse" issues. However, much has been learned about how to avoid the pitfalls. But can Myanmar avoid the mistakes of many others and turn its resource curse into a blessing?
---
David Allan has lived for nearly the last 10 years in Asia and has been based in Myanmar for the last seven years. His expertise lies in areas of sustainable business strategy and implementation as well as conflict-and  risk-reduction- with a special focus on sustainable development practice and conflict prevention- and he has a social license to operate in Myanmar. In 2007 he founded the local group Spectrum in Myanmar for policy work and service delivery in sustainable development, natural resource management, transparency, community engagement, and environment.
Rainer Einzenberger received a degree in Geography from Vienna University. Since 2009 he has been working in the Southeast Asia Regional Office of the Heinrich Böll Foundation in Thailand. In 2010 he started coordinating the Myanmar program of the foundation and travels frequently to Myanmar.
---
This article was first published in PERSPECTIVES ASIA #1.