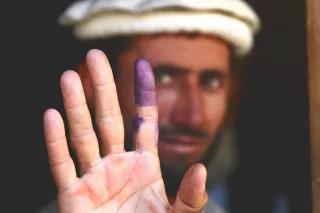 In this article, I will explore the candidates that have created more momentum than others. The findings are based on the polls conducted so far. But since polls can be very deceptive in a country like Afghanistan, it is, therefore, desirable to study an array of other indicators. Not to complicate matters too much, I look at four further indicators: sizes and breadth of public gatherings, presence of major political parties and groups in each camp, presence of important individuals, especially government officials and parliamentarians, that have pledged support to one or another candidate and finally who the analysts and commentators view as the most serious contenders, established through an Expert Consensus Method[1]. A combined result of the abovementioned indicators suggests that out of the eleven candidates Ashraf Ghani Ahmadzai, Zalmai Rassoul and Abdullah Abdullah are the main contenders.
Ashraf Ghani is a former World Bank and United Nations official and anthropologist by training. He taught in a number of reputable US universities before becoming Afghanistan's Finance Minister (2002-2004) and Chairman of Transition Coordination Commission (2010-2013). He has built a reputation on the anti-corruption agenda. Therefore, his alliance with the former communist warlord and Uzbek militia com­mander, General Abdul Rashid Dostum, as his first vice presidential candidate came as a big surprise. The ticket also includes Sarwar Danish who is an ethnic Hazara and a loyalist of President Hamid Karzai's current Second Vice president, Mohammad Karim Khalili.
Zalmai Rassoul is a former aide of Afghanistan's last king, Mohammad Zaher Shah. He is the nephew of the progressive King Amanullah Khan. He became President Karzai's National Security Advisor in 2002 and was Afghanistan's Foreign Minister from 2010 to 2013 until he resigned to run for presidency. His ticket includes Ahmad Zia Massoud, a one-time vice president (2004-9) and the brother of the slain Northern Alliance commander Ahmad Shah Massoud and the first female provincial governor in Afghanistan's history, Habiba Sorabi.
Abdullah Abdullah is from the second generation of Mujahideen. He was an aide of the slain leader of the Northern Alliance, Ahmad Shah Massoud, and served as Afghanistan's Foreign Minister from 2001 to 2005. He was a runner up in 2009 presidential election. This ticket brings together three civil war adversarial groups, Jamiat-e-Islami, Hizb-e-Islami and Wahdat-e-Islami. Dr. Abdullah's Jamiat-e-Islami fought the parties of both his vice presidential candidates, Eng. Mohammad Khan and Haji Mohammad Mohaqeq, between 1992 and 1996.
I will not dwell on the background of these candidates and refrain from providing a description of the other eight as they have already been covered in my previous work[2].
Ashraf Ghani
Polls
Ghani has done well in the polls conducted so far. Not many polls have been conducted but the ones that have been conducted indicate Ghani polls only second to Abdullah Abdullah. An ATR-Consulting and Tolonews survey[3] found Ghani was favored by 13.6 percent of those asked. A second poll by Democracy International (DI)[4] placed Ghani at 26 percent. 
Public Gatherings
Ghani's campaign has seen a number of bumper gatherings by Afghanistan's standard. He is the only one from the main candidates to participate in public meetings in the security-challenged South and Southeastern provinces of Khost, Helmand and Paktia. The gatherings in Khost and Helmand were particularly impressive, not only due to their sheer size but also organization. In Khost, volunteers appeared in specially-designed uniforms while the meeting in Helmand was acclaimed for sound organization. His rallies in the Northeastern provinces of Takhar and Badakhshan were participated by thousands of people thanks in large to his powerful first vice presidential candidate, General Abdul Rashid Dostum, a former Uzbek Warlord.
Political Groups and Parties
This ticket brings together a broad array of political actors from former Mujahideen to Pashtun nationalists. Mohammad Halim Fedai, former governor of Wardak province and a member of Ghani's campaign recently recounted 40 different groups and parties[5] that pledged support to Dr. Ghani, divided mainly in the following five currents.
Four former moderate Sunni Mujahideen parties known as Chahargana in Dari: These are the National Salvation Movement led by former president Sibghatullah Mojaddidi, National Islamic Front led by Sayed Ahmad Gillani, Islamic Party of Malawi Younas Khalis currently led by Haji Deen Mohammad and the Islamic Revolution Movement of Mohammad Nabi Mohammadi now led by Haji Musa Hotak.
Former Communist Government Clientele: These include former militia groups of Uzbek General Abdul Rashid Dostum, Islmailiya Syed Mansoor Naderi and Jabar Qahraman from Helmand.
Pashtun Parties/Groups with Nationalistic Inclinations: The Afghan Millat party – actual name the Social Democratic Party of Afghanistan – along with the National Movement have joined this ticket. The former is led by Stana Gul Sherzad now. Anwar-ul-Haq Ahadi, a former minister and presidency aspirant, is the most prominent member of this party. The lesser known Afghan Millat led by Ajmal Shams is also part of this coalition. The National Movement is led by Mohammad Ismail Yoon who also owns Zhwandoon media. Yoon is a staunch critic of the Northern Alliance and has advocated for inclusion of the terms "Afghan" and "Islam" in the national ID cards, something that is opposed by parts of the former Northern Alliance.
The Technocrats: Several groups and parties led by the so called Technocrats have joined Ghani. Haneef Atmar's Right and Justice Party, Ali Ahmad Jalali's Thought and Action Council (Jirga) and reportedly former US Ambassador to Kabul and the UN Zalmai Khalilzad all support Ghani's candidacy. There are several tribal councils, civil society organizations and breakaway political groups as well that have joined this ticket.
Prominent Individuals
There has been a race to court regional power-holders, former warlords, businessmen, parliamentarians, media moguls and civil society representatives in the run up to the election. A recent study by the Pajhwok News Agency[6], in which it asked approximately 250 lawmakers who they were supporting reveals that 44 parliamentarians are backing Ghani. Ghani's ticket has also brought together the powerful Uzbek leader Dostum and his second vice presidential candidate is a protégé of Afghanistan's current Second Vice President, Mohammad Karim Khalili. He also has the support of Abdul Qadeer Zaher, a druglord from the eastern Nengarhar province. It is also reported that a number of prominent civil society members are supportive of Ghani's bid. Not to mention a number of former provincial governors such as Mohammad Halim Fedai and Gulab Mangal.
Expert Consensus
There is a broad consensus amongst both Afghan and foreign observers that Ghani is one of the leading candidates. Ghani has been invited to almost every TV debate which indicates he is being seen as a leading candidate. Despite the fact that there is still a lack of systematic or methodic approach, Dr. Idrees Rahmani, a US-based Afghan researcher, has come up with a table[7] to assess the prospective vote distribution by province. His table includes only the names of Ashraf Ghani, Abdullah Abdullah and Zalmai Rassoul, pointing to the fact that these three are considered the leading candidates by the commentators and analysts.
Abdullah Abdullah
Polls
Abdullah Abdullah was expected to do well in polls after his name was put forward by his party, Jamiat-e-Islami of Afghanistan (the Islamic Society of Afghanistan). Jamiat was a major Mujahideen party that still has considerable influence, especially in the non-Pashtun areas. Abdullah has done well in the polls in the run up to this year's election. He has polled 21 and 33 percent respectively in ATR-Tolonews and DI's surveys. Abdullah has already proved his pedigree of getting votes by coming only second to President Hamid Karzai in the 2009 presidential election after getting almost 1.5 million votes. He led Karzai in 9 out of 34 provinces[8].
Public Gatherings
Abdullah is a crowd puller. He attracted thousands of people to his meetings in 2009. This time around, it is not different. He held a large gathering in the Ghazi Stadium of Kabul on February 27, 2014. Being a Tajik, the gathering was expected. His second vice presidential candidate, Mohammad Mohaqeq is a popular Hazara figure who have a significant presence in Kabul, adding to the tally of the Kabul meeting. This gathering was preceded by a rally in the eastern city of Jalalabad where thousands of people gathered. Jalalabad is a Pashtun-majority city. In that respect Abdullah has proved to command some influence amongst Pashtuns. He is yet to make a trip to the Southern and Southeastern Pashtun heartland which will give an idea of how popular he is in the areas expected to be taken by either Zalmai Rassoul or Ashraf Ghani. That will also give an indication of how popular the party of his first vice presidential candidate, Eng. Mohammad Khan, is. Khan is the deputy of the registered wing of the Islamic Party of Afghanistan. Islamic Party was founded and is still led by Gulbuddin Hekmatyar, a former prime minister who is leading a smaller faction of insurgency. Hekmatyar's support for this ticket would have been key but he instead chose to back another candidate from the Islamic Party, Qutbuddin Helal[9].
Political Parties and Groups
Once Afghan Islamists faced the crack down of the first Afghan President, Dauod Khan, in 1970s, their leaders went into exile in Pakistan. In Pakistan the Sunni groups found a thriving environment while the Shi'a groups obtained no or very little support; they were even persecuted. Consequently, they crossed the border into Iran to launch eight Mujahideen parties to resist the Soviet invasion[10]. These eight were reunited later under Abdul Ali Mazari and named the Islamic Unity Party. Mazari was executed by Taliban just before they captured Kabul in 1996. He left behind several aides, the most important of whom are Mohammad Mohaqeq and Mohammad Karim Khalili, Karzai's second vice president. On the Sunni side, the Islamic Party and the Islamic Society emerged the strongest Mujahideen parties, the former in the Pashtun-dominated and the latter in the non-Pashtun dominated areas.
During the civil war of 1992-96, Kabul city was controlled by these three parties. Their violent clashes left much of the city in rubbles, resulting in killing of eighty thousand civilians. This era was marred by grave human rights violations. Afterwards, Taliban's rule was challenged by the Islami Society and Islamic Unity Party under a broader umbrella, officially called the United Islamic Front for the Salvation of Afghanistan but popularly known as the Northern Alliance. These two were further empowered as they became major political forces in the post-Taliban Karzai reign. The importance of all aforesaid political parties was underlined in the 2005 parliamentary election when their members made up a combined one fourth of the parliament.
Abdullah Abdullah's ticket has the support of these three key political parties. The Islamic Society officially put his name forward as their candidate, whereas, the other two supplied the candidates for the vice presidential slots. As is evident from Afghanistan's political landscape, there are always internal dissents and breakaway factions which means not everyone from the three parties in question supports this ticket. For instance, another Islamic Society stalwart Islmail Khan of Herat province is a vice presidential candidate with Abdul Rab Rasool Sayyaf. While Hekmatyar has backed Helal, some of key members of the Islamic Party have sided with Zalmai Rassoul and a few are in favor of Ghani. The Islamic Unity Party – and by that extension the Hazara elite – is more divided than any other, with Mohaqeq and Khalili supporting Abdullah and Ghani respectively.
Abdullah's ticket has garnered the support of many other groups. Its nucleus, however, is made up of these three major Mujahideen parties of the past.
Prominent Individuals
The Pajhwok study of the lawmakers puts Abdullah in the third place behind Ghani and Rassoul by having the support of 38 lawmakers from the upper and lower houses of parliament. Abdullah is a candidate from the powerful Panjsheri faction of the Islamic Society and the Northern Alliance, gaining the support of most of Panjsheri leaders. The most important addition to his team is that of the Northern overlord and the current governor of Balkh province, Atta Mohammad Noor. Noor not only is a popular figure in Balkh but is also considered the main financier of the Abdullah campaign. It was Noor's support in 2009 that made Abdullah a serious contender for the presidency. The move prompted President Karzai to enlist General Dostum, an arch rival of Noor, to counter Noor's influence.
Although Abdullah has failed to match Ashraf Ghani's tally of notable individuals, he still commands influence over a patronage network spiraling across the country, being strongest in the Northeast and North. Demise of Karzai's First Vice President, Mohammad Qaseem Fahim, on March 9, 2014 will have a profound effect on this network. Fahim was by far the most powerful member of the Islamic Society on the national level. He had also perpetuated a carefully-crafted network of loyalists within the government. Several ministers, governors, deputy ministers and directors were appointed on his insistence. Former director general of the Independent Directorate of the Local Governance resigned[11] after Fahim threatened him not to temper with his sphere of influence and provincial appointees. Although Abdullah's camp have constantly claimed Fahim supported their bid, Fahim never publically endorsed Abdullah. Fahim's patronage network would give Abdullah an upper hand should it choose to support Abdullah. There is, however, also the possibility of this network falling apart or choosing a rival of Abdullah. Fahim's successor will have a profound impact on the outcome of the election, especially if selected by consensus.
Expert Consensus
Abdullah Abdullah like Ashraf Ghani has been one of the main participants in major TV debates. He has also been seen by main observers as a frontrunner, especially in the first round.
Zalmai Rassoul
Polls
Zalmai Rassoul has done poorly in the polls. He is likely the most unknown of the eleven candidates. He polled in less than 1 percent in ATR-Tolonews poll and 6 percent in the DI's. Online polls, though extremely unreliable, also suggest he is lagging behind by a good mile. This is an indication that even those with access to internet and social media network hardly know or notice him.
Public Gatherings
Contrary to his poll showings, Rassoul has pulled big crowds to his public meetings, thanks to his presumed status as President Karzai's chosen one. Rassoul's meetings in no way match the magnitude of the meetings of Ashraf Ghani and Abdullah Abdullah. While quite a few of Ghani and Abdullah's meetings were attended by thousands of supporters, Rassoul's meetings with the exception of a few have seen crowds in hundreds. Some of his meetings have been attended by a thousand or a couple of thousands. His meeting in the city of Jalalabad was one of them and so was a gathering of the residents of Wardak province in Kabul.
With Rassoul's campaign, it is more the geographical expansion of the meetings rather than size of them that puts him a close third to Ashraf Ghani and Abdullah Abdullah. Public gathering in support of Rassoul have taken place in almost all major provinces. Even remote provinces such as Ghor and Paktika have witnessed gatherings in support of Rassoul.
Political Parties and Groups
Zalmai Rassoul has a long history of political involvement in Afghanistan even during the years of exile in Europe. He served under the former King Zaher Shah when he was based in Rome before joining the Interim Authority in 2001, headed by Hamed Karzai. Former King's Rome Group was one of the four main groups represented in the Bonn Conference in 2001. And it was one of the two groups – the other being the Northern Alliance – to get the lion share of cabinet positions in the new government[12]. Zalmai Rassoul is one of the last remnants of this group and the group virtually has no presence in Afghanistan.
Rassoul's first running mate, Ahmad Zia Massoud, is the brother of the slain Northern Alliance leader, Ahmad Shah Massoud. This all makes good reading on the paper.  In practice though, there is little to suggest that Zia Massoud will get any support from the groups belonging to the former Northern Alliance unless there is a last minute appearance by Ahmad Shah Massoud's son to seek support for his uncle – a scenario hotly debated in political circles of Kabul. Members and sympathizers of the Northern Alliance will have to make a choice between him and Abdullah Abdullah.
In conclusion, apart from Rassoul and Zia Massoud belonging to the two strongest political currents in today's Afghanistan, this ticket lacks support of any major political groups and parties.
Prominent Individuals
Zalmai Rassoul beats his rivals as far as possessing the support of the main kingmaker in Afghanistan is concerned. That is President Hamid Karzai. Before Rassoul's candidacy, Karzai had handpicked him, prompting the political opposition to level accusations of meddling in the electoral process against Karzai. The sense was further strengthened when Karzai revealed in a meeting with President Vladimir Putin of Russia in Bishkek on September 13, 2013 that one of the candidates for this year's election was in his delegation. Rassoul was in the room. Kremlin broke the news in a press release[13].
President Karzai has a make or break role in the election. His support will significantly alter the course and outcome of the election, not only because he will use government resources in favor of his chosen successor but also because many undecided voters will swing behind Rassoul if they smell Karzai is behind him. This is especially true in the Pashtun-dominated areas. It is an open secret in Kabul that Rassoul is the government-backed nominee. Reports suggest that nine members of Karzai's current cabinet are tasked to ensure Rassoul's win. Karzai's "super nine" include some powerful ministers including Hazrat Omar Zakhilwal, Minister of Finance, while Ashraf Ghani's supporters are of the impression that Zakhilwal is on Ghani's side – that is a mere delusion.
Pajhwok's survey of the lawmakers reveals Rassoul has 44 members of both chambers of parliament on his side. On his own, he would have struggled to attain this number. There is certainly an indication of Palace meddling here. In that list appears the name of the brother of the current Minister of Education, Farooq Wardak. Wardak is a Karzai loyalist. Since most of polling stations will be housed in schools and school teachers employed to conduct the polling on the election day, Ministry of Education can have a decisive role on the polling day. Also important are Ministries of Defence and Interior that employ hundreds of thousands of people and so is the National Directorate of Security (NDS), the Afghan intelligence agency. Security ministries are crucial since they have a presence everywhere in the country, supply hundreds of thousands of voters and most importantly can win the day for a specific candidate through pressure, extortion, intimidation and ballot stuffing. In the last two presidential elections, they were key to Karzai's success.
Two former directors of NDS have privately confessed to ordering widespread ballot stuffing. Current acting director of NDS used to work closely with Rassoul in the Presidential Palace and being a Karzai loyalist he will certainly warm to Rassoul's camp. Afghan Minister of Defence during a recent trip to Australia is cited to have told a crowd of well-wishers from his native Panjsher province who have settled in Australia that he will support Karzai's choice for the office. It does not end here. It is reported that Wais Barmak, Minister of Rural Rehabilitation and Development (MRRD), is a further addition to Rassoul's support base. MRRD alone through its National Solidarity Program (NSP) has established over thirty thousand Community Development Councils (CDCs). Through CDCs, Rassoul's team is in possession of a potent vehicle on the local level. Former spokesman of Karzai, Waheed Omer, Jawed Ludin, former Deputy Foreign Minister and First Deputy of the Lower House of Parliament, Mirwais Yasini are part of Rassoul's camp. The latter two are considered the main financiers of the said campaign. Jawed Ludin is heading ANHAM, a UAE-based multinational firm, which is reported to have paid massive amounts of money to politicians in the past[14].
Finally, the powerful Karzai network under the oversight of Eng. Ebrahim, the Deputy National Security Advisor to Karzai, will give a major boost to Rassoul's bid in the South and Southeast of the country. Powerful individuals like Abdul Raziq of Kandahar and Matiullah of Uruzgan will help sway a large number of votes in Rassoul's favor. A number of parliamentarians from the Southeast have already signed up to Rassoul's camp. In the west, the powerful Head of Herat Provincial Council is a Rassoul ally. Last but not least, just last week President Karzai's brother, Qayum Karzai, dropped from the race in favor of Rassoul, providing further evidence as to where Karzai's support lies. This leaves only Gul Agha Sherzai, a former warlord in Kandahar to rival Rassoul in the South. Should Sherzai drop out of the race, Rassoul will have a free ride in the southern provinces.
Expert Consensus
Since Zalmai Rassoul has Karzai's backing, he is some bookmakers' favorite to win the election. Others are more cautious but consider him a serious challenger for the more established candidates.
Conclusion
All in all, the election seems destined to become a contest of a few as was the case in 2009 when only four out of a total of 32 candidates got ten percent or more votes in at least one province – only three crossed the ten percent mark on the national level. In such a scenario, Ashraf Ghani and Abdullah Abdullah because of being aligned with the popular political actors and Zalmai Rassoul being backed by President Hamid Karzai stand a chance of doing well. This is not to rule out the possibility of a couple of other candidates to reach double figures. 
Notice: For more information on the current political situation in Afghanistan please visit our web dossier "Afghanistan's Transition in the Making? People, Perceptions and the Politics of 2014"
Photos: World Economic Forum (Ashraf Ghani, CC BY-NC-SA 2.0), Österreichisches Aussenministerium (Zalmay Rassoul, CC BY 2.0), Crans Montana Forum (Abdullah Abdullah, CC BY-SA 2.0)
---