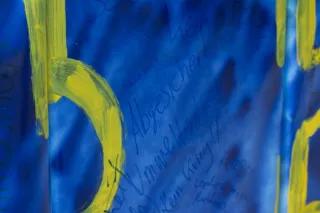 Europe is still is in the middle of a deep crisis, a crisis that has turned into much more than a financial and economic one – a crisis of confidence. This crisis is threatening the European project as a whole. Especially affected by this are young people whose prospects have been seriously curtailed. Today, many young people doubt whether the European Union in its present form and with today's policies will be able to offer future opportunities.
What changes will have to be made? In what ways will we have to shape the EU to offer attractive prospects for future generations? Currently, living conditions diverge considerably between South and North, East and West. What do young Europeans desire from the EU's political system? What do they demand from EU Politicians? Our diverse activities offer young Europeans the opportunity to get together, to swap ideas, to build networks, and to debate their ideas and hopes for the future in order to come up with shared projects.
European Youth Dialogue 2014
"Reclaiming Our Future"
Four-day conference
Thessaloniki, Greece, May 2014
Around one hundred young people from all over Europe got together in Thessaloniki, the European Youth Capital for 2014, to discuss their visions and hopes for the future, swap ideas, build networks, and find the motivation to "regain their future." The conference was a follow-up to the 2013 Berlin conference Europe's Future – Your Future and took place a few weeks before the elections to the European Parliament, thus signalling their demands to candidates. Look around and be inspired!
WE ARE EUROPE! Young Voices of Europe!
Blog
Brussels, Belgium, all-year 2014
What were the ancient Greek's views on Europe? Do we really need TTIP? Why is there no debate on low voter turnout? Is Europe caught up in a neoliberal mania? Do we have to tackle right-wing populism?
The "young voices of Europe" are speaking out and trying to be heard. You will encounter surprising European perspectives as well as young people's criticism and outrage.
WE ARE EUROPE!
Lunch debate
Brussels, Belgium, May 2014
In the autumn of 2013 fifteen young people from Greece, Italy, Portugal, and Germany met for a workshop on the "Common Future in the Eurozone." The final report is available here.
In 2014, shortly before the elections to the European Parliament, the group met again, this time with a representative of each country in order to continue the debate about youth unemployment, Europe's economic limitations and challenges, euroscepticism, as well as political empowerment. The final report, containing surprising conclusions and recommendations, is available here.
Finding Young Europe – A Journey in Search of Europe's Young Generation
Europe, Spring 2014
13,000 kilometres – 14 countries – 6 weeks. Shortly before the elections to the European Parliament young authors Martin Speer and Vincent-Immanuel Herr travelled through fourteen countries in search of Europe's young generation and of what makes the continent tick. Their interviews with young people from all parts of Europe offer multiple perspectives. Their travel diary – an impressive record.
The European Youth Congresses: "Bridging the Gap"
October 2014
The Heinrich Böll Foundation invited 60 young activists that are working in the field of European politics to a three-day youth congress. In various workshops they had the chance to debate on the future of the EU. As a result from these workshops the activists initiated three projetcs and formulated a youth manifesto to demand a new convent of the EU, new standards for apprenticeships in Europe and renewable energies as a future hope and chance for young people.
Green Academy 2020 – Europe for All
Forums for EU Migration Policy (2 days)
May 2014; Zagreb, Croatia
The forums of the congress informed about the European migration policy and human rights. The participants discussed problems of Euro-scepticism, xenophobia and immigration policies. Researchers, artists, activists, scientists and all others will analyze the various aspects of immigration policy and the ways in which it can be used for a later development of an open and free society.
ECOMMONIZE! Ecological transformation and governance of the commons
Summer School (7 days)
Zagreb, Croatia; August 2014
This year's title ''ECOMMONIZE!'' aims to bring issues of ecological transformation closer to models of governance of common goods. Overall debate will be framed by two relevant ongoing discussions. Firstly, it will correspond with ongoing development of discourse and practices around the issues of governance of the commons which would be taken as a basis for discussion about application of certain technological solutions or social innovation that provide positive environmental or social impacts. Central component of this program will therefore focus on opportunities for alternative development path at EU periphery based on ecological transformation thus leading to variety of rearrangements of economic and social relationships in societies through increased social participation that commonise benefits (Eastern Europe, Balkan countries and European South). Decoupling notion of prosperity from the concept of growth seems to be neccessary if we want to portray another imaginary for (this part of) Europe.