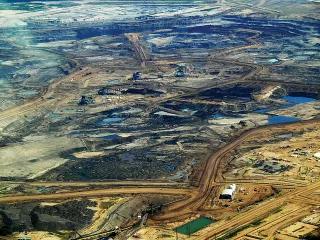 Since taking office in 2006, Prime Minister Stephen Harper has focused on turning Canada into an energy superpower. The strategy behind this is the proposed doubling of the extraction of oil from Canada's bituminous tar sands, located primarily in the western province of Alberta.
The Conservative Party of Prime Minister Stephen Harper, in power since 2007, may well be voted out of office at the Canadian federal election to take place on October 19––at least that is the hope of global climate advocates. Not only does Canada rank ninth in the list of the world's worst polluters, it is now also the world's highest per capita GHG emitter. The culprit is the economic growth strategy pursued by the Harper government over the last nine years. Since taking office in February 2006, Harper has focused on turning this northern country on the edge of the Arctic––which possesses the third largest oil reserves in the world after Saudi Arabia and Venezuela––into an energy superpower. The strategy behind this––burn, baby, burn––is the proposed doubling of the extraction of oil from Canada's bituminous tar sands, located primarily in the western province of Alberta, from the current 2.1 million to 5 million barrels of oil per day.
For the distribution and export of this dirty, marginal oil––the extraction of which only became profitable through modern production technologies, the global commodities boom and rising global crude oil prices––the Harper government has been pushing a number of massive oil pipeline projects for years. The most internationally known of these projects is the Keystone XL Pipeline, which is to pump Canadian oil to Texas and which has been waiting for the approval of the U.S. government for years. In order to secure these projects at home, the Conservative government, since taking office, has systematically undermined Canada's existing environmental legislation. Domestic opponents of this strategy––environmentalists, local activists and representatives of aboriginal First Nations––have been declared enemies of the state and are being monitored by the secret service. In addition, significant budget cuts throughout the Harper years have weakened the Canadian Department of the Environment, particularly its offices focusing on climate change and air protection, to such a degree that the party leader of the Canadian Green Party Elizabeth May mused that the Canadian environment assessment regime would be "a laughing stock in a developing country."
The Canadian tar sands expansion promoted by the Harper government was also the main reason behind Canada's exit in December 2011 from the Kyoto Protocol––to date the only international climate agreement with binding emission reduction targets––since it became clear that the country could not keep its commitment to reduce emissions by 2012 by six percent compared to 1990. In fact, only a year after its exit, Canada's greenhouse gas emissions were already 23 percent above the Kyoto target. In 2013, the Harper government then also withdrew––so far the only nation to have done so––from the UN Convention to Combat Desertification (UNCCD), which was back home seen as a "turning your back on the world community." Canadian critics such as Maude Barlow from the Council of Canadians jeered that the UNCCD exit is at least consistent since "Anything that [the Harper government is] involved in that can lead to more evidence that we're a planet in crisis environmentally [it doesn't] want to be part of." Internationally, Canada is now, along with Australia, Japan and Russia, considered to be a "major climate laggard" and as an obstacle to constructive climate negotiations. This group of "climate pariahs" is, according to former UN Secretary General Kofi Annan, playing "poker with the planet and the lives of future generations." According to Canadian press reports, Canada and Japan even collaborated feverishly behind the scenes at the G7 summit in Germany in June in order to water down the climate passage in the G7 statement, thereby foiling Chancellor Merkel's ambitious G7 agenda. Against that backdrop, the surprising promise of the Harper government to inject 300 million Canadian dollars into the new Green Climate Fund (GCF) comes almost as a miracle––or is the exception that proves the rule.
For years, Prime Minister Stephen Harper sought to justify Canada's low climate targets by claiming that Canada needed to, due align its climate and energy policies with those of the neighbor to the south to its symbiotic economic linkages with the United States. For example, at the Copenhagen climate summit in 2009, Canada pledged to reduce emissions by 17 percent below 2005 levels by the year 2020––which corresponded to the reduction target of the United States. Incidentally, that target also meant falling significantly short of fulfilling the Canadian Kyoto promise. Benchmarked against the current climate and energy laws and regulations (and without any significant tightening of these), Canada's emissions by 2020 will be a whole 26 percent above the Kyoto value. In that calculation, the proportion of air pollutants generated by tar sands oil extraction is continually growing, and is estimated to possibly account for 14 percent of Canada's total pollutant emissions by 2020. Canadian climate change goals and ambitions are therefore inextricably intertwined with the Canadian tar sands issue. In the United States, John Podesta, Hillary Clinton's campaign manager, underlined Canada's "excessive emissions" and prompted it to do more to "compensate for its exploitation of the carbon intensive tar sands."
However, Stephen Harper's effort to hide behind an alleged absence of an U.S. climate policy as a way to divert from his own climate policy deficits has been becoming increasingly difficult in the last couple of years. The big brother to the south is investing, percentage-wise, significantly more in green jobs and renewable energy than is Canada, which claims to have invested 10 billion Canadian dollars since 2006. Moreover, the Obama administration has presented, in advance of the historic climate change summit in Paris in December, voluntary U.S.-American emission-reduction targets, which Stephen Harper labeled "too aggressive to match". Indeed, the concrete proposal submitted by the Harper government in May of this year regarding the voluntary commitments that Canada pledges to meet from 2020 onwards in the new international climate change agreement (Intended Nationally Determined Contributions, INDC) is considered as "inadequate" by climate experts. Worse, these experts estimate that Canada would even fall short of achieving these low targets, by far, without a momentous overhaul of its energy policy. The Harper government proposes reducing greenhouse gas emissions by 30 percent by 2030 compared to 2005 levels. However, the proposal is disingenuous for two main reasons. One, because it includes carbon credits which Canada receives for its forests and tundras as carbon sinks, and because it is keeping the option to reach that target by means of international emissions trading (offsetting). And secondly, because the suggested emission reduction is far too little to be considered a global fair share. According to experts, taking into account Canada's economic power and its role as a polluter, Canadian industrial emissions should be reduced by at least 73 percent by 2030 compared to 2005 levels. As a matter of comparison, the US INDC is targeting a 26–28 percent reduction compared to 2005 by 2025 and the EU is promising a 40 percent emission reduction below 1990 levels by 2030, reached in both cases exclusively through actions undertaken on domestic soil.
In recent years, as a result of inaction or even regression at the federal level, climate action in Canada has been driven primarily by individual Canadian provinces or by cities like Vancouver. (The same phenomenon can be observed for the United States, although the federal level there has now begun to catch up on climate action.) Vancouver, for example, boasts having the lowest emissions of all major North American cities and is a staunch opponent of the Kinder Morgan's Transmountain pipeline project. Indeed, the implementation of that project would turn Vancouver into a key port city for the export of heavy oil––which would in no way be compatible with the city's self-declared goal of becoming "the greenest city in the world." Four provinces (British Columbia, Quebec, Ontario and the Alberta tar sands region) have agreed on a common carbon pricing system in April 2015. Ontario, after Alberta Canada's second largest polluting region, had taken all of its coal-fired plants off the grid in 2014. In April 2014 it also officially joined the regional carbon market of the Western Climate Initiative, in which Quebec and California also collaborate. However, at the same time most provincial leaders are continuing to support the tar sands oil production and the expansion of the national pipeline capacity. In July, the leaders of the Canadian provinces did agree on a National Energy Strategy; however, much to the dismay of Canadian climate activists, this strategy contains no emission reduction targets and could actually make the expansion of tar sands exploitation easier. However, if the global community does not want to exceed the 2-degree threshold, 85 percent of the Canadian tar sands must remain in the soil according to calculations of climate scientists. This means that the entire Canadian tar sands production would have to be terminated based on current production rates, in just seven years.
The issue of Stephen Harper's inadequate climate and environmental policy, both with regard to its national and international implications, is bound to play a role in the current Canadian election campaign. How big that role will be remains to be seen. Yet it is safe to assume that it will be one of the key issues, in particular since it offers the opposition parties an easy way to score points in their competition against the prime minister. After all, the growth strategy of the Conservative government has exposed the economy of this energy superpower to the volatility of global oil prices and brought it to the brink of a recession by mid-2015. According to recent Canadian polls, the "shaky economy," worries about the increasing cost of living and food prices, and the future of the pension system are the four most highly ranked topics that citizens want to hear more about from the party leaders, followed in fifth place by environmental protection. A first televised debate between the four main candidates in early August, in which Prime Minister Harper had to defend the economic and environmental strategy of his administration against attacks from Thomas Mulcair (National Democratic Party, NPD), Justin Trudeau (Liberal) and Elizabeth May (Green Party), showed that the controversy over the oil pipelines has brought environmental and climate issues to the forefront of political debate for the first time. For a growing anti-pipeline popular movement composed of environmental and climate protection advocates, local activists and First Nations representatives––and that is calling for a national moratorium on further tar sands extraction––this election campaign is therefore also a good opportunity to initiate a national debate about what kind of economic strategy Canada needs in order to meet the challenges of climate change. The First Nations, whose land rights are guaranteed by the Supreme Court of Canada and who, in many cases, are not allowing the pipeline projects to cross through their territories, play a special role and are, according to the Canadian author Naomi Klein "our best chance" to stop the Canadian tar sands expansion.
The thrust of this popular movement enjoys wide support among the Canadian population, if we trust the various polls. According to a survey of the Canadian Climate Action Network (CAN Canada) conducted in April of this year, 61 percent of respondents consider climate protection to be more important than any economic benefits gained from pipeline projects and tar sands oil extraction, and as many as 70 percent would like to see their country assume international leadership in climate protection. Moreover, interestingly, 12 percent more Canadian women than men want to see clear action on climate change. Since women also comprise the majority of still-undecided voters, this group has "the power to move Canada forward on climate protection" in this election, says Louise Comeau of CAN Canada.
Overall, Canadian public opinion on climate change has been relatively stable for a number of years, with more than 60 percent of all respondents expressing concern about climate change and demanding, or hoping, that governments (both federal and provincial) implement new standards and regulations for climate protection. However, whether Canadians' concern for the environment, which is higher, percentage-wise, than that of the U.S. population, will be reflected in the actual votes at the upcoming election is uncertain––especially since that concern did not prevent them from voting Stephen Harper into office at the last two federal elections in Canada, in 2008 and 2011.
Naomi Klein, other Canadian commentators, as well as climate advocates and those already affected by climate change all over the world are hoping that this time around the "passion gap" between Canada's claimed concern about climate change and its voting patterns that show otherwise will finally be overcome on October 19.