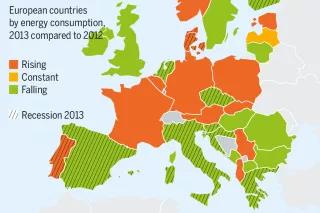 The European Union's climate policy aims for lower emissions, lower consumption and an increase in renewable energy. The targets are achievable – but they ought to be more ambitious. A chapter from the Coal Atlas.
The EU wants to contribute to limiting climate change by cutting its CO2 emissions by the middle of this century. In 2007 it set itself three targets for 2020:
to reduce emissions of climate-damaging greenhouse gases by 20 percent compared to 1990,
to increase renewable energy to cover 20 percent of total consumption, and
to consume at least 20 percent less energy than predicted in 2005.
At half time, the verdict is mixed. The emissions target was unambitious, and it has almost been reached. In 2013, 19 percent less greenhouse gas was emitted than in 1990. This is mainly due to the abrupt adjustments made in the former Soviet-bloc countries that are now EU members as well as the 2008 economic crisis, which led to lower consumption.
The EU is on track in terms of energy efficiency and it is making good progress in developing renewable energy. With a 15 percent share of renewable energy consumption by end users in 2013, the EU has nearly reached its 20 percent target. But the European Environment Agency is handing out very different marks to individual countries. Only nine of 28 member states are on course for all three targets.
One reason why the report card is not better is because new coal-fired power stations have come on stream. That particular trend has now been stopped, but coal remains an important fuel for Europe. In 2014, one in four kilowatt-hours in the EU came from coal; 68 percent of the lignite and 79 percent of the hard coal came from Germany, Poland or the Czech Republic. These three countries generate more than half of the EU's coal power, even though they have only one-quarter of its population.
The European Commission wants all member states to join forces in a European energy union. This stems from a proposal by former Polish Prime Minister, Donald Tusk, who, in the face of hostilities between the Ukraine and Russia, welcomes energy security, derived from an increase in nuclear power and coal, for the EU. Additionally, an energy union could jointly negotiate better terms for gas imports. The energy union idea has since been developed further. Germany, Austria and Denmark want to use it to make power supplies more climate and environmently friendly.
The energy union encompasses five closely related and mutually supporting ideas. The first is the creation of a completely integrated internal market for power, making it easier to trade gas and electricity among member states. Second is the improvement of energy efficiency by cutting consumption of electricity, heat and fuel to save 200 billion euros a year by 2020. The third aspect is climate protection which includes the reformation of the emissions trading scheme, an increase in energy from renewable sources, and the electrification of the transport system. Some experts counter that these proposals are not really new. Research and innovation for low-carbon technologies are the fourth dimension of the energy union. The long-term vision and the union's fifth pillar is labelled "decarbonisation of the EU economy". By 2050, the EU has undertaken to reduce its emissions of greenhouse gases by 80 to 95 percent compared to 1990. It hopes to decouple economic growth from energy-related emissions, with positive effects on employment.
How binding are these climate and energy targets? That is subject to debate. A group of countries, led by the UK, wants less oversight from the EU. Germany and Denmark stress the savings that can be achieved with an integrated power grid to even out the volatile inputs from solar and wind, and to store surplus power in facilities in Norway and the Alps. Poland, the Czech Republic and Slovakia are pushing for more energy from nuclear, coal and shale-gas – a stance that is incompatible with climate goals. The EU wants to cut its emissions further, by at least 40 percent by 2030 compared to 1990.
By then, renewables are expected to contribute at least 27 percent of the total – counting both electricity and heat used for heating and in industry. Reducing consumption is the cheapest way of protecting the climate; the current goal is to improve energy efficiency by 27 percent. It may sound good, but remember that the initial target was 35 percent, and the current target is not binding.
Surprisingly, energy consumption decreased in 2014, thanks to a warm winter. Wind power has been expanding quickly in several member states. But it is possible to see the figures in another light; the EU's targets for 2020 were just too low. The bar for 2030 should be set higher. From a climate-science perspective, a reduction of at least 55 percent would be advisable. Calculations by Greenpeace show what is possible: by 2030, the EU could generate 70 percent of its power from cheap, renewable sources, with more wind turbines on- and offshore, solar cells, biogas plants, and flexible power stations fuelled by natural gas.
Older coal and nuclear power stations would have to be shut down soon because they cannot offset the volatile supplies of energy coming from renewable sources. The longer the coal and nuclear plants are kept running, the more expensive the whole system will be. Cheap renewables would have to be throttled back in order to accommodate the constant output of the older plants, which can only be operated continuously and at full blast.
Europe's energy supplies used to rely on big, centralized power plants run by a few major operators. In the future, it will be necessary to switch to smaller, intelligently connected suppliers of heat and power, and to reward savings. By putting together many small pieces on a large scale, the EU would send a powerful message to the rest of the world: climate-friendly energy offers big economic opportunities in a more equitable society.