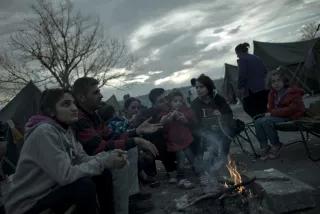 In Bulgaria, public opinion approves the patriotic vigilante mobs, which trap refugees crossing Bulgaria's border.
The three young men are lying on the ground; their hands tied behind their backs with nylon cable. They keep still – visibly frightened and confused. One of the men standing around them shouts: "Turkey. Go back. Back Turkey. Go. No Bulgaria for you. Go Turkey. Immediately." "No Bulgaria", one of the young men murmurs hopelessly. This amateur footage showing vigilantes active at the border between Bulgaria and Turkey first appeared on Facebook in the weekend of 9 April and has since then been broadcast on Bulgarian TV. The name of the person responsible for vigilante actions like this is Petar Nizamov.
The vigilante mobs
Linked to the illegal vigilante actions taking place at the Bulgarian-Turkish border a new term is circulating: 'civilian arrests'. Civilian arrests are not recognised by Bulgarian law and yet more than 50 percent of the Bulgarians approve these actions, according to a study carried out by Alfa Research. Even the Bulgarian Prime Minister Boyko Borisov thanked the vigilante squads for helping to protect Bulgaria's border against the refugees who cross it illegally. He also added that these groups should not exceed their legal rights, even though that is exactly what they are doing.
"This is something we would not tolerate under any circumstances. In Bulgaria, there are authorities and institutions that do their job. Citizens can point out an instance of law-breaking at the very most, but under no circumstances can take the law into their own hands. Those who do so regardless will be punished," the Bulgarian foreign minister comments for Deutsche Welle.
Alfa Research's study further reports that 74.9 percent of the respondents believe that refugees are a threat. Moreover, 81 percent of them do not wish to live near a refugee camp and yet 76.3 percent state that they are ready to help asylum seekers with money or clothes.
The dangers of pseudo patriotism
Another vigilante, Dinko Valev from Yambol, was declared a 'superhero' for having captured nearly 200 refugees on the border with Turkey. Valev even believes that the Bulgarian government should fund the 'citizen's arrests' by paying citizens for every arrested refugee. 'Are you a terrorist?', Valev asks the men who cross the Bulgarian border illegally. He proudly tells Bulgarian TV the story of how he dealt with a group of refugees he met in the forest. 'I told them that if they didn't lie down next to each other facing the ground, I would kill one of them.' Video footage shows the men lying on the ground whereas Valev states that this is 'our country' and that 'Syrians, jihadists and Taliban only come here to kill us like dogs.' Dinko Valev also has a bold nickname, the 'refugee hunter'.
The public reaction to the civilian arrests is even more disturbing than these actions as such. People like Dinko Valev and other vigilantes are regarded as heroes – there are Facebook pages and groups in support of Valev and the other refugee hunters. On one of these pages that has over 4000 likes, people write 'bravo' and share quotes of historic national heroes along with the Bulgarian flag. There even was a demonstration in Bourgas against the arrest of Petar Nizamov, the man who arrested refugees using nylon cable ties as shown in above mentioned video footage. Nizamov was sentenced to house arrest – the magistrates didn't accept Nizamov's defence that his actions were patriotic and aiming to protect the border. Patriotic or not, the Bulgarian constitution clearly states that 'no one may be detained or subjected to inspection, search or any other infringement of his personal inviolability, except under the conditions and procedures specified by law.'
When does patriotism turn into nationalism? According to Charles de Gaulle, 'Patriotism is when love for your own people comes first; nationalism, when hate for people other than your own comes first.' Among the reasons why refugees try to avoid Bulgaria are xenophobia and Islamophobia. According to Deutsche Welle, a Refugee Handbook in Arabic ranks Bulgaria as the country asylum seekers should avoid most as physical abuse is not uncommon. Refugees report being abused, humiliated and beaten. Last October, a 17-year old asylum seeker from Afghanistan was shot dead by a border policeman but the case was quickly covered up. After the Brussels attacks in March, Bulgaria's Minister of Foreign Affairs said that 'the era of multiculturalism and cultural relativism is over' and we must now protect Europe. Discriminatory language is common in Bulgarian media and the vast majority of people doesn't seem to be bothered by it.
How to change public opinion
A common European policy to solve the refugee crisis will not be possible without taking the public opinion in the different countries into account. In Bulgaria's case, public opinion is extremely negative. Yet, public opinion is also dynamic and can be influenced by statements of the political leaders. Bulgaria can't and shouldn't be left to cope with this crisis alone. According to the Bulgarian sociologist Boryana Dimitrova from Alfa Research, 'a statement by the German Chancellor Angela Merkel, which is perceived in one way in Germany, has a completely different meaning in Hungary, Bulgaria or in other Eastern European countries. On the other hand, a political statement that has public support in Hungary comes in for criticism in the western countries. At present, the public opinion is extremely sensitive to the refugee wave, but also to the decisions and proposals made by politicians.'
Showing more examples of effective solutions implemented in other countries, explaining the situation in Syria and reminding Bulgarians that we have also been in a situation where citizens used to seek refuge might help shift public opinion. 'They are not refugees, they are economic migrants,' is a commonly heard argument. Yet, eight Bulgarians per hour leave the country to search for a better life. The people who come to us to look for a better life are labelled 'economic migrants', but isn't that exactly the same as what our fellow citizens are trying to do elsewhere?
This article was first published on 26. April 2016 on our blog Reconnecting Europe.